Visit This Underrated Southern Destination For Thrilling Water Adventures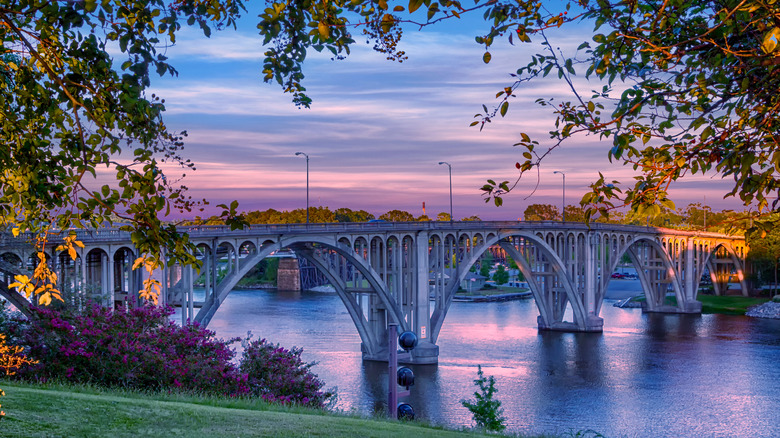 JMcQ/Shutterstock
It's not common that Wetumpka, Alabama is at the top of most people's must-visit destination lists. However, if you're looking for thrilling water adventures, it definitely should be. This southern Alabama town is just 20 miles northeast of bustling Montgomery. In contrast to this sprawling metropolis, Wetumpka is home to just over 8,000 residents. While it gained a bit of limelight in an episode of HGTV's "Home Town Takeover" with Ben and Erin Napier, this small town continues to fly under the radar. But between its incredible attractions like the Coosa River and Jordan Lake, this shouldn't be the case.
The stunning landscape that visitors enjoy today was paved 84.4 million years ago when a crater carved out the hills and waterways of Wetumpka. Today, you can still spot pieces of the crater lying along the edges of the Coosa River. Thanks to this historic event, kayakers, fishermen, rafters, and swimmers alike can take advantage of the rushing rapids and serene lake waters.
River rafting in Wetumpka, Alabama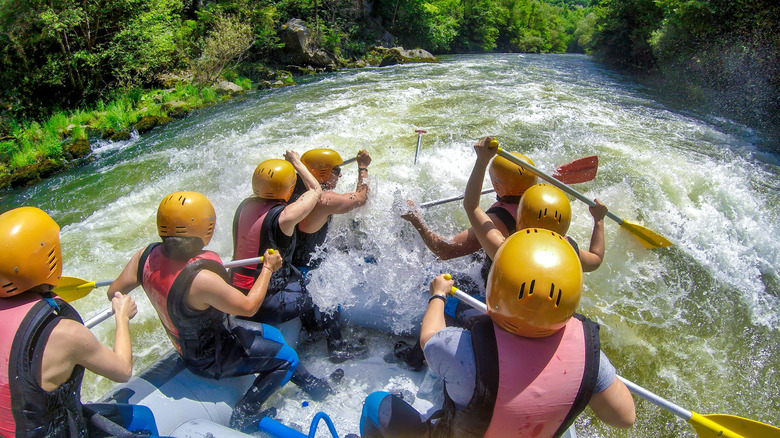 Ververidis Vasilis/ Shutterstock
One of the main aquatic attractions in Wetumpka, Alabama is its thrilling rapids. For outdoor explorers hoping to get their adrenaline pumping, the Coosa River offers the perfect opportunity to do so with its abundance of whitewater river rafting. This 280-mile-long river flows all the way from Georgia and Tennessee. Whitewater river rafters in Wetumpka typically begin their journey at the Jordan Dam. Between the Jordan Dam and Downtown Wetumpka, the river contains about 75% flatwater and 25% raging rapids.
Along this section of the river, you'll conquer class two rapids while meandering through century-old Cypress tree forests. And while you will be guaranteed an exciting voyage, these are not the most dangerous rapids in the world, so they're safe for beginners. From the Jordan Dam to Downtown Wetumpka, you'll cruise along the currents for about seven miles. You can expect this to take about three to four hours. What to bring on your whitewater river rafting adventure? For gear, you can find everything you need at the Wetumpka-based rental company, Coosa River Adventures.
Paddleboarding and fishing in Wetumpka, Alabama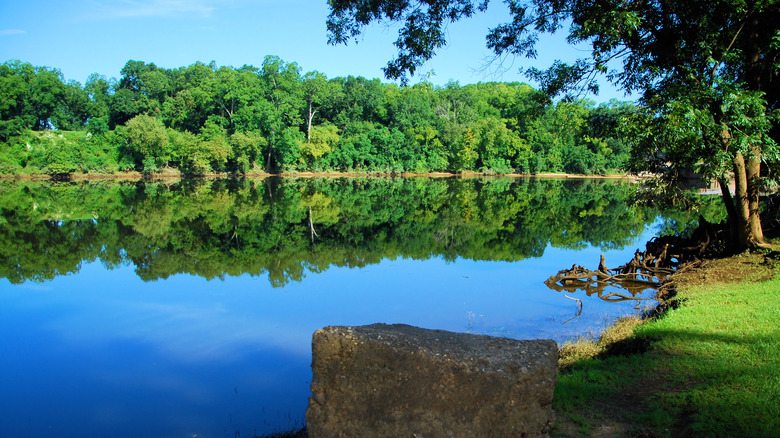 Shackleford-photography/Getty Images
More than just river rafting, visitors enjoy a variety of activities in the waters of Wetumpka, Alabama. The Coosa River is also free for kayakers and paddleboarders to enjoy. Bring your own gear, or make a stop at the convenient Coosa River Adventures. For anyone looking for something a little more mellow, you can head to Jordan Lake for calmer waters. This dam was originally built to prevent the flooding of the Coosa River and generate electricity. However, today it's a local favorite for leisurely activities.
Paddle across all 6,800 breathtaking acres of this lake via canoe or cast a line and spend the day fishing its waters. In Jordan Lake, you can find sport fish like bluegill, spotted bass, hybrid striped bass, largemouth bass, and more. This is a treasured spot for fishermen due to its consistent abundance of game. Along the trails of the Coosa River near Wetumpka, you'll also come across a number of fishing docks apt for angling. Whether you're looking to paddle, fish, canoe, or soar down rapids, Wetumpka, Alabama will keep you satisfied.