Take A Picture Perfect Winter Holiday Vacation To This Small East Coast Town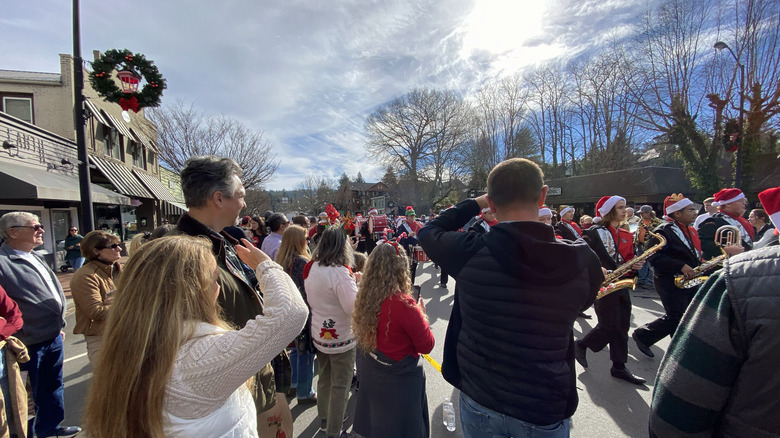 Sshepard/Getty Images
The small town of Highlands, North Carolina, has a great origin story. It was founded in 1875 when two developers from Kansas studied a map and drew two lines: one from New York to New Orleans and another from Chicago to Savannah, Georgia. Where those lines converged, they reasoned, would undoubtedly become the hub of major trade routes. That spot became known as Highlands.
Their dream of creating a prosperous metropolis like Atlanta, just 120 miles away, didn't quite come to pass. But their loss was a gain for future visitors; this picturesque community residing at an elevation of 4,118 feet in the Appalachian Mountains has become a charming resort away from the hustle and bustle of the city. "The Height of Happiness," as the town's tagline now goes, Highlands has become renowned as a year-round retreat where luxury meets nature and cool temperatures make it a haven for summer visitors. However, it is also a beautiful spot to visit once the cold weather sets in, as the people of Highlands pull out all the stops when celebrating the holiday season. So, if you feel like getting in the festive spirit while experiencing a well-heeled small-town atmosphere, this could be the destination for you this winter.
The holiday season in Highlands
When the holly wreaths and seasonal decorations go up in downtown Highlands, North Carolina, you'd almost be forgiven for thinking you've stepped onto the set of a Christmas movie. There is a friendly festive atmosphere from just after Thanksgiving, with the streets decked out in twinkling lights. You also might mistake Highlands for Santa's second home because the residents see a lot of him in the run-up to the Big Day. The week after Thanksgiving, he can be spotted in Kelsey-Hutchinson Founders Park with Mrs. Claus, listening to children's wishes as crowds gather to witness the lighting of the Christmas tree.
Santa is also at the annual Highlands Christmas Parade where onlookers are entertained by marching bands, colorful floats, and, of course, Santa's sleigh. Kids get another chance to meet the jolly bearded fellow during Breakfast with Santa at the Methodist Church, where pancakes with maple syrup are served while the little ones make holiday crafts.
Other festive moments can be enjoyed at carol services at the local churches, while The Bascom Center for the Visual Arts holds an annual Gingerbread House Workshop. The ice rink also opens in mid-November, with stalls selling hot chocolate to keep you warm.
Highlands is also great for Christmas shopping, with Main Street lined with boutique stores and independent shops. The store owners take pride in their decorations, and the proprietors of the Christmas tree love it so much they sell handcrafted Christmas ornaments all-year-round.
Accommodations and dining in Highlands
As a well-renowned resort town, Highlands, North Carolina, has a gorgeous range of places to stay, from sprawling luxury hotels to cozy inns. The stunning Skyline Lodge, built in 1929, offers a peaceful mountaintop setting with amazing views; in early December, it gets into the Christmas spirit with a Gingerbread house decorating class. Old Edwards Inn & Spa indulges its guests with a touch of old-world decadence, a range of upscale dining, and an elegant spa experience — it's a relaxing spa resort worth the splurge. Half-Mile Farm, set on 14 acres of woodlands, is a sublime adults-only retreat. All three were recently voted among the "15 Favorite Resorts in the South," according to Travel & Leisure. Closer to downtown Highlands, The Park on Main is an elegant pet-friendly hotel that also welcomes guests accompanied by their dogs.
Many dining options in Highlands are similarly plush. Wolfgang's Restaurant & Wine Bistro, voted the "Best Place for Dinner in Highlands," dazzles with its German-Creole cuisine. Primary Restaurant + Bar is very easy on the eye and woos diners with its upscale American fare and cocktails. For a more budget-conscious option, Blue Bike Cafe serves a tasty all-day breakfast, while SweeTreats Ice Cream & Deli is a great spot for a specialty sandwich followed by a homemade dessert sure to satisfy your sweet tooth. Overall, Highlands is a great place to splurge and treat yourself to something nice this holiday season.