Visit This Underrated Pacific Northwest Spot For Fun Winter Adventures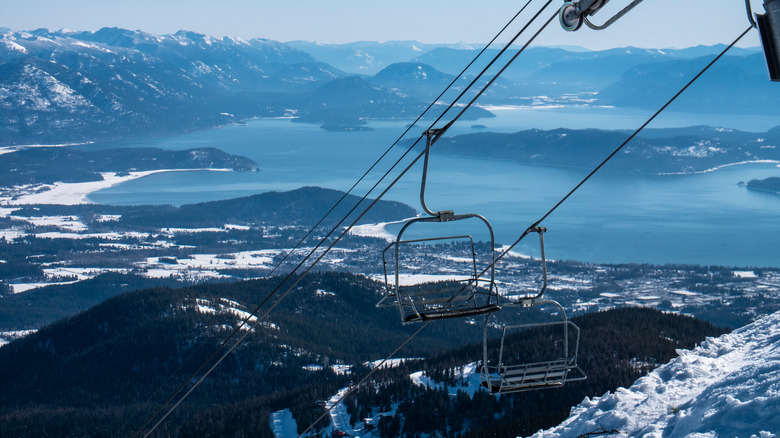 Cascade Creatives/Shutterstock
When the snow begins to fall each winter, some people choose to cozy up indoors and happily wait out the cold. Others opt to bundle up immediately and head out in pursuit of thrilling seasonal adventures. If you're a traveler who falls into the latter category, a trip to Sandpoint, Idaho might just be your ideal getaway this year.
This lovely Pacific Northwest vacation destination is home to just under 10,000 year-round residents according to recent World Population Review numbers. While the small town setting comes with plenty of charm, Sandpoint also welcomes upward of 300 inches of snow each winter. This means vast and exciting opportunities when it comes to outdoor recreation for locals and visitors alike.
Winter travelers will find Sandpoint, Idaho enjoys a location in the scenic Selkirk Mountains, making it a picture-perfect place for ski enthusiasts to hit the slopes. A top destination to check out while you're here in the wintertime is the Schweitzer Mountain Resort. This is a family-friendly place to enjoy a ski trip that features over 2,900 acres of gorgeous terrain for snowboarding and skiing fun. This inviting ski resort also hosts well-maintained trails for Nordic skiing with intriguing cross-country ski routes, as well as opportunities to snowshoe or snow bike your way through an unforgettable day.
Ice fish and snowmobile your way to fun in Sandpoint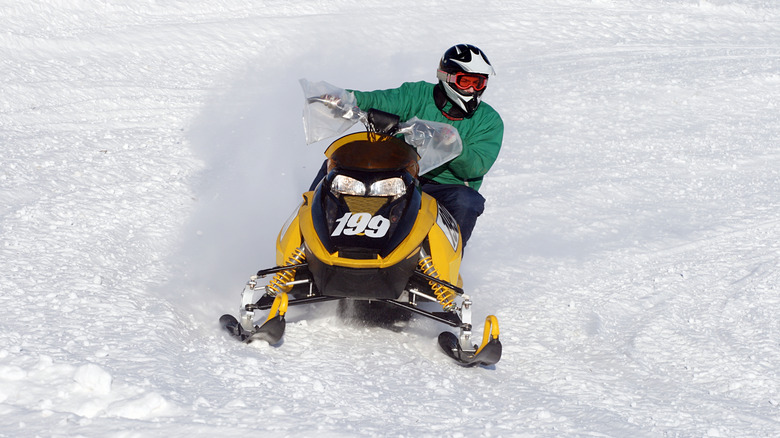 SBakhadirov/Shutterstock
While time on the slopes is always worth your while during a winter getaway to Sandpoint, Idaho, time on the lake is sure to be just as appealing. Sandpoint is home to Lake Pend Oreille which boasts depths of more than 1,200 feet in some places. Surrounded by towering mountains, Lake Pend Oreille is not only scenic but a title-holding natural lake in the western U.S., ranking among the deepest and largest of its kind.
The lake comes alive with boats and water skiers in the summer, but it's a haven of opportunity for ice fishing in the winter. With the proper gear in hand, ice anglers can potentially reel in everything from rainbow fish and lake trout to perch and chinook this time of year. Try your luck at the Sunnyside access point on the lake's northeast side where ice depths tend to be ideal during the winter. The west side of the Long Bridge at Lake Pend Oreille is another great option for maximizing your chances of a catch.
If you're hoping to fill your Sandpoint winter getaway with heart-pounding thrills, snowmobiling's an activity you'll want to add to your list. Consider booking a backcountry tour with the team over at Selkirk Powder to make the most of the fun. They offer snowmobiling excursions for individuals or groups, starting at $110 for passengers or $225 for drivers during the holidays, as well as avalanche education courses starting at $345. 
Enjoy winter adventures on cross-country skis and sleds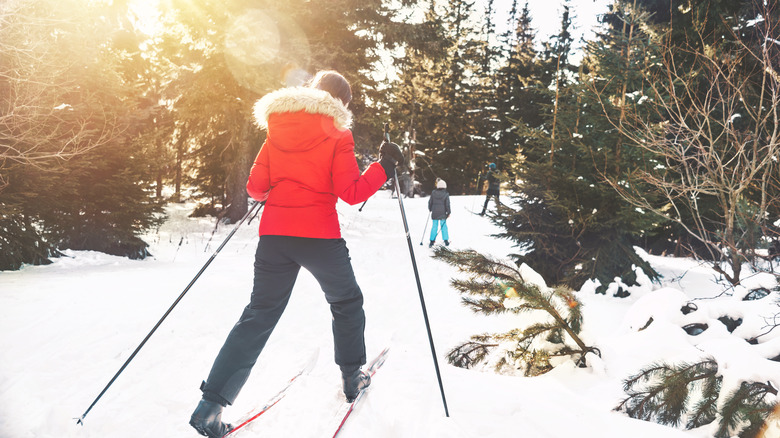 Golero/Getty Images
Sandpoint, Idaho is an amazing destination for travelers who love to spend time cross-country skiing in the winter. When you're ready to get out and explore, nearby Farragut State Park is a top spot to add to your itinerary. Here, you'll find easy access to over 9 miles of trails, and because the park sits at the southern end of Lake Pend Oreille, you're treated to glittering frozen lake views, too.
If you're heading to Sandpoint with little ones in tow and you're looking for a scenic spot to enjoy sledding, Round Lake State Park is the place to be. A mere 10 miles south of Sandpoint following Highway 95, Round Lake State Park is a popular family-friendly winter destination thanks to its hilly terrain and potential for ice skating fun in the winter depending on conditions. There are a variety of nature trails that wind their way through Round Lake State Park making it a great choice for winter travelers who are looking to hone their nature photography skills during a visit.
While many warm-weather visitors head to Sandpoint to take advantage of inspiring biking adventures, you don't have to put the gear away when winter rolls around. Just swap out a road bike for a fat tire bike when the snow begins to fall. Fat tire biking is a popular wintertime activity in Sandpoint that gives you access to the many trails and routes showcasing wildlife and great seasonal views.