Take A Beautiful Winter Couples Trip To This New York Town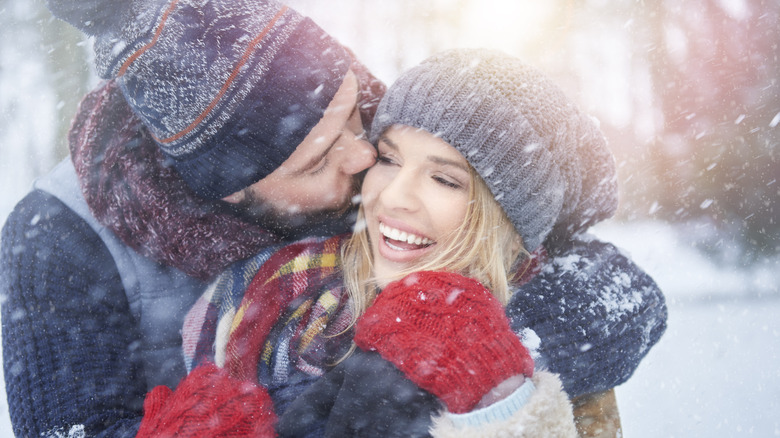 Gpointstudio/Getty Images
The holiday season is a busy time of year for most of us, and things can get a little stressful with so much to do between Thanksgiving and Christmas. It's also the time of year when the shorter days and cold weather can make one feel a little glum — around 10 million Americans experience Seasonal Affective Disorder (SAD) each year. On the flip side, the winter months are a wonderful time to treat yourself and your other half to a cozy break somewhere away from the festive grind. If you want charming surroundings, beautiful scenery, fresh air, and plenty of good things to eat and drink, Phoenicia is one of the most romantic getaway destinations in upstate New York.
Tucked away in the forested foothills of three Catskill Mountains where the Stony Clove and Esopus Creeks converge, Phoenicia is a laid-back hamlet with a population of just over 250 people. At around a two-and-a-half hour drive from New York City, it's a popular vacation destination that manages to retain its small-town vibe, especially during the off-peak season. Though a settlement has been here since the mid-19th century and the layout hasn't changed all that much since Main Street was built in 1853, in more recent years, Phoenicia has become a hip haven for a short relaxing break.
Things to do in Phoenicia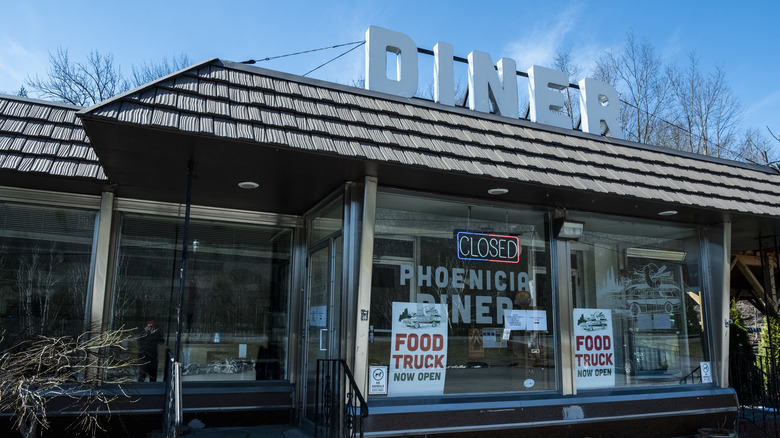 Ira L. Black - Corbis/Getty Images
There are plenty of interesting boutique shops and independent stores tucked in and around Main Street in Phoenicia, New York, that will keep shopaholics happy for a few hours and provide inspiration for an unusual Christmas gift. Both Mystery Spot Antiques and Phoenicia Arts & Antiques are well-stocked with vintage trinkets, retro fashions, and tasteful bric-a-brac, while The Nest Egg and Melange are good for keepsakes and souvenirs. 
Once you've worked up an appetite with your purchases or window shopping, Phoenicia has several tempting places to grab a bite to eat. If you come in from the south, you'll pass its most iconic spot: the Phoenicia Diner. Established in 1962, the diner offers a fresh, modern take on classic diner staples. Brio's Pizzeria on Main Street is a popular place for wood-fired pies and other favorites including burgers, tacos, and sandwiches. For more upscale fare, Peekamoose Restaurant & Taproom has earned its reputation as one of the finest dining experiences in the Catskills, specializing in farm-to-table dishes using the freshest seasonal ingredients.
One of the best places for a few drinks in the area is nearby Woodstock Brewing, a 15-barrel microbrewery established by two friends with a passion for hops. It's a stylish place to sample the homemade Pilsner and Pale ales while snacking from the tasty menu.
Places to visit outside Phoenicia
Phoenicia, New York, makes a good base to explore the surrounding nature. Mount Tobias Wild Forest is a gorgeous place to go hiking if the weather is cool but fine, especially if you catch the tail-end of the fall foliage. Trekking up to the peak of Mount Tremper (2,724 feet) is another outdoor highlight, with its historic fire tower on the summit providing outstanding views of the surrounding area.
The ski season in the Catskills usually starts in December and hits its peak in January and February, and Phoenicia is close to two excellent ski resorts. Hunter Mountain is the biggest resort within easy reach of New York City (also a great spot for the perfect holiday trip), while Belleayre Mountain Sky Center is more geared to beginner and intermediate fun on the slopes and has a scenic gondola ride. If you plan to stay overnight in the mountains, accommodation options range from cozy cabins to luxury hotels.
If you plan to use your trip for less strenuous activities, Emerson Resort & Spa is a great one-stop option. Not only does it offer pleasant rooms, dining, and shopping, but it's also home to the world's largest kaleidoscope! The wellness center offers a variety of treatments for couples, and the resort even offers an Elopement Package if you want to get hitched during your stay. With all these options available in Phoenicia, you'll return home relaxed and ready to face the rest of the winter together.