Take A Drive Along Stunning Mountains And Lakes On This Canadian Road Trip Route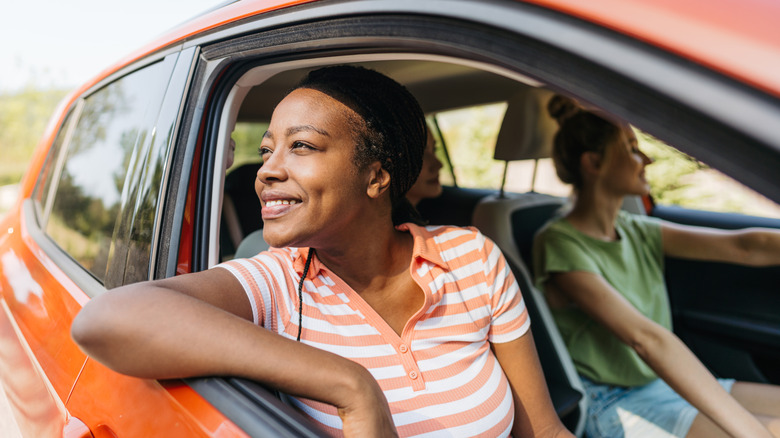 Aleksandarnakic/Getty Images
Road trips are an ideal way to take in majestic scenery. You can observe the world from your window, or you can pull the car over and physically immerse yourself in nature. Sure, it takes longer than flying and you lack the aerial views, but when you're traveling with the intention of taking in your surroundings, driving is the perfect way to travel — and the Icefields Parkway in Canada is the ideal place to do so.
The Icefields Parkway is a 144-mile route that connects you to Jasper from Lake Louise. It weaves around the Canadian Rocky Mountains and multiple lakes, making for some spectacular and breathtaking views at every turn. For those who want to do more than stretch your legs, you can park and hike at numerous locations. Of course, this will lengthen your trip, so make sure you give yourself extra time beyond the three hours the GPS suggests it'll take to drive straight through.
Sights and hikes along the way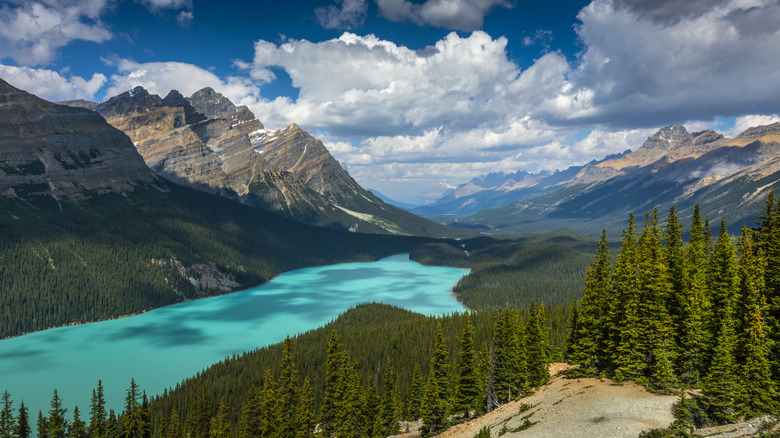 Schroptschop/Getty Images
Saskatchewan River Crossing is where you'll find the intersection of the North Saskatchewan, Mistaya, and Howse Rivers. The sight is gorgeous, especially with the mountains serving as a majestic background and reflecting in the water. Note that this location is also ideal for those needing to grab a bite to eat or use the restroom. It's the only spot along the route that you'll be able to do those things, as well as fill up on gas or grab road trip essentials, so plan accordingly.
The Athabasca Glacier is a breathtaking feature in Jasper National Park. It draws in thousands of tourists every year to make it the most popular glacier in North America. You can drive by it or even right up to the base. If you want to learn more and have extra time to spare, you can take a tour with Columbia Icefield.
Peyto Lake is another mesmerizing sight along the Icefields Parkway. The stunning blue water surrounded by trees and the rising mountains make for idyllic scenery that's worth pausing to take in. You can park and walk up to a viewing point. You can take a hike to see both Peyto Lake and Bow Lake if you have the time. The 4.2 mile Bow Summit Viewpoint trail lets you take in sweeping views of each lake.
Planning ahead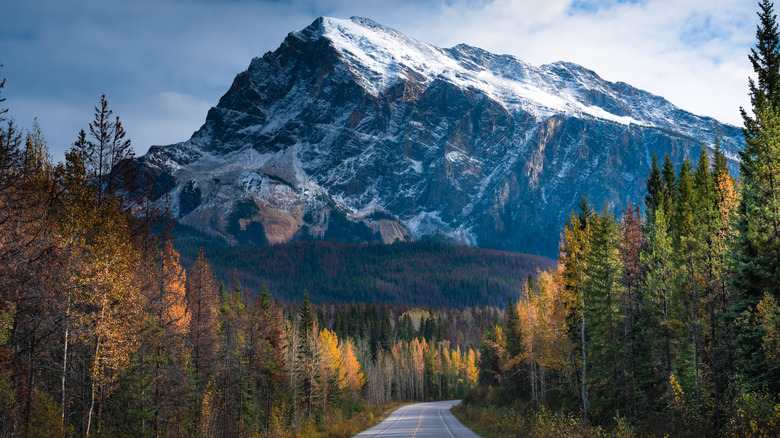 Pat Tr/Shutterstock
To get through the parkway, you'll need a Parks Canada Pass, as you'll be heading through two national parks, Banff and Jasper National Parks. You can choose between a day pass, which is $10.50 per adult per park, and $145 for a Discovery Permit, which is good for up to seven people for all of Canada's national parks for up to a year.
As for lodging, you can choose between the towns on the two ends of the parkway (Jasper and Lake Louise), the Crossing Resort at the Saskatchewan River Crossing (which is closed during the winter months), and camping. The Columbia Icefield Campground in Jasper National Park and Waterfowl Lakes Campground in Banff are two great places to stay; but be aware that they are first come, first served. For those looking for something modern and luxurious, you can stay at the Glacier View Lodge.
The Icefields Parkway is open year round, and each season has its own unique features. Road closures may happen in the winter due to snow, so keep that in mind when you're making your plans.