This Underrated Southeast Asia Destination Is Great For A Relaxing Beach Vacation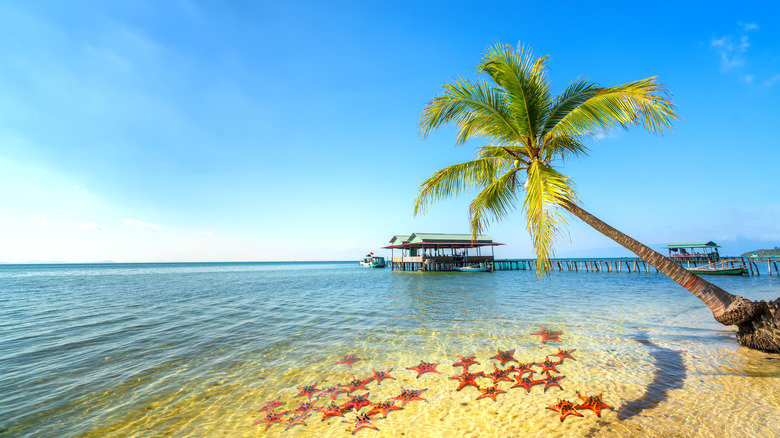 Huy Thoai/Shutterstock
If you're looking at Southeast Asia for a relaxing beach vacation, look no further than Phu Quoc. Imagine a tropical paradise nestled in the Gulf of Thailand, unspoiled by the hustle and bustle of mainstream tourism. Also called "Emerald Island," it is Vietnam's largest island — a perfect escape to crystal-clear waters, beautiful beaches, and top-class attractions. And with visa-free entry for up to 30 days for all foreign tourists, a visit to Phu Quoc is easy and accessible.
Phu Quoc's coastline is lined with some of the most beautiful beaches in Southeast Asia. The island's northern part is particularly famed for its tranquil waters and pristine shore; some even have views of Cambodia (like Bai Thom Beach). On the island's eastern coast, Bai Sao is ideal for swimming and sunbathing. Bai Truong, or Long Beach, is the longest beach in Phu Quoc (as the name implies), with more than 12 miles of western-facing shores — ideal for sunset viewing. Other honorable mentions include Dragon Beach, Vung Bau Beach, and Ganh Dau Beach.
The waters around Phu Quoc are exceptional for snorkeling and diving. To the south and northwest, the island is surrounded by many islets and coral reefs teeming with marine life. The An Thoi archipelago, located off the southern coast, is especially renowned. Peak diving season is between October through April, and visibility is generally around 32 feet. To experience marine life without going underwater, visit the famous Rach Vem Beach to see hundreds of starfish on the shore between March and April.
Exploration, entertainment, and wellness in Phu Quoc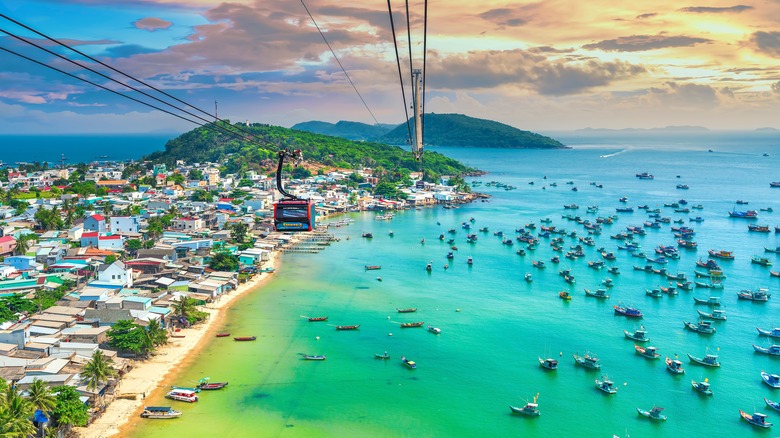 Huy Thoai/Shutterstock
Although sun and sand are undisputable highlights, Phu Quoc has plenty of other activities that will complement your beach vacation. For breathtaking views, take a journey on the world's longest non-stop cable car ride. This Guinness Record-shattering ride stretches for nearly 5 miles and takes you from An Thoi to Hon Thom (a small southern island) in 15 minutes for around $7. When you arrive at Hon Thom, you can visit Aquatopia Water Park and many other amenities in the greater Sun World Hon Thom Park for all-day fun.
How about a Venetian gondola ride followed by Vietnamese cultural performances? Yes, you read that right. Step into the surreal entertainment and shopping complex of Grand World Phu Quoc, a 210-acre "sleepless city" with non-stop events and activities across 23 uniquely-themed subdivisions. There's a miniature Shangai, a recreation of Venice, a Teddy Bear Museum, not to mention an amusement park in the adjacent VinWonders Phu Quoc, and Vietnam's first and only open zoo at VinPearl Safari. You can easily spend a few days exploring everything this complex has to offer.
After all this beach bumming and exploring, some pampering may be in order — and Phu Quoc offers a range of wellness options. The island's numerous spa resorts, such as the Regent, provide traditional Vietnamese massages, deluxe facials, mani-pedis, and other rejuvenating mind-body spoils. Yoga and meditation retreats are also available, offering a holistic approach to relaxation amid the island's tranquil settings — Cassia and An Nhien come highly rated.
Vietnamese food, transportation, and other travel tips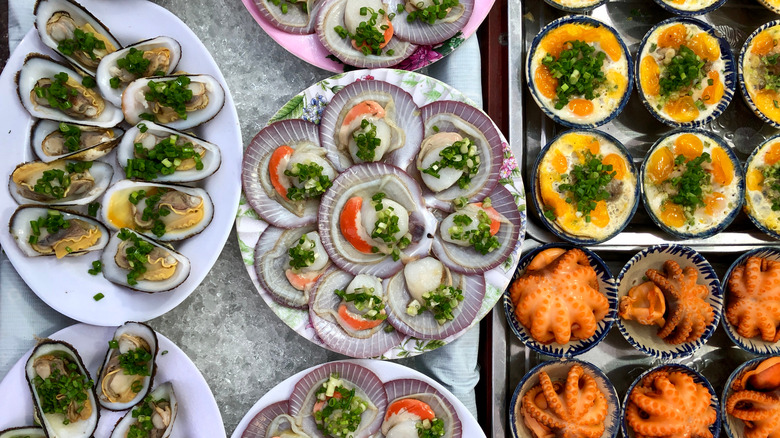 Devin Hunt/Shutterstock
No beach vacation is complete without some delicious food, and Vietnamese cuisine is known for its flavors and freshness, while Phu Quoc adds its twist with an abundance of seafood. The night market in Duong Dong, the island's main town, is a must-visit for foodies. Savor local specialties like grilled squid, myrtle wine, Phu Quoc pepper, and the island's famous fish sauce, which is considered among the best in Vietnam. There are also countless restaurants, bars, and lounges overlooking the sea, so you don't even have to leave the beach for a delicious time.
Despite its off-shore location, Phu Quoc is easily accessible. The Phu Quoc International Airport has regular and affordable flights from major cities in Vietnam and select Asian destinations. Additionally, there are ferry services from mainland Vietnam, offering a more scenic route. Because attractions are quite spread out, the island is best explored by car (ideal for groups but slightly costly) or more affordably by motorbike, costing $6 to $8 per day, with Grab rides also available.
The optimal time to visit the "Emerald Island" is during the dry season (November to April) for sunny weather and calm seas, perfect for beach activities. Phu Quoc is an underrated hidden gem in Southeast Asia, offering the perfect blend of natural beauty, cultural richness, serene beaches, and world-class entertainment. For travelers seeking a picture-perfect beach vacation, this is the place to be.