The Today Show: Your Questions About Being In The Audience Answered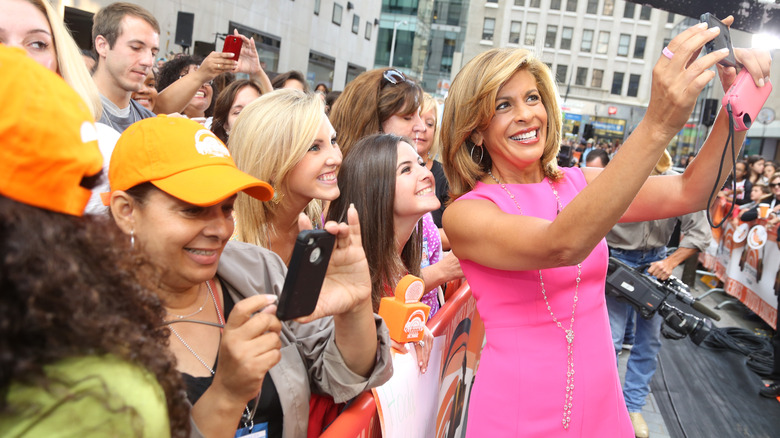 Jason Carter Rinaldi/Getty Images
Live from New York, it's ... a weekday morning? "Saturday Night Live" isn't the only major NBC production to broadcast from the Big Apple. In Rockefeller Plaza, every weekday morning, the anchors of "The Today Show" (also called "TODAY") inform viewers about global news, pop-culture buzz, and everyday stories — and you can be part of the broadcast.
We recently hung out "on the Plaza" — as "The Today Show" affectionately refers to the area outside of its studio — for all four hours of a Monday morning broadcast. We observed each step of the process carefully to provide you with everything you need to know about being in the audience of "The Today Show" and possibly even getting on TV and meeting the anchors!
There were no comp passes or press access for this reporting; this feature reflects the same experience available to anyone in New York, tourist or local alike. If you know what to expect and bring a bit of patience with you, being in the "The Today Show" audience offers a fun, free outing in New York City and an uplifting way to start the day.
Which talk show is The Today Show again?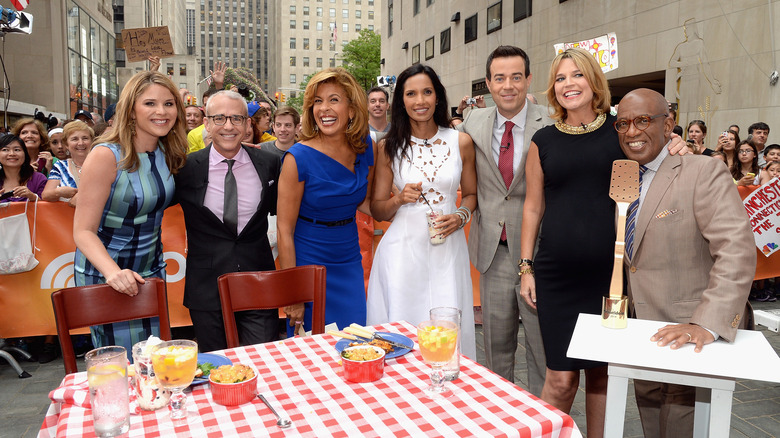 Larry Busacca/Getty Images
You'd be forgiven for needing a reminder of which morning talk show carries the moniker of "The Today Show." All three of the major networks carry a similar flow in their a.m. programming, and all report live from New York City. "The Today Show" is not the home of Gayle King; that's "CBS Mornings." Nor is it headquarters for George Stephanopoulos or Robin Roberts; that's "Good Morning America" on ABC.
"The Today Show" is the home base for anchors Savannah Guthrie, Hoda Kotb, Al Roker, Craig Melvin, Carson Daly, Jenna Bush Hager, Sheinelle Jones, and Dylan Dreyer. During what is commonly referred to collectively as "The Today Show," the team splits hosting duties across the morning's four hours of programming: "TODAY" (7-9 a.m.), "3rd hour of TODAY" (9-10 a.m.), and "TODAY with Jenna & Hoda" (10-11 a.m.). To put it another way, this is the crew that hosts the Macy's Parade each Thanksgiving.
Though many hosts and even some news topics may overlap among the various blocks, the lineup of special guests and major stories is different for each increment of time. Anyone is welcome to be part of the proceedings on the Plaza, but the most excitement — and the better chances of being on TV and maybe even meeting the anchors — is during the show's primary first two hours.
How do I purchase tickets to see The Today Show in person?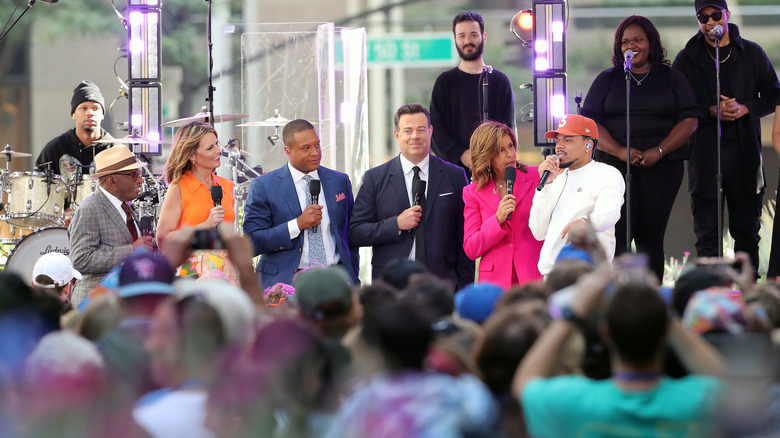 Al Pereira/Getty Images
There are no formal tickets to visit "The Today Show." Compared to other shows filmed nearby (more on those later), "The Today Show" is pretty chill! Prospective attendees of the live broadcast can fill out a form on NBC's website, but on the day of our visit, that was more of a formality. (If we had to guess, we'd assume the form is probably for producers to have an idea of how many people to expect and prepare accordingly.) This step may fluctuate day to day, but no one ever asked for verification that we had filled out any form, and passers-by were more than welcome to spontaneously join the crowd at any time, as long as there was space available.
Entry is free. Yep, $0! The reasoning is semi-transactional, though. You get a neat, behind-the-scenes experience, and "The Today Show" gets happy smiles for their cameras. It's a win-win, and it's nice that NBC acknowledges the value that excited onlookers bring to the broadcast by not charging admission. That being said, you're not guaranteed to see anything in particular but rather invited to be present for the atmosphere of the morning.
What will I be able to see if I'm in the audience?
We hesitate to even use the word "audience" here, but for lack of a better term, we'll go with it. "The Today Show" does not have an indoor studio audience. Instead, the outdoor Rockefeller Plaza, located immediately behind the studio, becomes a mosh pit of sorts. Onlookers can peer into the studio via a large glass window (dubbed "window on the world," pictured above) or line up behind barricades to get up close and personal for any part of the broadcast that happens outside.
Furthermore, there are no seats. Be prepared to stand for the entire length of your visit. Upon arriving to the Plaza and going through a security checkpoint, you can stand anywhere there's space. On the day of our visit, the outdoor portion of the broadcast was limited to only a few minutes of brief interviews and friendly conversation among the anchors. Other days, outdoor concerts provide much more to see (and, naturally, attract a much bigger crowd). As we stood outside, sometimes we could clearly hear and see what was happening with the live television feed, other times not at all.
What time does The Today Show happen and when should I show up?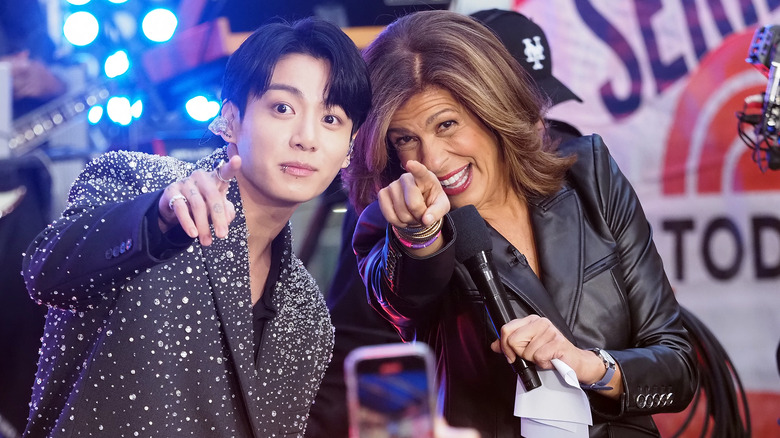 Debra L Rothenberg/Getty Images
"The Today Show" is live, not pre-recorded. The full broadcast lasts 7-11 a.m., and audience members are admitted into the Rockefeller Plaza viewing area between 6:15 and 6:30 a.m. The action on the Plaza concludes by 9 a.m., at which point the area becomes an open pedestrian area rather than a barricaded audience viewing area. From that point forward, the broadcast remains indoors, and anyone can walk freely through the Plaza and approach the window behind the studio.
When you should arrive depends on what you want to get out of the experience. Do you really want to be on TV? Would you like to meet the anchors? In either case, showing up at 6:15 a.m. will give you a better shot at securing a prime spot in the barricaded area to do that. Do you merely have a casual interest in attending and don't have any preference for who you see or if your sightline is through a window? Spare yourself the early wake-up call and stop by after 9 a.m., when the area is openly accessible.
How do I get on TV?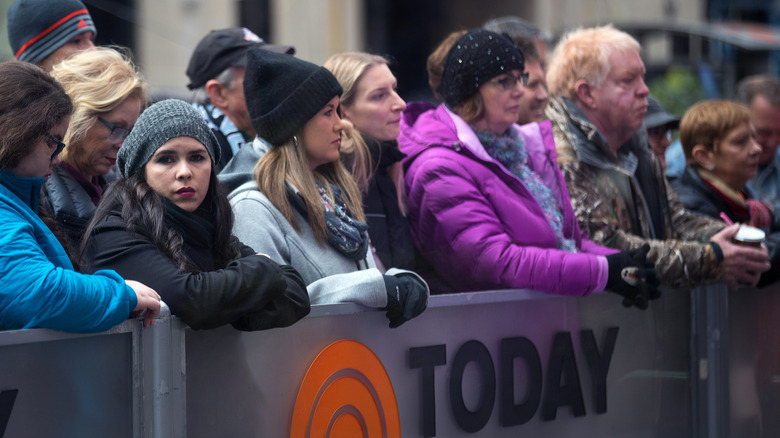 Drew Angerer/Getty Images
If you're among the first row of the crowd standing behind the barricades in Rockefeller Plaza during the 8 a.m. hour, you'll likely be on camera at some point. Upon arriving at the Plaza, you could also opt to make a beeline for the window that peers into the studio, where you could wave to the cameras from behind the glass, but personally, we think the barricade is a better payoff in the long term.
Want to increase your chances of being on TV? For starters, smile! The production crew wants to project a positive atmosphere; therefore, the camera operators are more likely to turn your way during a crowd shot if you're visibly excited to be there.
Secondly, share your story. By this, we mean don't be shy about letting the producers know (in an appropriate manner, of course) who you are and if there's anything you're celebrating while in New York. There's a space in the online pre-arrival form to share this information. You can also do so by making a bright poster (they seem to love that) and by being polite to any personnel during the check-in process. If someone who looks like they work there strikes up a conversation with you, they're likely vetting the crowd for feel-good stories to highlight as on-camera shout-outs later in the broadcast. Don't be rude and brush them off; they're probably trying to get you on TV!
How do I meet the anchors of The Today Show?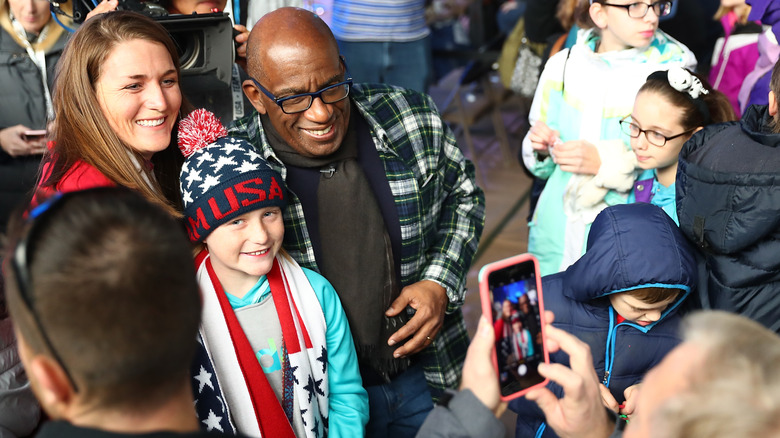 Joe Scarnici/Getty Images
During commercial breaks between outdoor segments within the 8 a.m. hour, the hosts are gracious in mingling with as many audience members as possible. During our visit, every anchor walked the entire line and was happy to chat or take photos. Hoda Kotb gladly held a toddler in her arms for a birthday photo. Pressed for time as the broadcast was about to go back on the air, Al Roker picked up his pace but still made sure everyone got a photo who wanted one. What a pro; he's done this before! (You might also spot some celebs at other spots around NYC.)
The availability of meeting the anchors might differ depending on the crowd. On the day we visited (a Monday in October, for what that's worth), the audience was only about three people deep surrounding the barricade. Additionally, not every anchor is present every day. Some report in the field during off-site segments or are simply away for personal time off.
If you're interested in meeting the anchors, we're guessing you're a fan of the show. In that case, make sure to stop by 30 Rockefeller Plaza (directly across the street from the outdoor viewing area of "The Today Show") and visit the NBC Studio Store. It sells a collection of "Today Show" souvenirs, from shirts to coffee mugs (as well as oodles of cool stuff from other NBC shows, too). Select items are also available online.
Does The Today Show happen in the rain?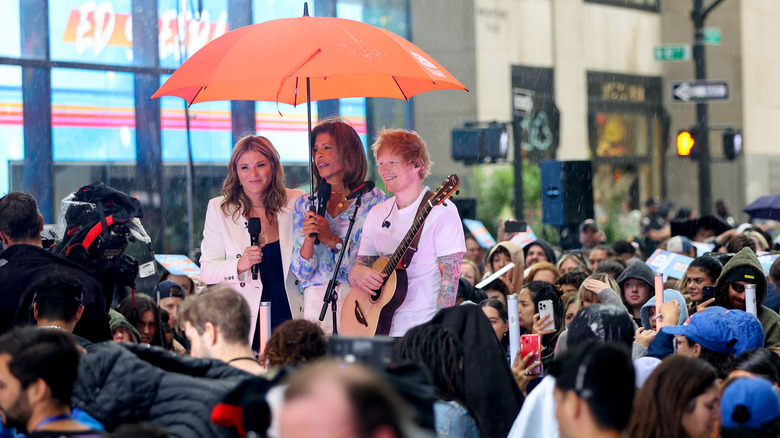 Jose Perez/bauer-griffin/Getty Images
Yes! Most of the broadcast happens inside (not accessible to the audience, mind you), but even if it's raining, the outdoor viewing area still operates. Certainly, if there's a major weather hazard that would jeopardize visitors' safety, the audience participation might be a no-go, but in the case of just rain with no other factors, the show goes on.
During our visit, a medium-level shower descended upon Manhattan in the early morning as we walked to the Plaza — more than a drizzle, but not quite a full-fledged storm. Upon being admitted into the barricaded viewing area after the security checkpoint, crew members gave everyone complimentary orange rain ponchos with "The Today Show" logo. We were welcome to take the ponchos home with us.
You can bring an umbrella into the viewing area, but you may be asked to close it when the outdoor segments begin filming. Also, be mindful of your umbrella's width so as to not poke anyone as you stand in the crowd with less personal space than you're probably used to. Check out our tips for things to do in New York City if it's raining during your trip.
What can I bring?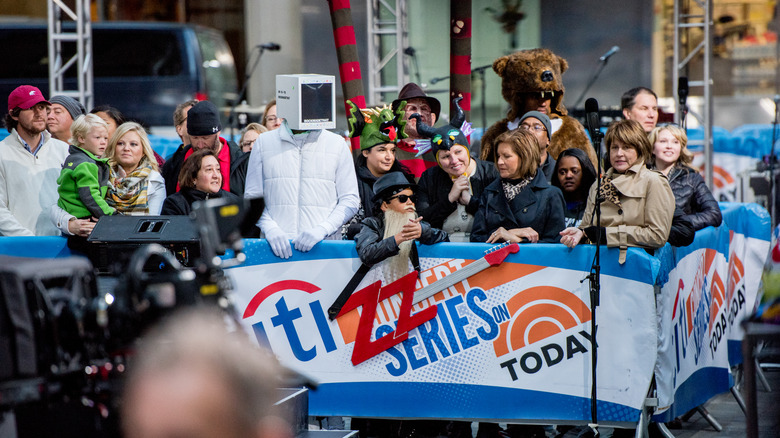 Roy Rochlin/Getty Images
Anyone arriving between 6:15 and 9 a.m. must go through a security checkpoint before entering Rockefeller Plaza's outdoor viewing area. Obviously, no weapons are allowed. You can bring cameras, phones, posters, kids, umbrellas, snacks, and water bottles. Bulky luggage is not allowed, but backpacks are. 
Many of the same tips for airport security apply here. As you make your way through the security line, be prepared for your turn. Pay attention to what the security personnel asks visitors in front of you, and help make their job easier — and get you to your spot quicker! — by removing everything from your pockets and taking off your belt if you're wearing one.
Another thing you should bring? Patience. As glitzy and fast-paced as it seems from home, television production is a slow-going process. There will be long stretches of time when nothing is really happening. Especially if you're bringing kids, prepare them for what to expect.
Where can I use the bathroom?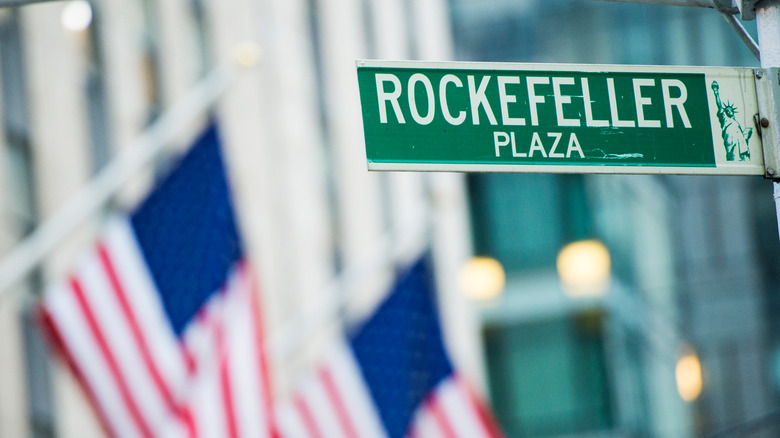 travelwild/Shutterstock
The official answer is ... you can't. But when you gotta go, you gotta go. "The Today Show" studio and the area surrounding the outdoor viewing area in Rockefeller Plaza do not have public restrooms. If you need to use the bathroom, you'll have to leave the filming area and come back, forfeiting your spot in the crowd. Upon your return, you'll go through the security checkpoint again.
Your closest bet for a bathroom near "The Today Show" is across the street inside 30 Rockefeller Center (aka the iconic building home to NBC's additional studios and the location for what seems like at least one scene in all the movies taking place in New York). However, once you're inside 30 Rock, getting to the bathroom is a bit of a trek. Signs clearly mark the way, but it's ... a voyage. If you're standing among the crowd at "The Today Show" and think you might not be able to hold it, make your way to the restroom sooner vs. later because the walk within the labyrinth of 30 Rock will likely take some time.
That being said, no one knows your body better than you. Assess how you might be able to adjust your typical morning routine (how many cups of coffee you drink, etc.) to accommodate your abnormal schedule on the day of your visit to "The Today Show."
Are some days more crowded than others?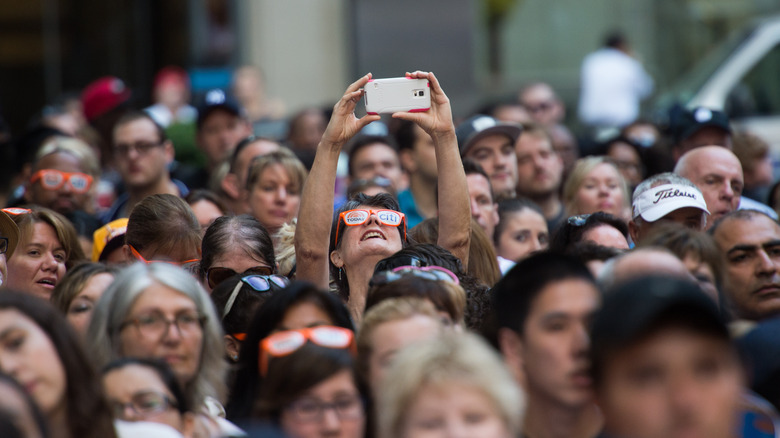 Noam Galai/Getty Images
Yes, the number of people who show up to be in the audience of "The Today Show" may fluctuate depending on several factors. Bigger crowds may be attracted by A-list celebrities, outdoor concerts, nice weather, or big holiday shows like Halloween. You may want to consult TVEveryday.com ahead of your visit to check which special guests will be on the show that day so you can gauge what kind of crowd to expect.
Due to the way "The Today Show" breaks up its four hours of total programming into separate blocks, the crowd may also change in volume as the morning progresses. For instance, when we visited, there were no major celebrities on the show during the first few hours, so the crowd was moderate. However, the final hour of the broadcast featured the U.S. TV debut performance of K-pop band LE SSERAFIM, which drew a large group of fans to watch the group, even from outside looking into the window.
I was on TV, but no one saw it back home. Can I find the episode online?
You did the hard work of waking up early and placing yourself front and center, holding up a huge poster that reads, "Happy birthday, Dad!" that you know was visible on camera directly behind Al Roker. Your dad, though, bless him, didn't even notice. Not to worry — there are a few ways to catch the show again.
Each day's episode of "The Today Show" re-airs as the "Today All Day" livestream feed (in name only; not actually live) that loops continuously on the show's YouTube channel until the following day. If you missed the playback stream on the day, the channel keeps previous streams archived. Episodes of the first two hours of "The Today Show" are also available for playback viewing for four days on Peacock. Take a screenshot to preserve your 15 seconds of fame!
You also might want to check the show's social media accounts or even the anchors' personal accounts for any photos taken during your filming by the show's on-set professional photographer. The afternoon of our visit, we were thrilled to see ourselves in a photo Al Roker posted on his Instagram!
What other TV shows film in New York that I can watch live?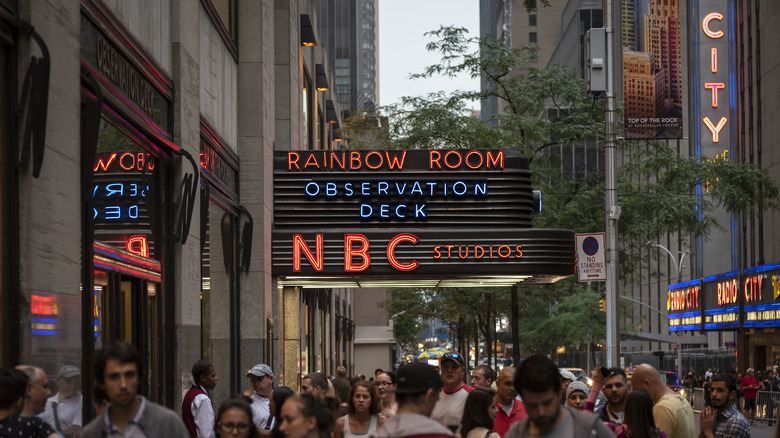 Joel Carillet/Getty Images
As you might imagine, New York City is an entertainment hub that many television programs call home. You might not realize, though, how easy it is to see the shows in person. Similar to "The Today Show," "Good Morning America" has an outdoor, standing-room-only area at the steps of its studio in Times Square, with no formal ticketing and no indoor audience.
Most shows, though, require a simple online process to acquire (free!) tickets for TV show tapings in New York City. A ticketing service called 1iota provides easy navigation to request seats for "LIVE with Kelly & Mark," "The View," "The Kelly Clarkson Show," "The Tonight Show starring Jimmy Fallon," and "Late Night with Seth Meyers." You can also try your hand at joining the standby line for "Saturday Night Live," though that process is a bit more involved, as explained by NBC. The network also offers tours of the NBC Studios at 30 Rockefeller Center for $48.