This Midwestern State Park Is A Must-Visit For Beautiful Landscapes And Fun Adventures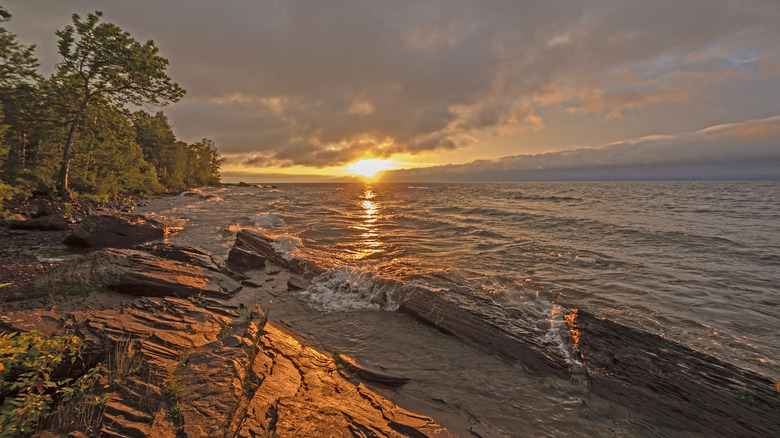 Wildnerdpix/Shutterstock
When we travel, we typically have a goal for the trip. It might be to roam city streets or to unplug and delve into nature. For those looking to do the latter in a place that's sure to take your breath away, you might want to head to the Upper Peninsula of Michigan. It's probably not the first place you think of for astounding mountainous scenery, but the state's rugged Upper Peninsula, specifically Porcupine Mountains Wilderness State Park, offers just that. USA Today surveyed internet reviews to determine the country's most beautiful state parks, and Porcupine Mountains Wilderness State Park came out on top.
At the park, you'll find a variety of land features including beautiful forest landscapes, steep ridges, gushing waterfalls, rivers, and Lake Superior's stunning shoreline. From the various vantage points on hikes, you'll be able to take in all of it. Witness the immense beauty for yourself by booking a trip to this state park with spectacular views.
Land and water activities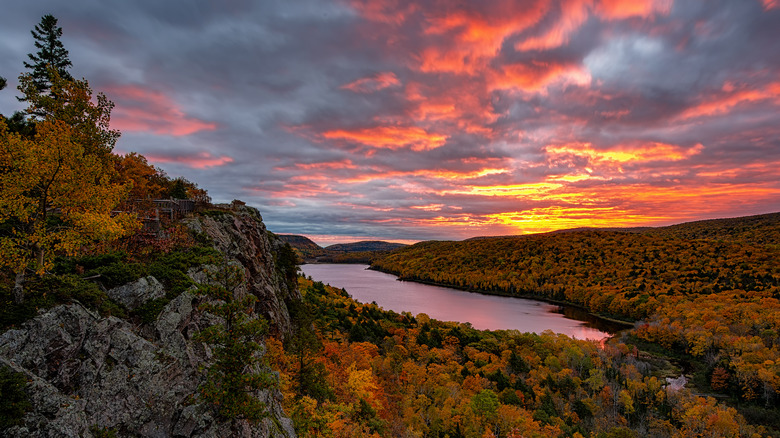 John McCormick/Shutterstock
The park sprawls out for 60,000 acres and features more than 90 miles of hiking trails, meaning you won't run out of places to safely explore. You can also bike along many of the trails or even bring your dog along with you as you hike. The top two trails on All Trails are the Escarpment Trail and the Lake of the Clouds trail. Both trails offer sweeping views of Lake of Clouds and the Presque Isle River and Porcupine River, but the Escarpment trail is significantly longer at 8.4 miles than the Lake of the Clouds trail (1.8 miles). If you want to experience some of the park's 70+ waterfalls, then head along the Presque Isle River Trail.
The Lake of Clouds is perhaps the most popular stop in the park. It's renowned for its incredible beauty and visible from multiple hiking trails. While you can't swim or boat in it, it's certainly worth visiting to capture some fantastic photos. For those set on engaging in water activities, you can head over to one of the other bodies of water, like the Presque Isle River. Simple Adventures Michigan offers kayak and stand-up paddle board rentals. You can choose from one-hour rentals all the way to eight hours.
Lodging in Porcupine Mountains Wilderness State Park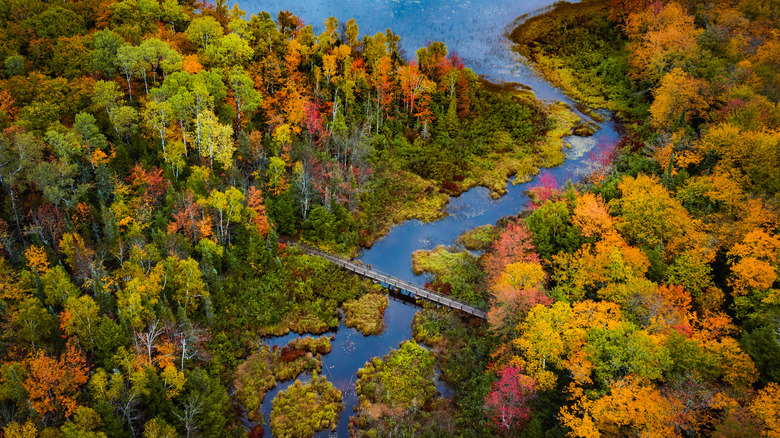 Big Joe/Shutterstock
Camping is a great way to continue your adventures in nature in this scenic region. Luckily, Porcupine Mountains Wilderness State Park has backcountry and modern camping available year round. Peak season for camping is May through October and reservations are highly recommended if you plan on visiting during this time. Overnight rates are $20 per night for both backcountry and modern sites. If you'd rather unwind and sleep in a building, you can stay in a rustic cabin, a backcountry wilderness yurt, a tiny house, or a modern lodge. Essentially, you can find something regardless of your lodging preference.
The park is open year round, so whether you want to hike, camp, or simply take in extraordinary views, you can do so whenever you please. Fall is a great time to visit and take in all of the beauty of a Midwestern fall with the turning trees and the thinning crowds, so keep that in mind when you select your visiting dates.