Take In The Beauty Of Midwestern Fall Foliage At This Underrated Destination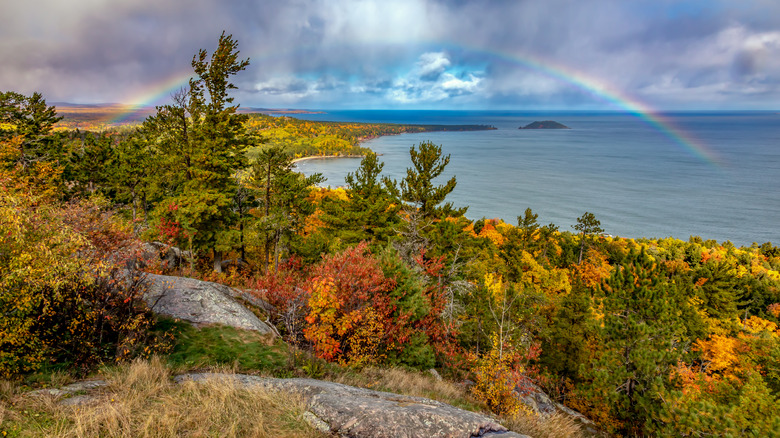 Craig Sterken/Shutterstock
With its colorful leaves swaying on trees, fall is a particularly stunning season. If you want to fully experience the magic of autumn, consider taking a trip to Marquette, Michigan. Marquette, the biggest city in Michigan's Upper Peninsula, sits on the shores of Lake Superior, arguably one of the most beautiful lakes in the Midwest. A gem of a place, Marquette features picturesque scenery that's perfect for a nature-centered vacation. There's also a thriving downtown area that complements the destination's captivating landscapes.
Besides its natural beauty, easy accessibility is one of the many perks that Marquette offers. Just about 13 miles away, Marquette Airport is only a 30-minute drive from the city, with a taxi ride typically costing around $70. However, if you're flying to Marquette, it may be worth renting a car upon your arrival, as rentals cost around the same per day. Plus, renting a car allows you to easily explore outside of the city. Marquette County contains over 40 parks and recreational sites, leaving you plenty of destinations for viewing Marquette's incredible fall foliage.
Where to see Marquette's fall foliage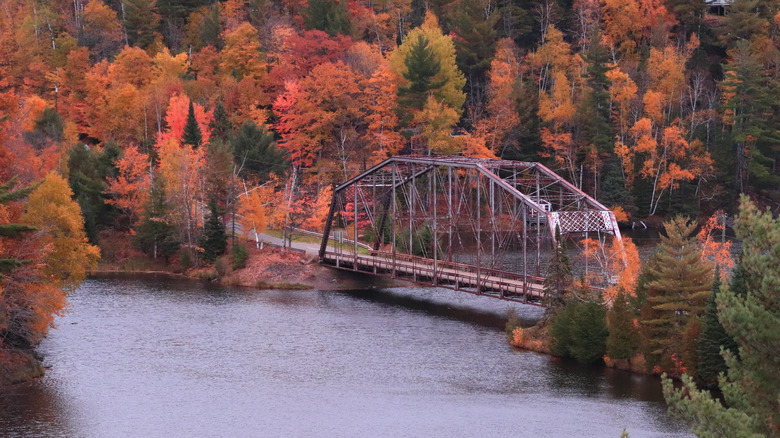 Marissa Jayne Wolfe/Shutterstock
Surround yourself with autumn's colors while hiking on one of Marquette's nature trails. Sugarloaf Mountain, a popular peak in Marquette County, is considered a top spot for leaf peeping, and the Sugarloaf Mountain Easy Trail is just a little over a mile in total. Once you reach the mountaintop, you'll encounter a sweeping view of Lake Superior and its surroundings. Or, you can revel in Marquette's natural beauty at Presque Isle Park, a 323-acre peninsula with glistening waters and sandstone cliffs. This must-see attraction features hiking trails, playgrounds, pebble beaches, and picnic areas. As you take in the breathtaking fall foliage on your hike, you might spot wildlife like the forest's white-tailed deer. Morgan Falls, Wetmore Landing Shore Trail, and Hogback Mountain also offer a stunning look at autumn's colorful leaves.
You can also witness the area's exquisite foliage by taking a scenic drive. The ride from Marquette to Big Bay is a drive-along immersion in fall colors, especially if you take County Road 510 instead of the highway. You can also check out Mount Marquette, a high, glorious peak that's accessible by car. There are a couple of small parking areas close to the overlook, and once you park, you only need to walk a few hundred feet for extraordinary views of Lake Superior and the cityscape.
Other great autumn activities in Marquette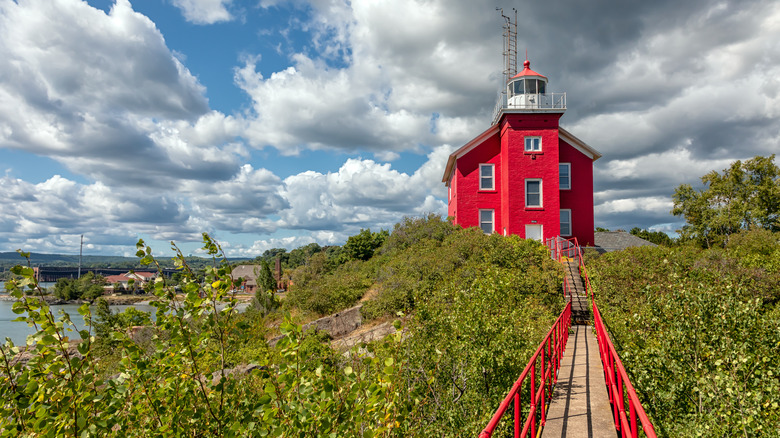 Craig Sterken/Shutterstock
In addition to Marquette's beautiful fall foliage, the city is home to some unique seasonal attractions. Seeing the Northern Lights is a must-do activity here, as the area has low levels of artificial illumination. The fall — particularly October and November — has been deemed as the best time of year for viewing. McCarty's Cove, Sugarloaf Mountain, and Presque Isle Park are a few fantastic locations for clear views of the remarkable night sky.
Halloween lovers can get their spook on by checking out some of Marquette's haunted sites. The Landmark Inn, which was established in 1930, is a well-known hotel with an eerie history. Rumors about ghost sightings have been rampant in this downtown destination. Additionally, famous figures like Amelia Earhart and Louis Armstrong were once guests at the hotel. One of the rooms was even named after the aviation pioneer, with some believing that her spirit occasionally passes through. While these creepy accounts are mere speculation, the inn still may interest those who love a good ghost story.
Marquette also features a plethora of exceptional lighthouses worth visiting. Huron Island Lighthouse and Marquette Harbor Lighthouse are distinctive landmarks with rich histories. When you're not busy exploring these special attractions, take a lunch break at one of the city's laid-back eateries, like Rare Earth Goods & Cafe. After enjoying a beverage and sandwich, browse the art co-op's assortment of clothing, jewelry, tapestries, and essential oils.