Why One Of New Zealand's Most Beautiful Hikes Is Also Considered One Of Its Most Dangerous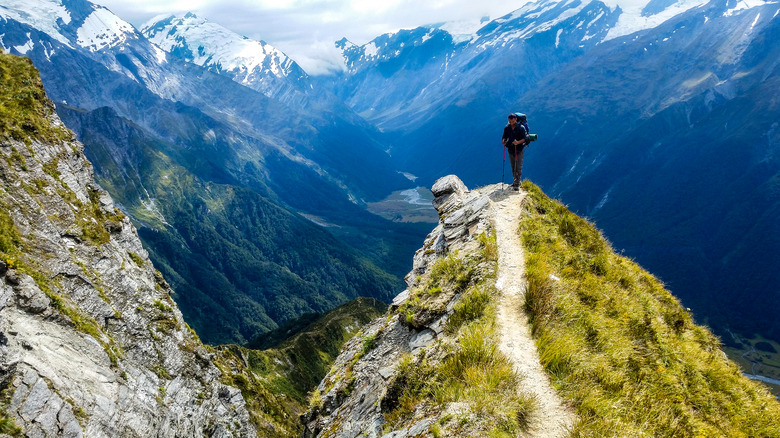 Ooriya Ron/Shutterstock
New Zealand is a beautiful place for hiking. The scenery is incredible and even inspired Peter Jackson when he directed "The Lord of the Rings" movies. Some hikes let you experience what the hobbits would have seen as they traveled to Mount Doom. (You can actually hike to Mount Doom there.) Some of the hikes in the island country, however, aren't for beginners. In fact, some of them can be very dangerous if you don't know what you're doing. One of those hikes is the Cascade Saddle in Mount Aspiring National Park. This is a challenging 10.5-mile hike with a 5,656-foot elevation gain that will take you two days to complete, and that's without the trip back.
This hike has killed people, so when we say it's not for beginners, we're not kidding. There are signs posted along the trail that say, "Extreme care: Multiple fatalities have occurred beyond this point," and when you see a sign like that, you know this is no country stroll. The hike requires camping and a bit of rock climbing and features some extreme weather if you're not there at the right time (and sometimes even if you are). Let's talk about the Cascade Saddle hike and what you need to know if you want to attempt it. 
Safety tips you cannot afford to ignore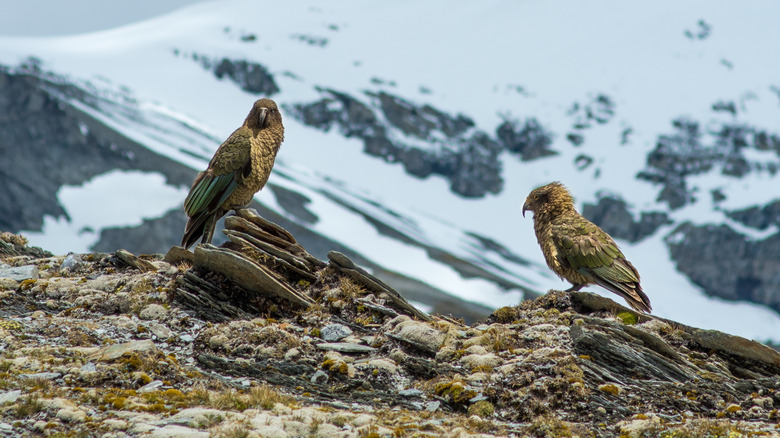 daringtoexplore/Shutterstock
First, it is suggested that you begin from the Matukituki side of the hike because the other way is extremely steep. That doesn't mean this direction is easy. It's also important to note that this hike should be done between mid-December and mid-April to avoid inclement weather, though heavy rain is common, and it does snow occasionally in the summer.
Here are tips you cannot afford to ignore. You must tell people where you're going and when you're expected back. Another tip is not to mess with selfies here. It's very easy to slip and no picture is worth your death. You should also be prepared to turn back if you see a view of Mount Aspiring and there is ominous weather surrounding it. Hiking poles are going to be your best friend here, and if you plan on hiking when there is ice, you'll need crampons and an ice axe.
You'll likely choose to stay at the Cascade Creek campsite rather than hiking the entire trail in one day, and it's important to book in advance. There's a small outhouse here and a shelter for cooking, but no other facilities and you'll need to pack everything you bring into the park back out with you again. Even if you don't plan to stay the night, it's wise to bring camping stuff in case you have to stop due to weather conditions. If one of the river crossings looks dangerous, turn back, and do not go off the trail. Hide all your loose and shiny items because the world's only alpine parrots, known as keas, live here and have a tendency to steal.
All about the Cascade Saddle hike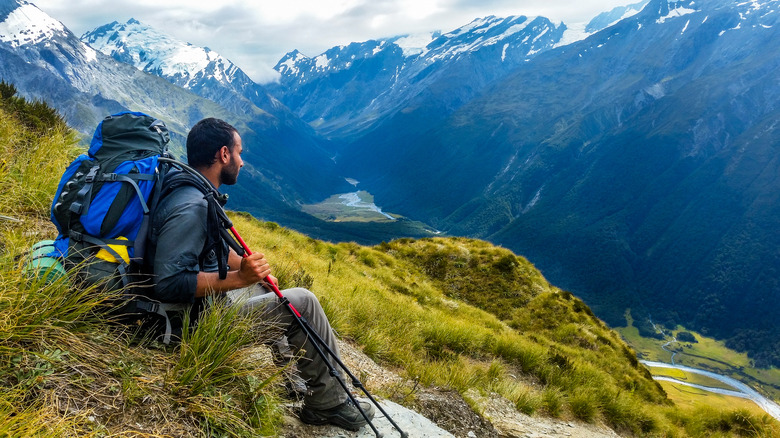 Ooriya Ron/Shutterstock
With safety tips out of the way, let's talk about what you're going to see on the breathtaking hike. The views you'll get of Mount Aspiring, or Tititea in the Māori language, are incredible, as is the one of Matukituki Valley. It's not just the mountains that are beautiful, though. You'll climb your way through a lovely, moss-covered beech forest near the beginning, which looks like something out of "The Lord of the Rings." (The films were largely shot in New Zealand, of course, so that's no surprise.)
You'll see the Cascade Stream, which looks like a ribbon of blue cutting through a lush valley. There is a stunning photo point after you emerge above the brushline that looks out over the valley. (If you take a shot there, please, be careful.) If you catch this hike on the right day, you'll be above the clouds, a view most of us only see from the inside of a plane. Cascade Saddle is one of New Zealand's most beautiful hiking trails, but deserves respect. If you go, enjoy the beauty of this incredible place, but never forget those safety tips.