Underrated Canadian Cities You Should Visit At Least Once, According To Seasoned Travelers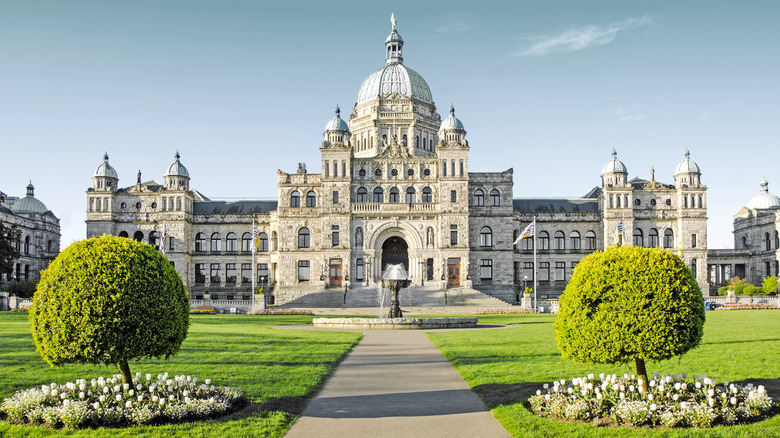 Wwing/Getty Images
Similar to the U.S., Canada is a massive country, and the landscape, culture, and even language vary from province to province and between cities. Once travelers realize how numerous their options are for where to visit in Canada, it can take time to decide on an itinerary. This can be overwhelming, and the location of international airports has resulted in most travelers sticking to the largest cities: Vancouver, Toronto, and Montréal. While all three are fantastic destinations, if you have visited the country (and main metropolises) before or are just looking for a different experience in Canada, there are plenty of fantastic options.
As long as you're willing to take a domestic flight, rent a car, or hop on a train, there are so many underrated cities in Canada waiting to be explored. Most listed in this article receive fewer visitors according to statistics, can often be more affordable than similar American and European destinations thanks to a favorable exchange rate, have unique things to do, and have better access to famous Canadian nature than the larger cities. Sourced from top Canadian travel blogs like Hecktic Travels, This Battered Suitcase, and Candice Walsh, along with our expertise in the country, check out the following less-thought-of cities in Canada.
Halifax, Nova Scotia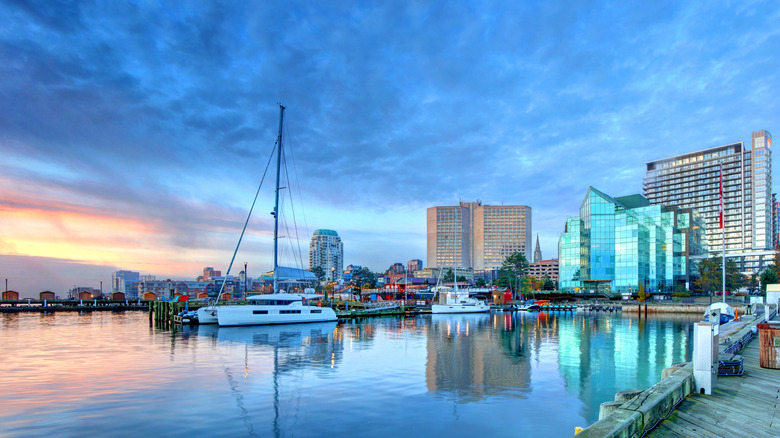 Denistangneyjr/Getty Images
Despite a spike in attention in 2019, Nova Scotia remains relatively unexplored by international visitors. Halifax, the province's capital, is a great city break. It is easily accessible, with an airport just 30 minutes from the city, two bridges connecting it to the Canadian mainland, and a ferry from Dartmouth and Alderney, smaller ports around the Halifax Harbor.
There's plenty to do, including wandering the adorable waterfront. Halifax is right on the sea, and there are walking trails all over the city. If you're into coastal walks, you'll find plenty to love in and around Halifax, while foodies will enjoy the broad range of fantastic restaurants and pubs. The craft brewing scene has enjoyed a renaissance in recent years, and you'll find numerous places selling top-notch hops. If you're into the underwater world, check out the Maritime Museum of the Atlantic, which houses a large variety of exhibits from craft boat building to wartime artifacts and an impressive collection of wooden artifacts from the RMS Titanic.
Edmonton, Alberta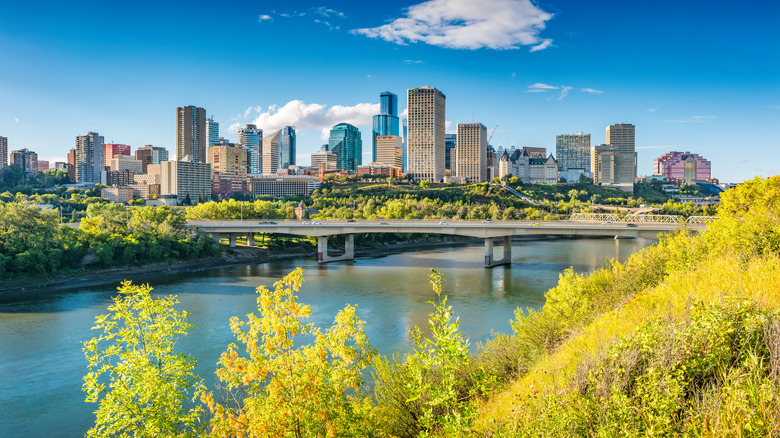 Benedek/Getty Images
The largest city this far north on the American continent, Edmonton is known for some crazy weather, no matter the season. But that's part of the fun! In summer, travelers can enjoy long days with daylight reminiscent of the Nordic midnight sun, great for getting into nature in the morning and enjoying lengthy drinks at one of the many bars and cafes in the afternoon and evening. The winters are some of the coldest you'll find in a major city but are great for catching the Northern Lights. Fall brings underrated foliage rivaling the famous leaves in Québec and New England. The spring is short but sweet, perfect for hiking and enjoying the seasonal blooms before the busy summer season.
Sure, Calgary might be more popular due to its larger airport and proximity to the Rockies, but dismiss Edmonton at your peril. For one, the festival scene is robust; from the International Street Performers Festival to the Fringe Festival and Jazz Festival, there's something for every interest, no matter the month. Of course, if you enjoy sports, there's no shortage of teams in Edmonton. Catch a hockey game and cheer on Connor McDavid and the Oilers, or head to Commonwealth Stadium to watch the Elks (Canadian Football League).
Victoria, British Columbia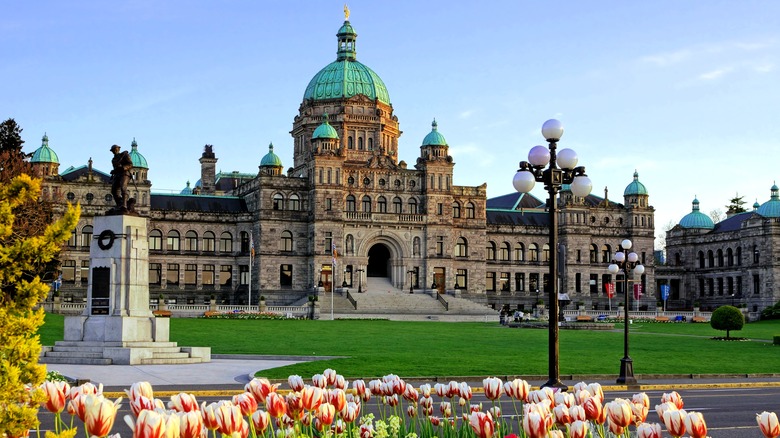 JeniFoto/Shutterstock
Understandably, Vancouver gets most of the tourist attention in British Columbia. However, if you have time or have already explored Van City, we highly recommend you head to Victoria. You can hop another flight, or better yet, a ferry across to Vancouver Island and reap the benefits of the province's cute little capital city. You'll feel like you've just taken a cross-Atlantic flight and touched down in Europe. The cobblestone streets, adorable pubs, and cozy cafes create the feeling of being on another continent.
Additionally, Victoria is a great place to visit sans vehicle as, like many European cities, it's incredibly walkable. The downtown is very pedestrian-friendly (although the brick and cobblestone might feel a bit unstable to American feet, so wear practical shoes), and you won't need a car during your visit, ideal for relaxing and taking in the atmosphere without the stress of traffic or finding a place to park. For those looking for alternative forms of travel, the Victoria Clipper departs Seattle for Victoria daily. The journey lasts just under 3 hours.
Kelowna, British Columbia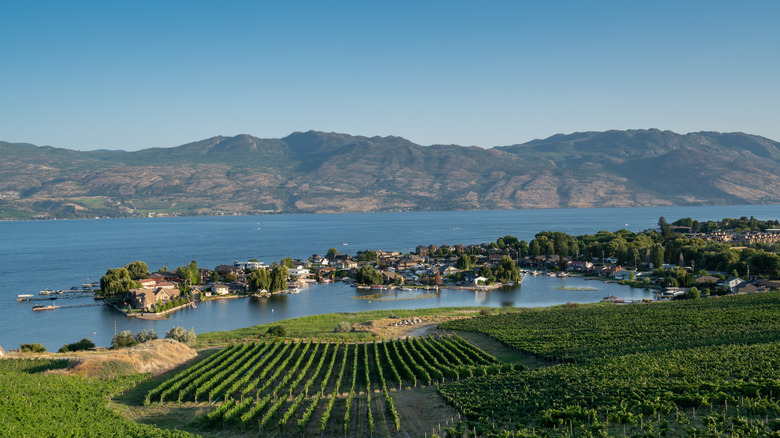 Mikhail Zapolskyi/Shutterstock
Similar to Halifax, Kelowna flies under the radar for most international travelers but is well-loved by Canadians looking for active holidays. Located in the heart of the Okanagan, it is the area's largest city and is home to a decent-sized airport. In the summer, the lakefront is ideal for walking, jogging, or just enjoying one of the best seasons in the area. Outside the city, Knox Mountain, Myra Bellevue Provincial Park, and Wildhorse Canyon provide a plethora of trails for hikers and mountain bikers.
Myra Canyon (located in the provincial park of the same name) makes use of an early 1900s railway corridor that is now a flat hiking path through numerous tunnels and over tressels. It is full of jaw-dropping color in the fall. Once the temperatures drop and the snow begins to fall, skiers and snowboarders will delight in the nearby runs on Big White and Apex Mountain. Kelowna is also the most logical base for any B.C. wine-tasting tour due to its size and amenities, availability of accommodation, and proximity to wineries in the region. You can even book a tour that includes a driver, so no one has to sit out of the fun.
Penticton, British Columbia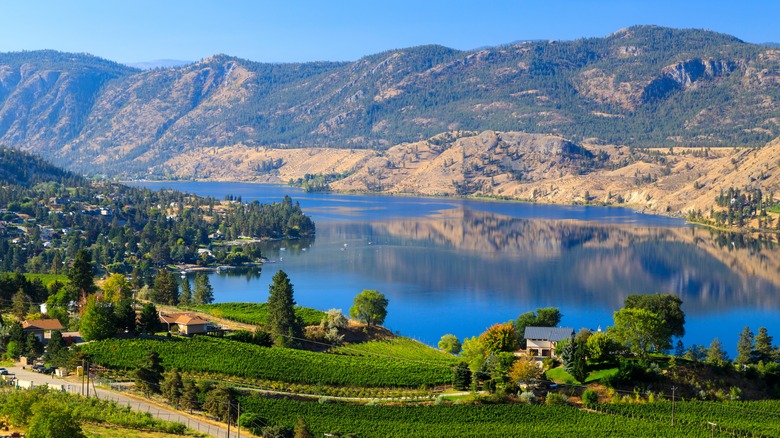 Nalidsa/Shutterstock
Kelowna is the largest and most popular destination in B.C. wine country, but savvy travelers or those who have been to the area before and are searching for a quieter experience head to tranquil Penticton. The town doesn't have the big-city vibe of Kelowna, which is why it is so loved by many travelers. On a practical level, it can be much more enjoyable thanks to the lack of traffic (a highway runs right through Kelowna and can become congested during commuting hours) and has better views that aren't obstructed by high-rises. Additionally, the stunning Naramata Bench is nearby and is always worth visiting. You can go for a swim or a lakeside walk at one of the many beaches, hike in the Okanagan Provincial Park, or explore the train docks.
Many travelers aren't aware that this famous wine-growing area is also a hotspot for amazing breweries. No matter which beverage you prefer, a popular thing to do is rent bikes (or e-bikes) and tour the area, stopping in at various vineyards or breweries to refresh and learn about the region's fruits.
Canmore, Alberta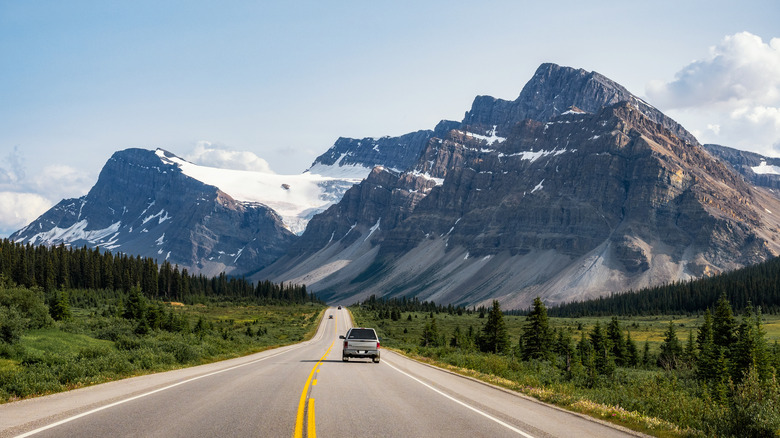 R.M. Nunes/Shutterstock
Banff, Jasper, and Lake Louise usually spring to mind when dreaming of a vacation in Alberta. The looming mountains, electric blue lakes, or frozen ones and snowy peaks, depending on the season, are truly once-in-a-lifetime sites to enjoy in person. The Rockies and surrounding area is the most visited part of the country, with over 4 million annual visitors to Banff alone. That's almost the same number of people who live in Alberta! This can result in high costs for visitors, from car rentals to accommodation, food, and activities. And while a trip to the Rockies is absolutely worth it, as the scenery, wildlife, and outdoor activities are unmatched, it's understandable you want to avoid going into debt to visit. 
The solution? Canmore. This small city is outside of Calgary and is just a 25-minute drive to the mountains (versus an hour and a half from Calgary), depending on traffic and your specific destination. Canmore also has some of the most affordable accommodations surrounding the national parks. Savings and beauty? Yes, please!
Tsawwassen, British Columbia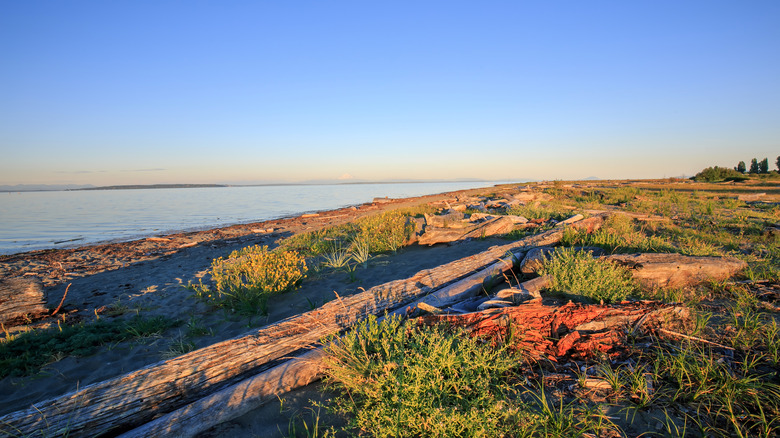 Jamesvancouver/Getty Images
If you want to visit Victoria and are coming from the Vancouver metropolitan area, there's a good chance you'll pass through the town of Tsawwassen, where the main ferry terminal to Vancouver Island is located. If you have time, the cute town is absolutely worth a stop! It is nicknamed "Sunny Tsawwassen," as all the clouds supposedly always go to Ladner, the larger neighbor. If you've loved your trip to British Columbia thus far but are lacking a bit in vitamin D (not uncommon in the province outside summer months), a pitstop in Tsawwassen might be just what you need.
There are cute cafes, bars and restaurants, and sandy shores — a rarity in this part of the world. And those beaches are known to be fantastic places to try out windsurfing. Boundary Bay Regional Park is also a popular outdoor recreation area, and when the bay is at low tide, you can walk for miles and search for wildlife among tidepools or in the mud.
Sherbrooke, Québec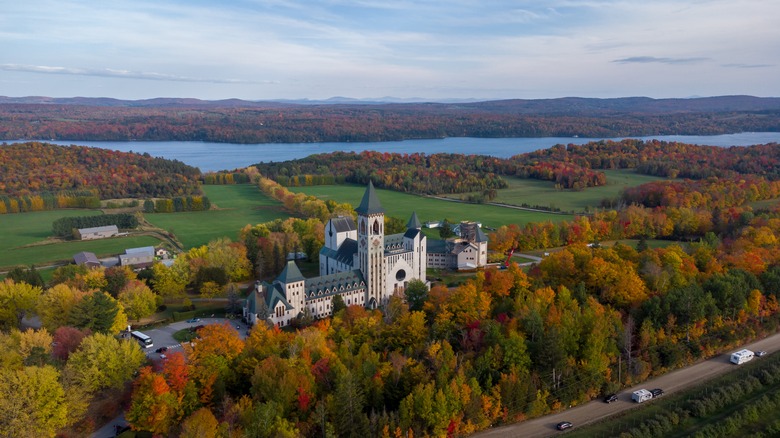 Potifor/Shutterstock
The Eastern townships, or "Cantons de l'Est," as they say in La Belle Province, are a favorite weekend or day trip for Quebecers. Sherbrooke, the main town in the region, makes for a great base. It is an adorable alternative to Québec City or Montréal if you're looking for more of an outdoorsy trip without the hectic feeling of a big city. The main town sprawls a bit, but the area around the town hall (or Hôtel de Ville) is walkable and full of early 19th-century architectural gems. Don't miss local favorite Faro Coffee Roasters, serving up some of the best beans in the province along with mouthwatering pastries and homemade sandwiches.
For those looking to enjoy nature, the Lac-de-Nations is in the heart of town and a great place to stroll throughout the year. In winter, you'll see many sledding hills around the water and a skating rink. A bit further afield, Mont Bellevue is a popular recreation spot for hikers, bikers, and skiers and has a wonderful bunny hill for kids and novices. And, of course, Mont Orford and the surrounding national park attract visitors with thrilling ski runs and frozen lakes awaiting exploration.
Ottawa, Ontario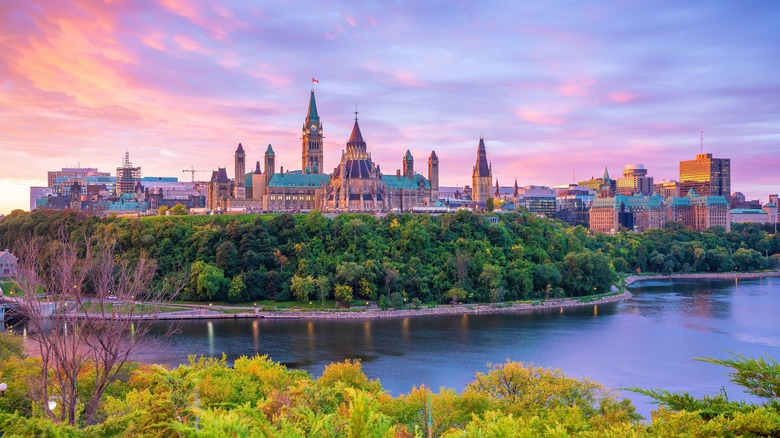 f11photo/Shutterstock
The country's capital city is surprisingly under-visited compared to other capital cities worldwide, but that underrated factor means fewer fellow tourists crowd the sites and restaurants. And there's plenty to do in Ottawa, especially if you love an educational trip. Known as the "City of Museums," you can easily spend a few days exploring the seven national museums in the city. This includes the National Gallery, the Canadian War Museum, the Canadian Aviation and Space Museum, and many more!
And if you visit in May, don't miss the annual tulip festival at Commissioners Park, a great alternative if you don't want to go all the way to the Netherlands. You can enjoy guided tours and walks through the fields, tulip markets, and night events where you can see the spectacle of flowers lit up. It's also much more affordable than a Euro trip when you factor in transportation and the favorable exchange rate between the USD and CAD.
St John's, Newfoundland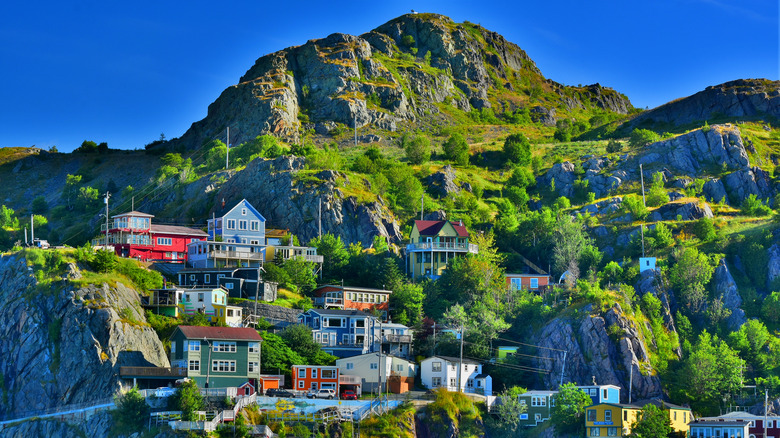 Doug Gordon/Shutterstock
St John's is a beautiful slice of Atlantic Canada and definitely flies under the radar of most travelers to the country. The entire province of Newfoundland only received just over 180,000 visitors total in 2021, so it's safe to say you won't be bumping elbows with too many other tourists on a visit to St John's. The city is a brilliant surprise to all who stop by, with brightly colored buildings built into the rugged coast. The town gives off a mix of Italian (reminiscent of Cinque Terre) and Irish (rugged beaches and greenery) vibes, making it another Canadian spot similar to a European destination without the crowds!
Beyond that, St John's is just a delightful to wander around. There are several excellent cafes and bars, and the downtown is very walkable. Newfoundland is known for fantastic hiking and walking trails, but you don't have to go far to find great ones. Wander to Signal Hill and check out the Cabot Tower, akin to European castles but with a functioning lighthouse, or check out many of the other fantastic trails on the East Coast Trail System.
Winnipeg, Manitoba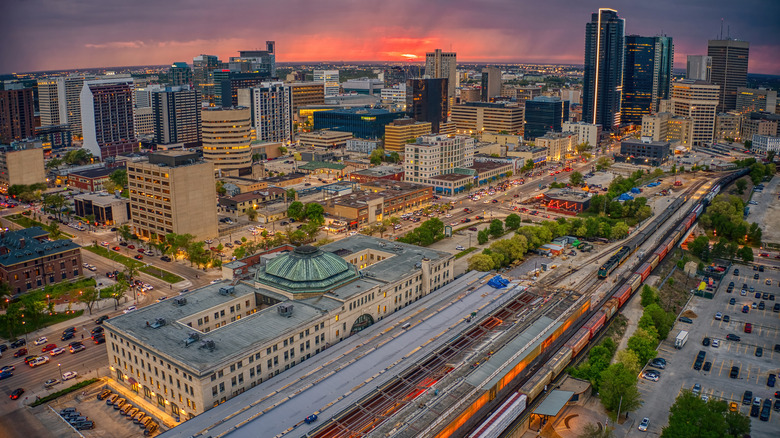 Jacob Boomsma/Getty Images
The Prairie Provinces are underloved and overlooked in favor of British Columbia, Alberta, Ontario, Québec, and even the Atlantic provinces. But Winnipeg (the capital of Manitoba) has undergone a renaissance in the past decade, embracing its fascinating history while throwing itself into a new and exciting future.
There's certainly no shortage of things to do in Winnipeg. Visit the Canadian Museum of Human Rights, the Royal Winnipeg Ballet, numerous art galleries, and a surprisingly good food and drink scene, proving whoever says Winnipeg is boring has an outdated opinion! Even better, the city hosts festivals year-round, including Folk Festival in the summer and Festival du Voyageur in February — the perfect way to shake off winter blues. It isn't surprising to hear that hockey is popular in Winnipeg, but the Jets fans take dedication to an entirely new level, especially during playoff games. There are few ice hockey experiences as thrilling as a Winnipeg Whiteout, after all.
Gatineau, Québec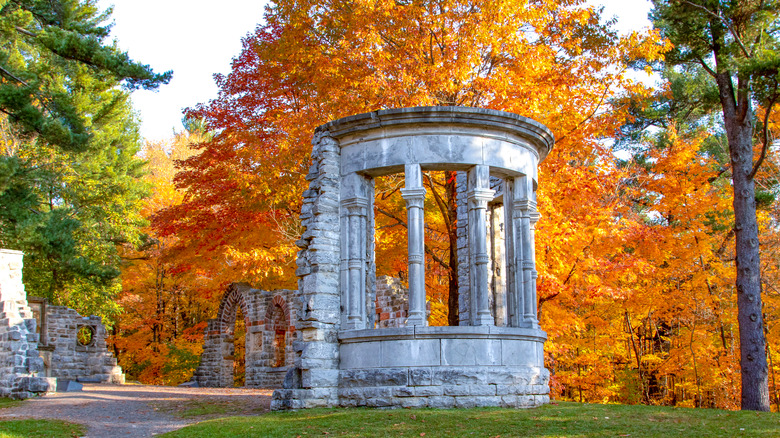 Karen Hogan/Shutterstock
The border between Ontario and Québec is the Ottawa River, which runs through what is known as the "capital region." This area includes the capital city, Ottawa, on the Ontario side and the lesser-known town, Gatineau, on the Québec side. While the latter may not be on the radar of most, it is an adorable place to visit and an underrated Canadian city worth a stop.
It might not have the museums and cultural offerings of Ottawa, but Gatineau is the city with superior access to nature, should that be important to you. The spacious and verdant Gatineau Park is a quick 20-minute drive from the city center. It is home to numerous hiking, biking, and cross-country ski trails, as well as several lakes that make the perfect backdrop for picnics. In town, there are also some charming cafes and breweries should you need refreshing, and a weekly farmer's market on Thursdays in the summer.