Samantha Brown's Top Tips For Packing Everything You Need For A Long Vacation In A Carry On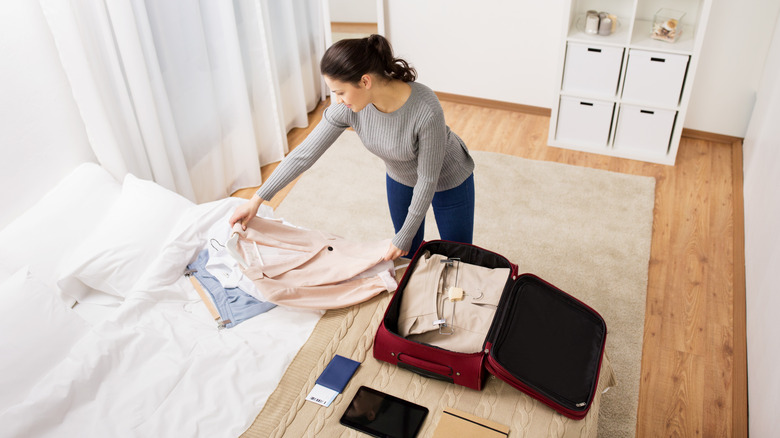 Ground Picture/Shutterstock
The prospect of condensing your belongings into a single carry-on for an extended vacation or work trip seems daunting. It may even appear impossible at first, but Travel Expert Samantha Brown, who traverses the globe for 200 days every year, says it's easier than you think. It all comes down to strategic prioritization, color coordination, and sheer resourcefulness.
Before anything else, Brown suggests making a list of things you need to bring on your trip instead of packing intuitively. A list functions as a clear reference point, facilitating a smooth packing experience, and doubles as an inventory in case your bag gets lost mid-trip. She advises including the key scenarios or events your travel wardrobe needs to accommodate so you can at least whittle down your clothing options.
When it comes to the actual packing, employ the elimination process. The "Places to Love" host likes laying everything out and selectively removing the non-essentials. "I'm picking who's going to go and who's not. And usually [I pack] pants I know I can wear two to even three times. I put in more tops than pants," she told The Points Guy. When in doubt, she suggests following the tried and tested 54321 rule, which includes five tops (sweater included), four bottoms (options that would go with the tops), three shoes (ideally heels, boots, and a comfy pair you can walk hours in), two accessories, and a dress. This way, you have all your bases covered without going overboard.
Master the art of complementary dressing and accessorizing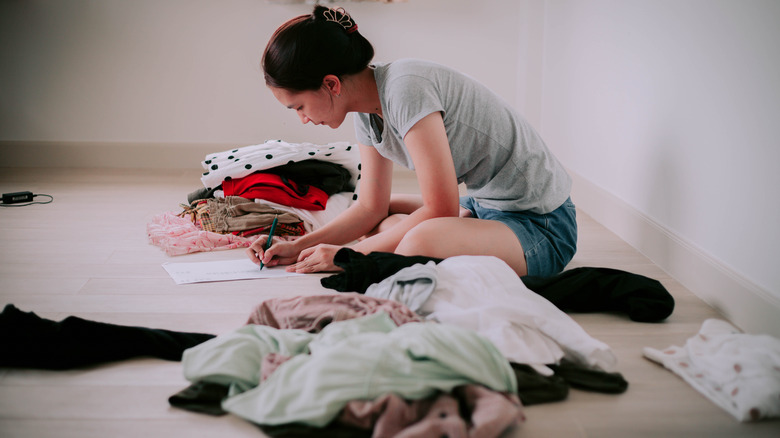 Arisara_tongdonnoi/Getty Images
Just because you're traveling light doesn't mean you need to forego your personal style, and according to Samantha Brown, looking your best on vacation doesn't have to compromise the carry-on packing process. She suggests sticking to a specific color scheme, so you'll have no problem mixing and matching the pieces for different occasions. When everything bodes well together, dressing up will also be a breeze. Neutral colors like black, brown, or beige are always a safe option, but you can spice things up by bringing a patterned scarf or a statement belt.
Speaking of accessories, never underestimate the power of little trinkets. Brown has made it a habit to bring at least three scarves because of their versatility. She noted with Wall Street Journal that they're my "favorite accessory—they take up no room and they completely change an outfit." But she also says there's no harm in bringing chunky earrings and bracelets to add more oomph to your outfits. They're easy to pack anyway — you can simply roll them inside your shirts so they're safely tucked inside.
Looking good may not be necessary when you're exploring the world, but it sometimes gets you added perks. "First impressions work in travel as they would in the boardroom," she noted. "If you walk into an airport and you look sloppy, you're certainly not going to get upgraded into business or first class."
Maximize every bit of space available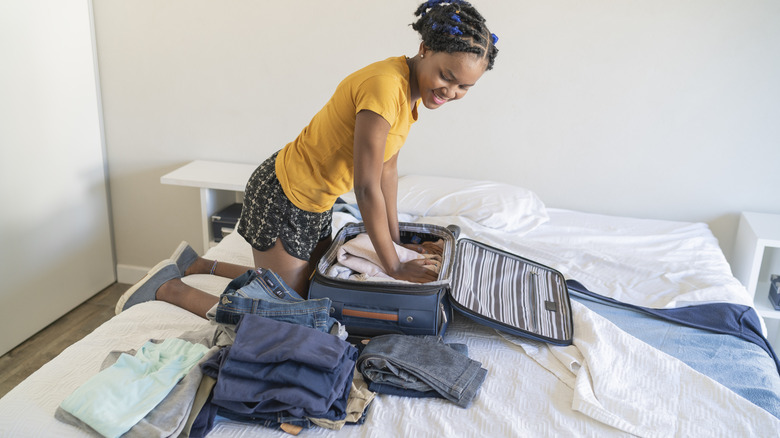 Authentic Images/Getty Images
No space should go unutilized when packing your belongings in a carry-on. Samantha Brown loves using compression bags to save space, but she also suggests finding gaps in your luggage and filling them with items. For instance, the outside pockets that often go unnoticed can store underwear, accessories, and small items, while the often-overlooked area around the bag handle is prime real estate for stuffing socks and scarves. If you're packing multiple shoes, consider the inside of your footwear interim storage spaces as well. Shove whatever fits; every free space counts.
If you have well-worn footwear lying around, you may even want to consider bringing them to your trip for their last rodeo and then throwing them so you can have more space for souvenirs upon your return. "First of all, shoes are the nemesis of any packed luggage," Brown told WTOP, suggesting parting ways with the old pair once your trip ends. "That then gives you 20 percent more space in your luggage to now pack the things you obviously bought on your travels." If not, wear the chunkiest or bulkiest pair during the flights so they won't hog the limited space you have in the carry-on. If you've got TSA PreCheck, you won't need to remove them at security.