TikTok's Genius Tips To Help Travelers Prepare For Flight Cancellations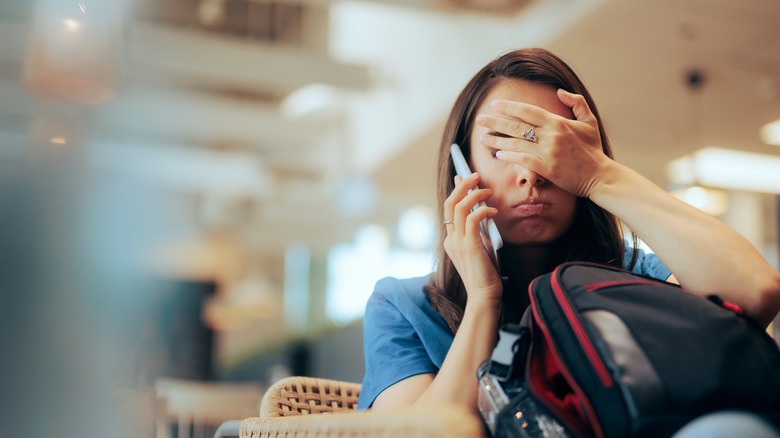 Nicoleta Ionescu/Shutterstock
Thousands of flights get canceled every single day. According to Statista, 103,000 flights were canceled in 2021 alone — and that figure only includes the major U.S. carriers. Assuming all those canceled flights are full, just imagine the ramifications that extend to thousands, if not millions, of disgruntled passengers left feeling powerless about missing the chance to go on their planned trips. Whether for business or pleasure, no one likes to get bumped from a flight. Instead of letting yourself be at the mercy of airlines, TikTok users have shared invaluable tips on dealing with these cancelations so you can be compensated for the inconvenience. You may not get your time back, but you can at least try to get your money back.
First and foremost, user @erikakullberg (Money Lawyer Erika) shared in a viral video that it pays to know the law so you can demand the airline for a full refund. As it turns out, the Department of Transportation's Aviation Consumer Protection states that passengers are entitled to a full refund if they decide not to travel after a cancelation. Even non-refundable ticket holders may recoup what they've paid for their flight, provided that the airline canceled the flight entirely or you get the airline to agree to it.
Charge your flight to a credit card with travel protection
For an additional layer of security, you may want to book your flights using a credit card that offers travel protection. TikTok user @tinytraveler points out that some credit cards offer some form of financial safety blanket should you face a flight cancelation or significant flight delay. In her case, she uses the Chase Sapphire Reserve card, which features a Trip Delay Reimbursement benefit, providing its users up to $500 in compensation if they are subject to a delay of six hours or more.
There is a smattering of other credit cards that provide a similar benefit, including the American Express Platinum card, which also promises up to $500 in compensation for delays that go past six hours. You can use that money for anything you may need while waiting for the next flight available, including meals, hotel stays, and clothing. The Bank of America Premium Rewards card covers the same amount, except it will only kick in if the delay is more than 12 hours.
The caveat, however, is that reimbursements are not usually automatic. User @tinytraveler notes that cardholders usually have to file a claim online to receive their compensation. Just be sure to keep all your receipts, along with proof from the airline that your trip was delayed, to successfully file claims.
Bookmark the DOT's airline cancelation and delay dashboard
Per TikTok user @yourrichbff, an underutilized tool is the Department of Transportation's airline cancelation and delay dashboard. Launched in 2022, it's a straightforward, comprehensive resource that outlines what airlines promise you when your flights get canceled or delayed, depending on specific circumstances. It covers major airlines like Delta and United, as well as budget airlines like Spirit.
For example, if a cancelation forces a traveler to wait three or more hours for their next flight, the dashboard reflects which airlines commit to offering meals, meal cash, or vouchers. If a passenger has to wait overnight due to a delay, it shows which airlines will provide passengers with lodging for free (it was all of them, except Frontier). It's important to understand that the tool only covers  "controllable" cancelations and delays brought about by things like maintenance issues. However, it provides a transparent overview of the commitments airlines laid out in their customer service plans.
Travelers are often unaware of their entitlements during flight disruptions. Fortunately, the tool enables them to quickly determine what airlines have promised to deliver, allowing them to ask — or even demand — adherence to these commitments, especially if compensations are not automatically provided. If airlines fail to fulfill their promises, the DOT ensures accountability. U.S. Secretary of Transportation Pete Buttigieg emphasized in a letter to airline CEOs: "The Department will continue to support passengers and to hold airlines responsible for adhering to their customer obligations."