How To Figure Out How Much Airlines Owe You When Your Flight Is Canceled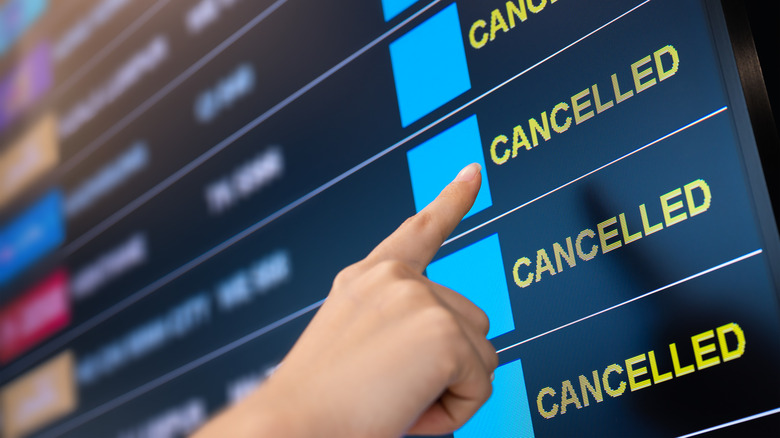 Structuresxx/Getty Images
It happens more times than people realize, airlines canceling their flights suddenly. On average, a record 128,934 flights per day were canceled within the United States in a seven-month period in 2022. That's a lot of disappointed and, dare we say, frustrated passengers that either learned of the cancellations before making their way to the airport, on the way to the airport, or while waiting for their flight.
So, what happens when the airline cancels your flight? Are you entitled to a full refund, and, is the airline required to provide additional compensation? Because let's be honest, airline companies want to make as much money as possible. And, based on the recorded data of daily flights canceled in 2022, they're refunding a whole lot of passengers, which means they're losing money due to cancelations on their end. In order to figure out how much airlines owe you when they cancel your flight, you need to know there are laws on your side to protect you, the consumer, should anything like this happen.
Flight canceled? You're entitled to a full refund, and possibly more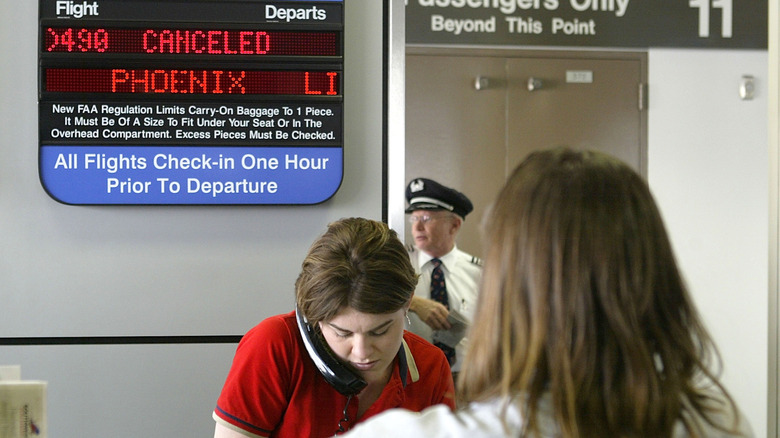 Carlo Allegri/Getty Images
That's right, readers. Should any airline in the United States cancel your flight due to circumstances they can control, as mandated by law via the U.S. Department of Transportation, they are required to provide you with a full refund as long as you don't accept their offer to take another flight to your destination or accept a travel voucher in place of the reimbursement. If you're traveling with pets, and paid costs relating to your baggage, or spent money on anything related to your flight, the airline must provide you with a refund for all airline expenses. Rental cars, accommodations, and meals are not covered in this instance.
In addition, the airline is also required by law to process your refund expeditiously. Should an airline advise you that your refund can take up to 30 days or more to process, they are in fact not following the mandated requirements of the U.S. Department of Transportation. A host of airlines in the United States committed to providing additional compensation for passengers who experienced a flight cancellation. The U.S. Department of Transportation has launched the new Airline Customer Service Dashboard to assist passengers with knowing which airlines are providing compensation beyond the full refund, providing them with a better understanding of what is being offered, and what you're owed by them.
What happens if your connecting European flight is canceled?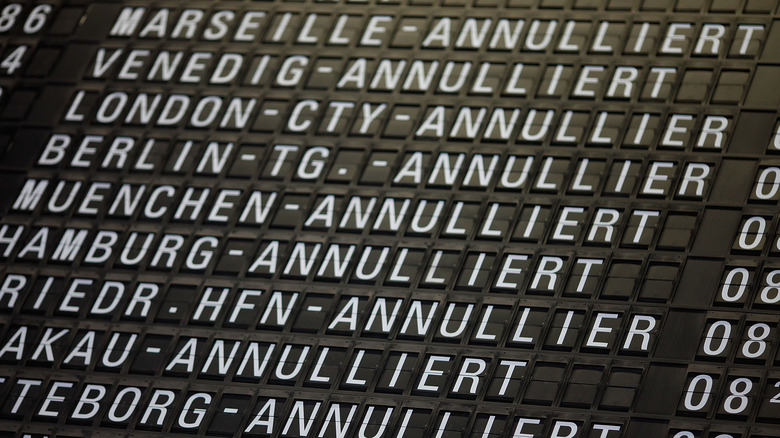 Ralph Orlowski/Getty Images
In 2004, the European Union passed a legislative law (EC261/2004) guaranteeing passengers of flights canceled within the continental borders of Europe options for compensationunder the required guidelines, and airlines falling within those guidelines are obligated to fulfill the passenger's request or pay additional monies toward reimbursement. This law also protects passengers who experience lengthy flight delays.
It's also important to point out, that the United Kingdom is no longer a part of the European Union (Brexit), and therefore if your flight originated from that country by a non-EU airline carrier, and is canceled, this law does not cover you. Additionally, should your flight be canceled due to volatile weather, airlines are not obligated to refund your ticket in full or provide compensation. They will, however, make arrangements to get you on the next flight out, once they're given the all-clear to fly safely.