Take A Trip To This Southwestern State Park For Stunning Lake Adventures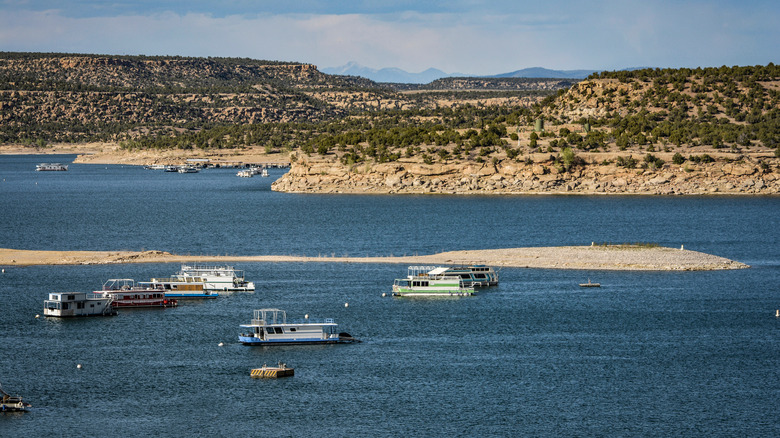 Brenda Landdeck/Shutterstock
If you are a traveler who loves the American Southwest and has a passion for exploring state parks, a New Mexico vacation is a must. According to the New Mexico Energy, Minerals, and Natural Resources Department, the state is home to no less than 35 scenic state parks to explore. These state parks boost the economy and give New Mexico undeniable appeal to outdoor recreation opportunities year-round.
Some New Mexico state parks fall within the parameters of the Great Plains, the Basin and Range region, or the Colorado Plateau and Rocky Mountains, giving visitors plenty of fascinating rocky terrain to explore. Then there's Navajo Lake State Park, which provides adventurers an inviting destination for spending time on the water. Named for Navajo Lake, this state park proudly boasts the second-largest lake in New Mexico and is easy to reach, just an hour's drive from Farmington.
Navajo Lake State Park was first established in 1962 and continues to draw in water enthusiasts each year in droves. An estimated 500,000 visitors head to Navajo Lake State Park annually to take advantage of access to over 15,000 acres of surface water. Enjoying a day of lake fun at Navajo Lake State Park provides seamless access to two boat docks and two marinas. The park is also dotted with scenic campgrounds across its playful terrain.
Watersport and fishing fun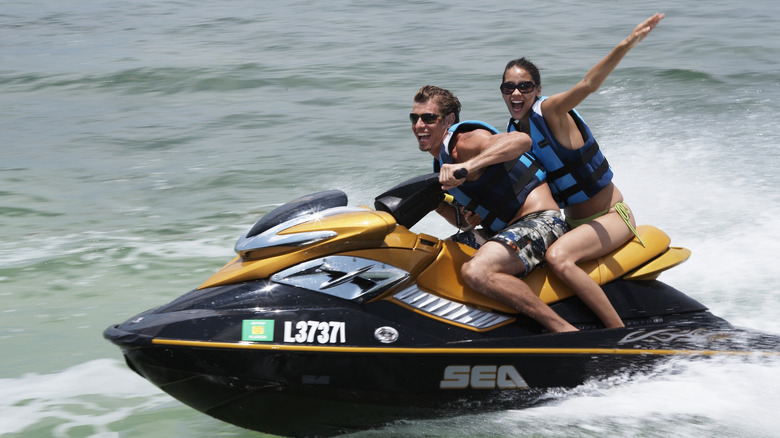 Jim Arbogast/Getty Images
Situated within the San Juan River Canyon Lands, Navajo Lake State Park is a picture-perfect place to enjoy a day of boating. Whether you want to canoe, kayak, set out on a sailboat, or enjoy a motorized vessel, they're all allowed on Navajo Lake. It's also common to see visitors out on the water jet skiing.
On-the-water enthusiasts are more than welcome to bring their boats and boat accessories to Navajo Lake State Park. However, the two on-site marinas have rental options that make booking a boat convenient without transporting gear. Both Sims Marina and the Navajo Lake Marina are full-service destinations hosting everything from boat slips and on-site dining to fuel and rentals. At Navajo Lake Marina, you can pair your pontoon boat rental with a stand-up paddleboard for exploring the water.
Once you have your boat rented, feel free to spend some quality time casting a line alongside family and friends. Navajo Lake State Park is a great place to enjoy fishing thanks to lake waters that host species ranging from bluegill and catfish to northern pike, kokanee salmon, rainbow trout, and crappie. Mountain States Guide Service offers fishing outings at the park when you're looking to learn or want to maximize your catches alongside a professional. There are also opportunities for anglers to fish from the shoreline at the lake, explore the dam, or trout fish at the nearby San Juan River.
Unique water activities to add to your itinerary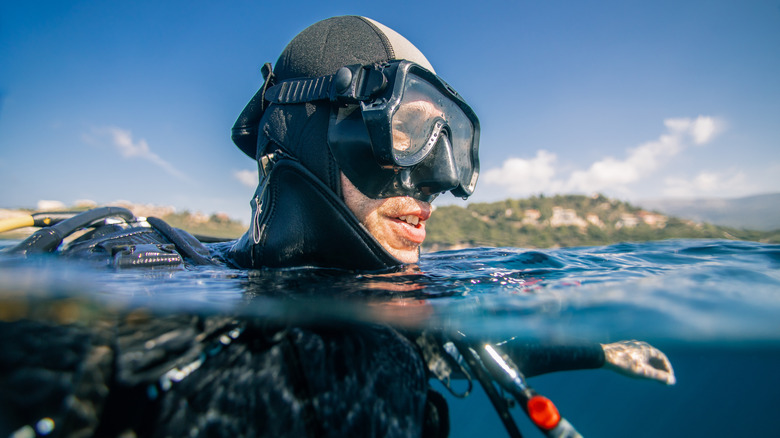 Miljko/Getty Images
While traditional water activities like boating and fishing are fun, Navajo Lake State Park has more options to offer. Many visitors who spend time here and are looking for adrenaline-pumping adventurers give cliff diving a try. This is an activity you want to be sure you're experienced and well-prepared for. Still, it's a popular sport across New Mexico, with Navajo Lake topping many lists.
If you're visiting with the kids in tow, renting bumper boats for the day is a fun way to spend quality time together on the water. These can be rented from the Navajo Lake Marina between March 1 and November 1 each year. The rental and play area, Bumper Boat Alley, is conveniently situated at the marina entrance.
The Professional Association of Diving Instructors lists Navajo Lake as a great place for exploration diving in the summertime. Walk-in diving at the lake's dam is recommended if the water levels are adequate at the spillway. Once you make your way underwater, visibility can be anticipated to be around 10 feet when conditions are clear. Waterskiing is another great way to spend time on the lake when Navajo Lake State Park is your outdoor recreation destination of choice. There are designated swimming areas for visitors to enjoy as well when temperatures are on the rise. Of course, if you're in more of a mood to settle lakeside and enjoy the view, that's also an option.