This Southern US City Is A Great Couples Vacation Spot For Any Type Of Traveler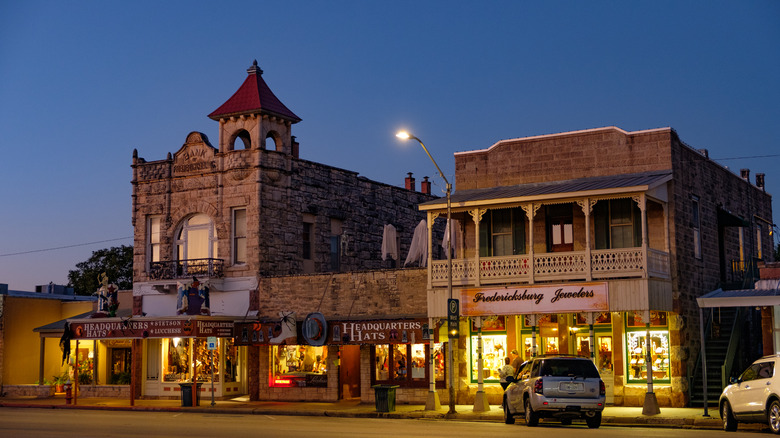 Dlewis33/Getty Images
At first glance, Texas might not seem like the place to go for Bavarian sausages and schnitzel. However, thanks to German settlers who made the state their home in the mid-19th Century, several towns have managed to hold onto their distinctive European roots to this day. Sadly, Texas German, a dialect handed down from the original immigrant founders of these communities, is dying out, but there are still plenty of reminders of their Germanic heritage. 
The most famous of these towns is Fredericksburg, a small and welcoming city nestled in the Texas Hill Country, a short drive from Austin and San Antonio. The city's motto is "Texan Heart. German Soul," and that blend of cultures has made it an attractive vacation destination for travelers of all sorts. For a city with a population of just over 11,000 people, there are a surprising number of things to do, ranging from quality shopping on Magic Mile with its locally owned shops and boutiques to touring the many wineries in the surrounding area.
With plenty of top-notch restaurants, bars, and romantic places to stay, Fredericksburg also makes a sweet spot to spend a few days with your other half. Whatever time of year you visit, there is always something sure to be going on; the city prides itself on being home to over 400 annual festivals and events!
Things to see and do in Fredericksburg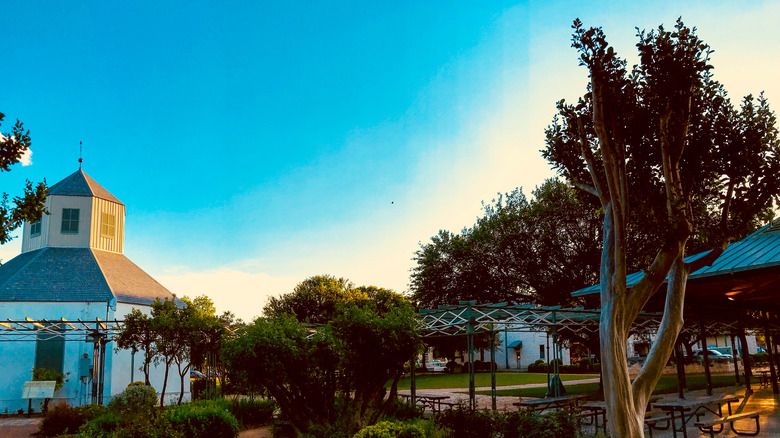 Dannynez/Getty Images
North Carolina Travel Guides ranked Fredericksburg as America's most picturesque small town in 2023. Its German architectural style means there is always something of interest as you wander around its walkable Downtown area, such as the landmark Vereins Kirche Museum on Marktplatz. The city was founded in 1846, and the locals are proud of their heritage. The first stop for history buffs should be the Pioneer Museum on Main Street, where hundreds of displays and artifacts bring to life the story of the intrepid German settlers who made a home in this part of Texas Hill Country. Elsewhere, you can find out all about the Pacific theater of operations during World War II at the impressive National Museum of the Pacific War.
The natural beauty of the region makes Fredericksburg a tempting base for further exploration, and there are many fine spots for picnicking and hiking a short distance from the city. One of the most popular activities is the trek to the summit of Enchanted Rock, a vast domed granite formation around a 20-minute drive to the north of the city. From the top, you can enjoy impressive views of the surrounding area. Another gorgeous spot is Wildseed Farms, the largest working wildflower farm in the country. With over 200 acres of fields, it is an eye-popping riot of color when the flowers are in bloom from March to October.
Eating, drinking, and cultural events in Fredericksburg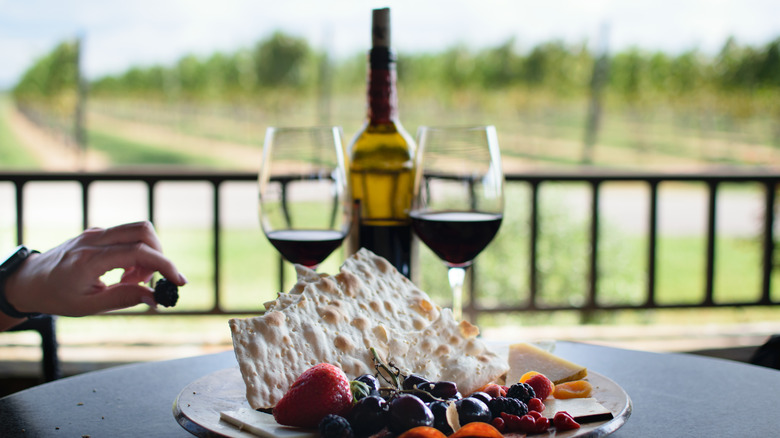 FreezeFrames/Shutterstock
One of the highlights of a visit to Fredericksburg is undoubtedly its cuisine. Traditional American fare like burgers, fried chicken, and tacos rub shoulders on the menu with German favorites such as schnitzel and currywurst — check out The Auslander or Der Lindenbaum for a taste of German-American dining. Some places also have a classic biergarten where you can enjoy a Bavarian brew in the sunshine. For a more romantic meal, upscale joints like Vaudeville, a French restaurant specializing in caviar, or Cabernet Grill are good options for a swankier dinner. There is plenty of live entertainment any night of the week, from Texan music and Hondo's to local bands accompanying your steak at Crossroads Saloon & Steakhouse.
If wine is more your thing, Fredericksburg is well known for its viticulture, with over 100 wineries in the area. If you want to enjoy a few glasses without worrying about the alcohol limit, the 290 wine shuttle will help you tour as many wineries as you can manage. The grape harvest is just one of many seasonal events in the city. Spring kicks off with the annual Bluegrass Festival, and summer brings horse racing and the Gillespie County Fair Parade, the oldest of its kind in Texas. The big one comes in the fall with Oktoberfest, three days of gigantic beers, lederhosen, and oompah music to celebrate Fredericksburg's German heritage.