This Underrated Mountaintop Town Is A Great Addition To Your Italy Bucket List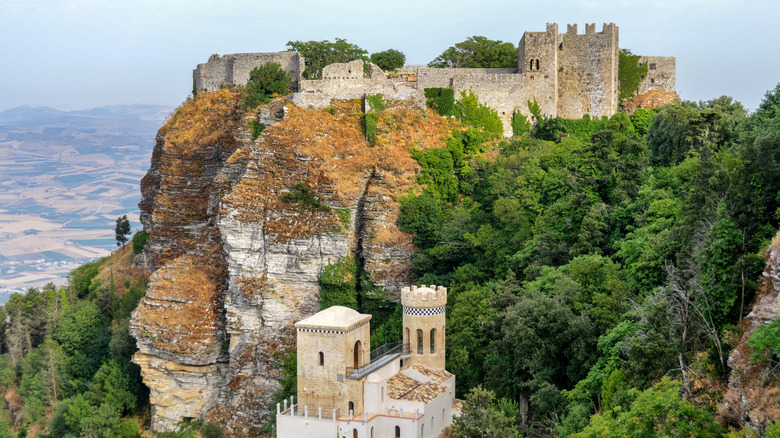 Starcevic/Getty Images
Italy is one of the most popular vacation destinations in the world. With beautiful architecture, inspiring art, and mouth-watering cuisine, it's no wonder why over 75 million people visited last year alone. But while Italy's major cities, like Rome and Venice, are the most popular tourist spots, quieter locations, like Italy's smaller mountain towns, sometimes go unnoticed.
Erice is located in northwestern Sicily. The primarily medieval town sits over 2,400 feet above sea level atop Mount Erice. Known as the City of a Hundred Churches, one particular church is truly remarkable — Chiesa Madre. It's the oldest church in Erice and has a quadrangular bell tower that dates back to 1312.
Getting to Erice is easy if traveling by car. But for a really fun and unique mode of transportation, take the cable car, which runs from the nearby town of Trapani. The journey is 10 minutes, offers panoramic views, and costs $11.75 roundtrip. With a mild Mediterranean climate, there's never really a wrong time to visit Erice. However, summers are particularly spectacular, with warm weather averaging between 70 and 80 degrees Fahrenheit.
Things to do in Erice, Sicily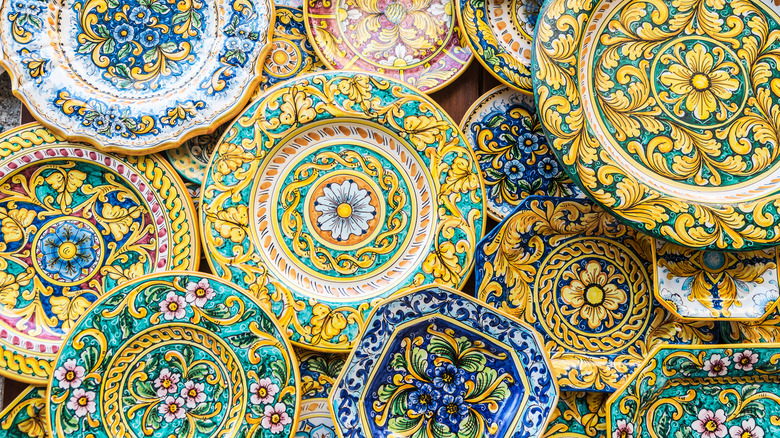 J2R/Shutterstock
Erice is an underrated Italian tourist destination, but don't let its size fool you. Erice is worth visiting, and there's plenty to do here. Strolling the narrow streets and stopping for dolci ericini (marzipan pastries), shopping for colorful handwoven Erice rugs and beautifully painted pottery, and admiring stunning views from unique vantage points are wonderful ways to spend the afternoon.
For sightseeing, check out the symbol of Erice. Located on the top of Mount Erice is the Castle of Venus (Castello di Venere). It offers spectacular views and a beautiful surrounding landscape. Historically, the castle is believed to have been a temple dedicated to the goddess Venus before the Normans turned it into a fortress in the 12th century. Visitors can explore the castle inside and out to learn more about the different civilizations that occupied the space over centuries. 
The Spanish Quarter is another beautiful spot to visit. The 18th-century building was originally created for Spanish soldiers but was never finished. Tourists can witness stunning coastal views from the Tyrrhenian Sea to the Straight of Sicily from the building's remains.
Where to stay in Erice, Sicily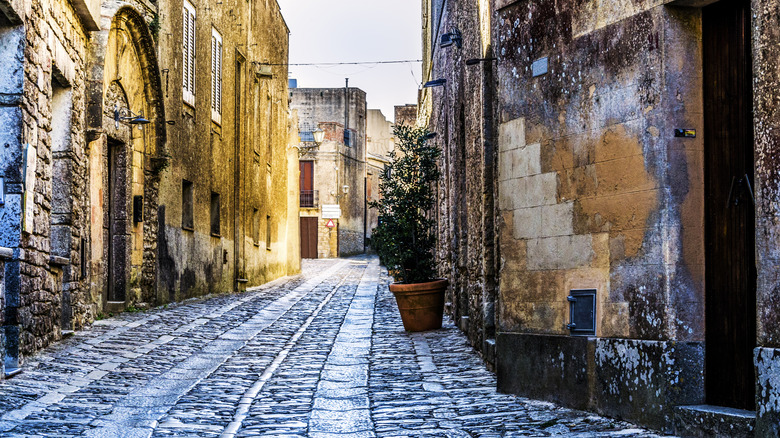 Mario Eduardo Koufios Fraiz/Getty Images
You can explore Italy on a shoestring budget, especially in Erice. There are quite a few affordable accommodation options. Hotel Elimo ($starting at $74) is the No. 1 rated hotel in Erice on Tripadvisor. The hotel offers rooms with ocean views, daily breakfast, and a fantastic location. The center of Erice is just a few minutes walk from the property. Tripadvisor reviewers rave about outstanding scenery, comfortable rooms, and owners Antonio and Floriana's friendly and helpful demeanor.
Alternatively, Hotel Moderno (contact for price) and Il Carmine (from $98) are great alternatives. Hotel Moderno was built in the 19th century but provides modern amenities and traditional hospitality. With 40 rooms and simple furnishings, the hotel offers a restaurant, a wine bar, and a rooftop terrace, which is a gorgeous place to watch the sunset. Il Carmine is located in the heart of Erice's city center. Formerly the Carmelite Convent, the historic building has nine rooms with elegant furnishings. The on-site AI Convento bistro restaurant offers traditional Erice dishes, like al Convento busiata and homemade pasta with Sicilian sausage, eggplant, tomatoes, and bread crumbs.