This East Coast City Is A Great Spot For A Spectacular Christmas Vacation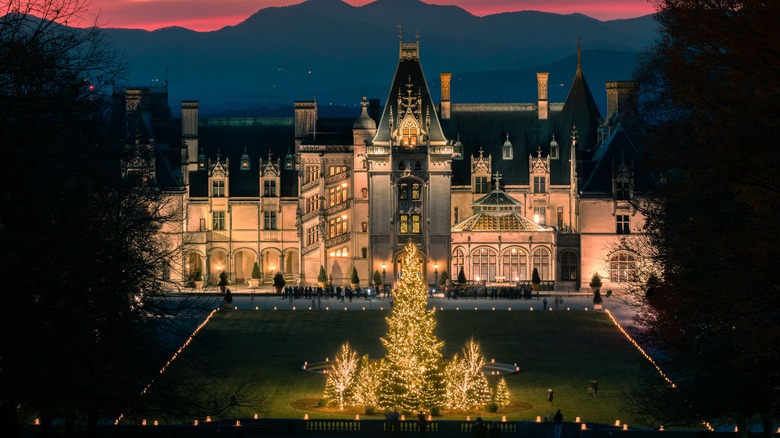 Wirestock/Getty Images
When the holidays roll around, it's exciting to look forward to a Christmas at home with family and friends. However, switching up traditions and trying something new can be equally appealing when you have the right vacation destination in mind. If you're looking for new scenery this December and festive opportunities to enhance an itinerary, then head to Asheville, North Carolina.
Situated in the beautiful Blue Ridge Mountains, Asheville is a fun and inviting place to find yourself year-round. The World Population Review puts Asheville's current resident count at just over 90,000 with visitor numbers hitting over 12 million annually. While there's no shortage of options for entertainment in Asheville in all seasons, there's something exceptionally special about a Christmas vacation here.
The Christmas at Biltmore event at the impressive Biltmore Estate is a highlight holiday experience that visitors and locals alike can't leaving out of their Asheville Christmas adventure. Each holiday season, Biltmore Estate, which was originally constructed in 1895, gets decked out in its holiday best and opens its doors to the public in the name of festive fun. The holiday events here last for two months and include live music, candlelit evenings, and awe-inspiring decorations to admire. Typically, the estate is adorned with over 100 Christmas trees, almost 2,000 poinsettias, and over 100,000 glittering holiday lights.
Impressive holiday lights and gingerbread competitions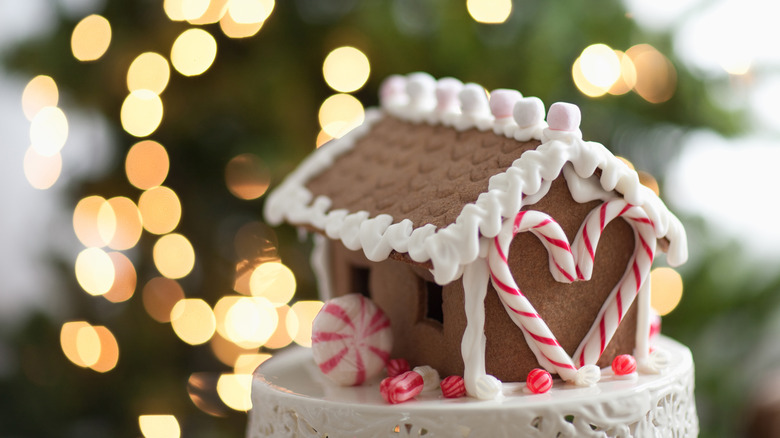 Tom Merton/Getty Images
Travelers who make their way to Asheville at Christmas can also spend time enjoying the annual Winter Lights experience. This family-friendly event is hosted at the North Carolina Arboretum through December 31 and offers guests a glittering display of holiday lights to discover that's sure to thrill. The mile-long light show is designed for guests to walk through and features over one million holiday lights. There's also a lighted holiday tree that towers 50 feet skyward to admire.
If your favorite part of Christmas includes the tradition of making a gingerbread house, Asheville hosts another annual holiday event that's bound to be the highlight of your stay. The National Gingerbread House Competition hosted at the Omni Grove Park Inn is a beloved holiday experience in Asheville that's been delighting residents and holiday travelers for more than 30 years. The competition is hosted in one of Asheville's most famous hotels and showcases the most elaborate and intricately designed gingerbread houses imaginable. It's a holiday competition that brings in participants from across the U.S. with opportunities to win some impressive cash prizes.
For Asheville-bound travelers who can't wait to see holiday light displays, the city doesn't disappoint. Asheville's downtown Grove Arcade is typically covered in holiday lights each year. Drop by to see this shopping and dining hub transformed into a glittering winter wonderland complete with a giant lighted tree.
Christmas shopping, stories, and holiday performances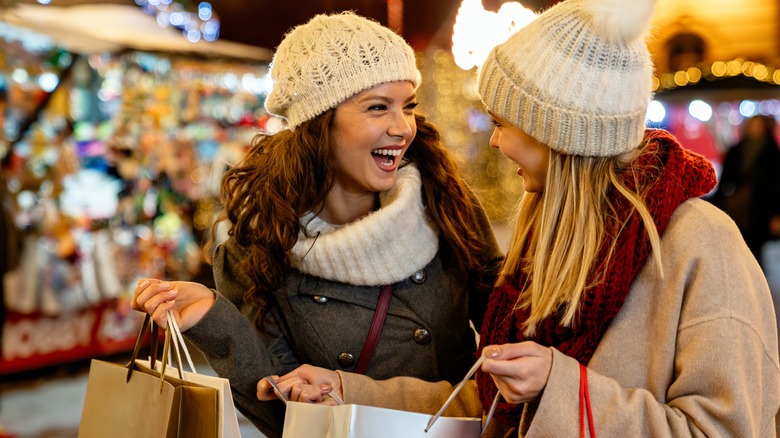 NDAB Creativity/Shutterstock
When you're traveling for the holidays and Asheville is your final destination, you'll find plenty of places to indulge in some well-deserved retail therapy. Whether you're looking for something for yourself or a last-minute holiday gift for someone else, start your shopping journey at the Historic Biltmore Village. This inviting area of Asheville is home to a variety of boutique storefronts to check out and cobblestone walkways to wander along that give your shopping experience a touch of nostalgia. It's also where you'll find the Olde World Christmas Shoppe, which has been showcasing Christmas decorations and gifts year-round for over 30 years.
If you're hoping to incorporate some thrills into your Christmas getaway, the team over at the Adventure Center of Asheville has you covered. They'll be hosting their third annual Winter Wonder Walk Holiday Festival this year, which is perfect for those who are looking to explore an outdoor trail and enjoy lights, live characters, and holiday stories along the way. This family-focused event also includes concessions, a play area for kids, and a holiday market.
Christmas entertainment in Asheville continues throughout December at Harrah's Cherokee Center. Conveniently located downtown, this popular performance venue and convention center welcomes shows like "Mannheim Steamroller Christmas" over the holidays. You can enjoy captivating Christmas performances here in an arena capable of seating up to 7,700 guests at a time.