Hike Along Beautiful Canyons On This Western US Trail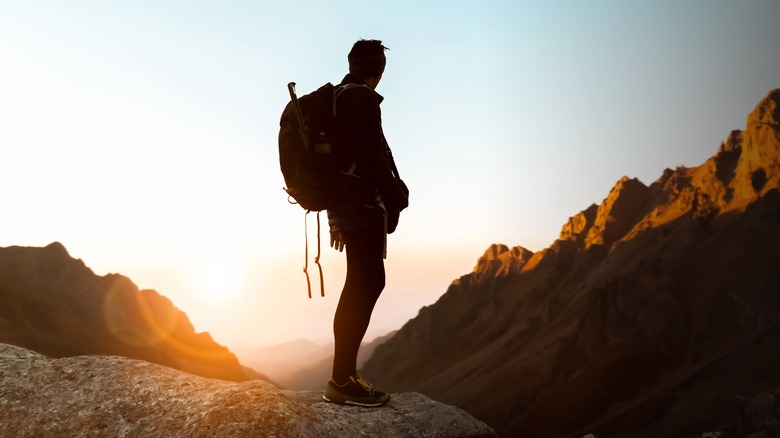 africa_pink/Shutterstock
Hiking through canyons can be a wonderful experience. Their curves and dips make for an intriguing sight as they descend deep below. They're mesmerizing and certainly worth the energy expended to get to them. One place that's particularly great for exploring them is Coyote Gulch in the Grand Staircase-Escalante desert in Utah. You'll see the Escalante River as you venture through the area.
The multiple trails are the perfect way to witness the area's splendor. Lots of people prefer to go on overnight hikes and stay anywhere from one to two nights. Those aren't the only options though, you can go on hikes that last just for a couple of hours rather than entire days. Whatever you prefer, Coyote Gulch is the perfect place for hiking regardless of your hiking level. So if you're looking for somewhere to hike that'll reap gorgeous views, Coyote Gulch is just for you. Pack your backpack and hiking boots and get ready for an exciting adventure.
Trails to venture down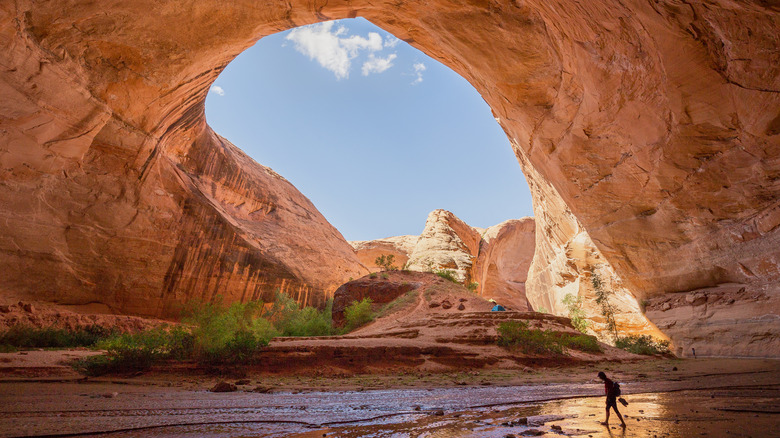 One of the first decisions to make when you visit Coyote Gulch is which trailhead you want to embark on. There a quite a few long-distance hiking trails for those who enjoy the challenge. Three popular ones are the Hurricane Wash, which is a lengthy trail that takes you 26.7 miles, the Red Well hike, which comes in a little bit longer at 27.1 miles, and the significantly shorter Crack-in-the-Wall, which is only 16.8 miles. Each of them takes you through the varying landscapes like deserts, waterfalls, arches, and even oases.
If you choose one of these long trails, you'll likely want to stay overnight. Pack a tent and get a backcountry permit, which is free and available at the Escalante Interagency Visitor Center. While you're there you might as well take advantage of the information available, such as learning more about the area's geology and ecosystems. Maps are also available here, as are rangers who can answer your questions and share important information like trail conditions with you.
Wildlife and when to visit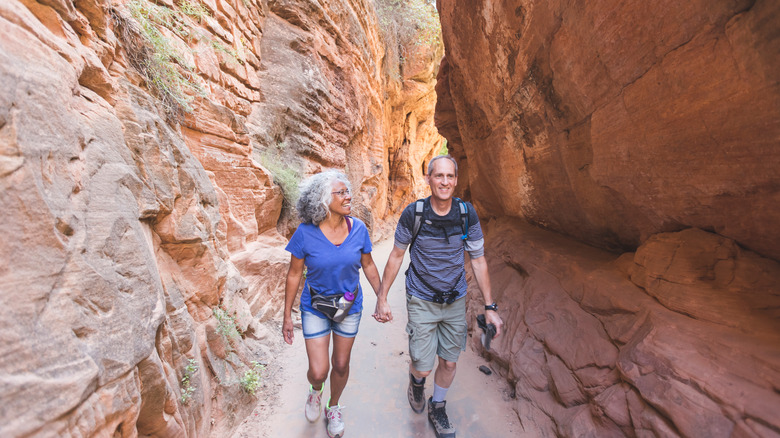 Fatcamera/Getty Images
If you appreciate wildlife, be it mammals or birds, you can keep your eye out for furry — or feathery and/or scaly — friends. You might get lucky and spot animals like foxes, deer, lizards, jackrabbits, nighthawks, and much more.
The best time to visit Coyote Gulch is in the spring and fall. Visiting in the summer can mean you're hiking when the temperatures average around the 90s, and going in the winter lands you in the cold. Note that it is a desert, so temperatures will likely be warm during the day but then drop dramatically once the sun sets. Dressing in layers will keep you prepared for any temperature fluctuations that come your way.
Overall, hiking at Coyote Gulch will provide you with a satisfying adventure as you explore the unique formations of canyons and desert life. Prepare yourself for a long-distance hike, pack your bags with all your gear, and head to Utah for an adventure. "This hike has been on my bucket list for years and it did not disappoint," a reviewer on TripAdvisor wrote.