This South African Hiking Trail Is Considered One Of The Most Dangerous In The World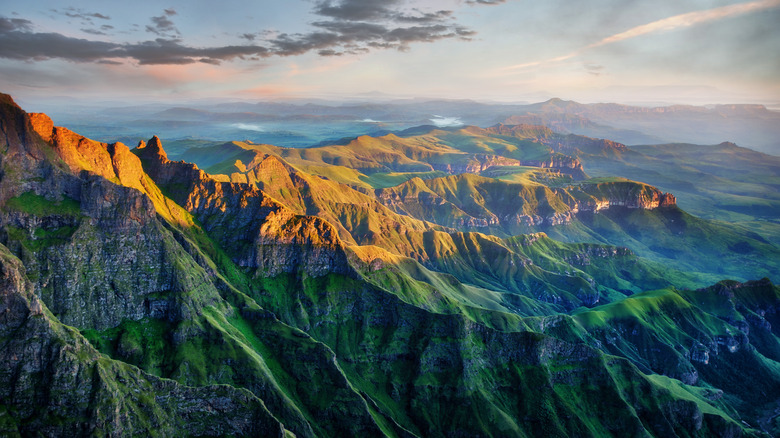 Lukas Bischoff/Getty Images
What do you do if people keep dying on your country's superstar hiking trail? If the popular story is to be believed, officials in South Africa found a simple and effective way to put a halt to rising fatality stats for the Drakensberg Grand Traverse: Stop counting them.
Prior to 1985, it was recorded that at least 55 people had lost their lives attempting the daunting but spectacular route, which experts advise can take between eight and 12 days to complete for hikers in good physical condition. Several other people have perished along the trail in the intervening years: In 2008 alone, two people froze to death as wintry conditions set in while another man plummeted 260 feet when he slipped and fell on ice.
The dangerous reputation of the Drakensberg Grand Traverse has done little to hinder its reputation as one of the finest and most breathtaking hiking routes in South Africa and it continues to attract hikers of all ages; in April 2023, a group of five teenagers completed the challenging 155-mile trek. It's an epic trip that begins in South Africa in the Maloti-Drakensberg Park, a UNESCO World Heritage Site, climbs into the lofty country of Lesotho, then descends again back into South Africa. Let's take a look at the most popular route and what you need to be prepared for if you fancy tackling it yourself.
What exactly is the Drakensberg Grand Traverse?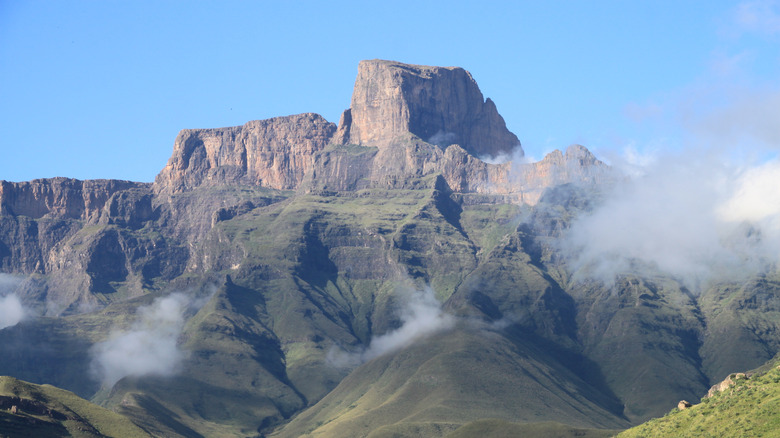 Janine Louw/Shutterstock
Beginning at the very rugged Sentinel Car Park around a four-hour drive from Johannesburg, the Drakensberg Grand Traverse racks up over 30,000 feet of cumulative gain as intrepid hikers make their way across the tops of six summits: The daunting Mont-Aux Sources, Cleft Peak, Champagne Castle, Mafadi, Giant's Castle, and Thabana Ntlenyana. The traverse is known for its remoteness, rough terrain, and altitude, with no marked trails or any kind of facilities along the way. 
Once you have crossed the border into Lesotho, you are in a mountainous country where the lowest point is 4,593 feet above sea level, and there is a good chance that the only other people you encounter might be other hikers or Basotho shepherds. Needless to say, it is essential to take all the equipment and provisions you require with you. Although the route isn't considered very technical, it still requires endurance and concentration to complete a route that ascends roughly 3,280 feet a day until you begin your climb back toward South Africa and civilization.
You'll be left in no doubt from the very start that you are on an adventure; you are first faced by the incredible sight of the Amphitheater, a rock that is three times larger in area than El Capitan, and an early part of the journey to the first summit involves a pair of scary Chain Ladders that look like something from an Indiana Jones movie.
The Drakensberg Traverse has incredible sights... and treacherous weather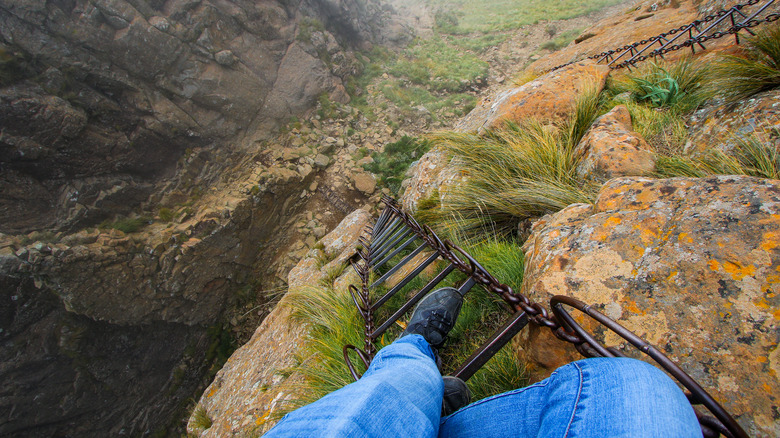 Alexandre.ROSA/Shutterstock
If you survive the climb up the notorious chain ladders you can reward yourself with a short detour to Tugela Falls, one of the tallest (if not the tallest, because measurements vary) waterfalls in the world. There are many other highlights along the route and the views are invariably spectacular; take another detour to the vertiginous Mponjwane Tower and keep your head for heights while gazing across the landscape from the top of a rock formation known as the Elephant. After that, the route requires stamina and concentration but it is relatively straightforward until you get wobbly legs on the descent back into South Africa.
The Drakensberg Grand Traverse is regarded as one of the world's most dangerous hikes due to its isolation — you're a long way from help if you get in trouble. Hikers who are unprepared or not physically fit enough to endure the lengthy uphill stretches while carrying a backpack can also find themselves in difficulties. Weather is a major factor as it is extremely changeable at high altitudes, with blizzards even possible in the height of summer. You should also be alert to some of the more dangerous fauna; baboons can get pretty aggressive and some of the region's snakes, while seldom seen, can be deadly. But if you can withstand everything the Drakensberg Traverse has to throw at you, you'll have an adventure to cherish for life.