Bring Your Family Member Or Friend Right To Their Gate At These US Airports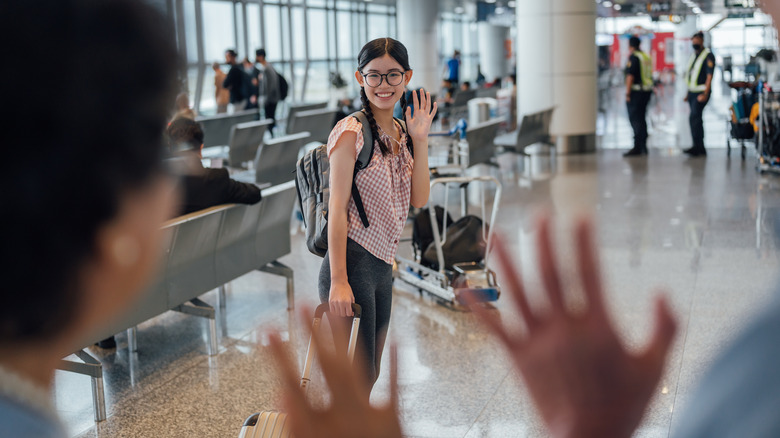 Simon2579/Getty Images
If the arrivals gates at airports are some of the happiest places in the world, the departure areas are undoubtedly the saddest. It's where tears fall and embraces linger, full of people saying goodbye to their loved ones as they depart to distant places, sometimes uncertain of their next reunion. Before 9/11 drastically changed security protocols, virtually any area in terminals was fair game, allowing non-passengers to bring their friends and family right to their boarding gate to see them off. But now with the TSA in the picture, only ticketed individuals can get past security, separating them from their dear ones sooner than desired.
This changed in 2017 when the Pittsburgh International Airport introduced its myPITpass program, granting non-ticketed individuals terminal access for shopping and bidding farewells. While the program is suspended at this time, it sparked a trend adopted by other airports. Presently, nearly a dozen airports nationwide allow non-fliers to venture into passenger-exclusive areas.
If you're looking to do a send-off for a loved one or indulge in some airport shopping, here is the list of airports where airside access is available, along with the process involved in obtaining a pass. It's important to understand that most of these programs require some form of pre-registration, so you can't expect to just walk into the airport and breeze past security without a pre-approved pass to show for it.
Bishop International Airport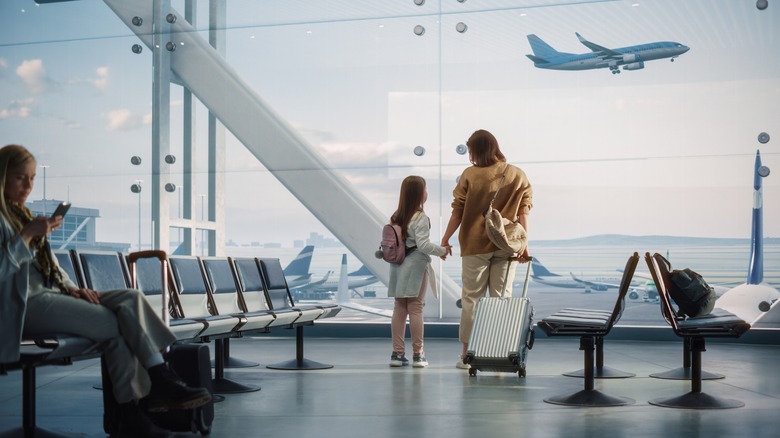 Gorodenkoff/Shutterstock
Located in Flint, Michigan, Bishop International Airport is one of the first five airports to launch an airside access program. Offering the FNT Visitor Pass, the program is available every day from 8 a.m. to 6 p.m., barring weekends, and pass holders are only allowed to use this privilege once a month.
Registration must be completed through the airport's website a day before your scheduled visit. During the application process, you must ensure that all entered details match the ID you are planning to present at the airport. You will be required to show said ID upon checking in, and any discrepancy between your registration information and identification may hinder your entry.
Upon arrival, you will be asked to go through the TSA checkpoint with the rest of the plane passengers, but it's worth noting that during the airport's peak hours, priority will go to ticketed individuals. If you have companions who are minors at the time of your airport visit, it is also necessary to pre-register them for a pass. However, they are not obligated to show proof of identification before entering the airside zone.
Capital Region International Airport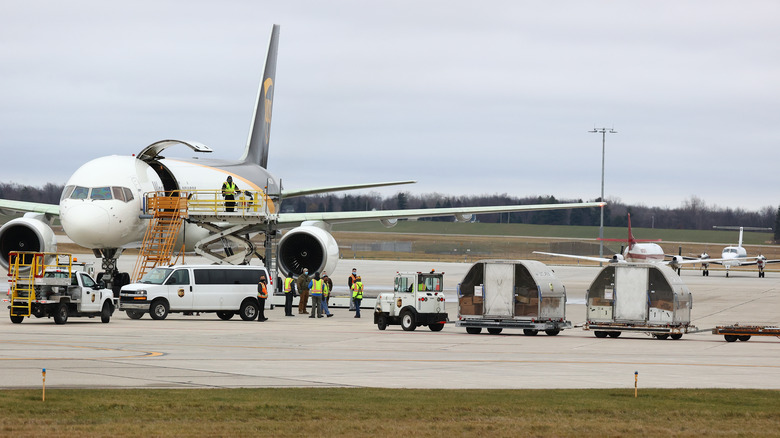 Rey Del Rio/Getty Images
Another Michigan-based airport that allows airside access is Capital Region International Airport, which is located in DeWitt Township. Its Visitor Pass Program is a bit more stringent compared to other airports, due to its enhanced exclusivity. Passes are only granted to a strict limit of 25 visitors a day, and visits can only be four hours, between 8 a.m. and 5 p.m. from Monday to Friday.
Prospective visitors, including minors, are required to undergo online registration, which must be completed at least 24 hours before the planned visit. While they allow walk-ins and same-day admittance, approvals will only be released two hours after registration.
Visitors are also mandated to complete TSA security screening, with no loopholes allowed, meaning you cannot use your existing TSA PreCheck, Clear, or Global Entry memberships. Additionally, you must also abide by the same security rules as ticketed passengers, including the 3-1-1 liquid rule.
Detroit Metropolitan Airport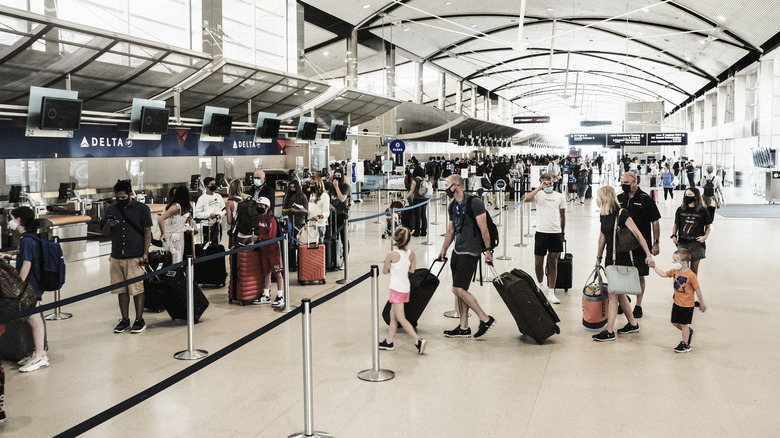 Bloomberg/Getty Images
The Detroit Metropolitan Airport launched its DTW Destination Pass in 2019, but it has since made registration more accessible by adding kiosks at its McNamara and Evans terminals, making the process easier and faster. Instead of obligating people to apply 24 hours prior to their visit, they can register right at the airport and secure an approval within minutes. "Adding these kiosks will make our Destination Pass program even better," Wayne County Airport Authority CEO Chad Newton said in a statement. "Now we can welcome more community members into our airport to create memorable moments."
To apply for the pass, visitors must use one of the kiosks and scan either their license, state ID, or passport. They can sponsor up to four family members or companions. Approved applicants will be issued a pass that they must present to security. The caveat, however, is that it can only be used from 5 a.m. until 9 p.m. everyday. The good news? Weekends are included.
John Wayne Airport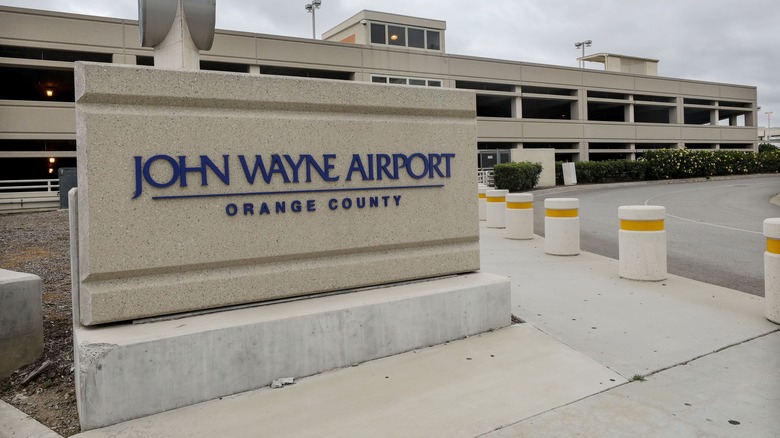 Mario Tama/Getty Images
Based in Orange County, California, John Wayne Airport rolled out the OC AirPass in 2021, offering passengers and visitors alike to enjoy more of its amenities. Similar to DTW, this airport also allows prospective visitors to apply for the pass directly at the airport. Interested individuals must head to the information booth in terminals A to C, anytime between 6 a.m. to 7 p.m., with a valid ID in tow. The process also takes minutes, thanks to an online verification system, and a physical pass will be issued once approved. You must hold on to the pass the entire time you are at the airside zones, but don't exit until you're ready, as re-entry is prohibited.
Upon reaching the TSA checkpoint, OC AirPass holders will be required to present both the pass and a valid ID for further verification. While one personal item is allowed, carry-on luggage is not permitted. Additionally, if you decide to bring a vehicle, you'll also need to pay a separate parking fee, and departure from the terminal must be completed before 11 p.m.
Louis Armstrong New Orleans International Airport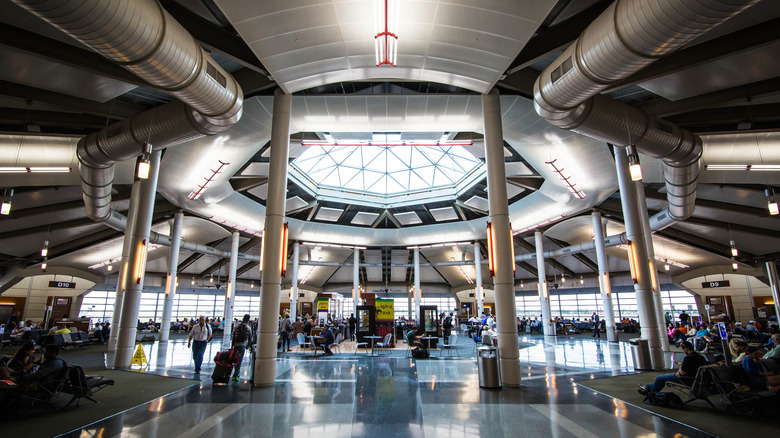 Laddio1234/Getty Images
Louis Armstrong New Orleans International Airport joined the list of airports allowing non-ticketed visitors to enter airside areas in 2019. Its MSY Guest Pass program operates from 11 a.m. to 8 p.m. any day of the week, but it is limited to 50 individuals on weekdays and 100 individuals over the weekend. Notably, applicants are also limited to only one visit per month.
Pre-registration is mandatory for visitors 13 years and older, while visitors 12 years and below must have an adult companion with an approved Guest Pass to be granted entry. Obtaining a pass involves completing an online application process 24 hours before the intended visit. During registration, you must supply pertinent information like your full name (it must match what's on your ID), date of birth, contact details, and more. Customer service will verify these details when you arrive at the airport; and upon approval, you must submit to a security screening along with boarding pass holders.
Ontario International Airport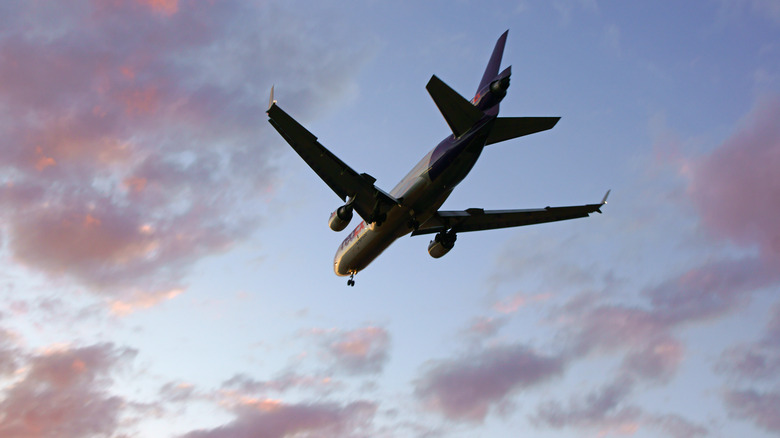 Kgrif/Getty Images
In 2022, Ontario International Airport in California announced that it was launching the ONT+ program to allow non-ticketed persons to access the airside. "You're vetted through Secure Flight, just like you would any other passenger getting on a plane and then once approved, you'd go through TSA screening, just like a passenger," Dean Brown, ONT's public safety administrator, said of the program to ABC 7.
Visitors have the option to apply for an ONT+ pass in advance or on the day of their visit. If you choose the latter, you can apply online up to a week in advance, keeping in mind that the program operates on a first-come, first-served basis. If the date of your choosing is unavailable on the website, it signifies that the capacity has been met for that specific day. After you complete the form, you can expect to receive a decision via email after midnight the day of your planned visit. Conversely, if you're applying the same day of your visit, an approval will be issued within a 15-minute time frame.
Visitors are asked to enter at either the T2 or T4 terminal. You can use your pass from the start time indicated on your approval until 9 p.m.
Philadelphia International Airport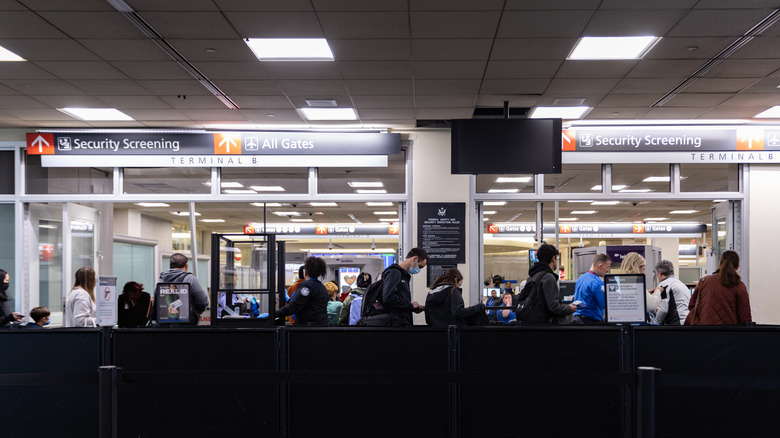 Bloomberg/Getty Images
Philadelphia International Airport is one of the latest airports to introduce an airside visitor program, having kickstarted its Wingmate Guest Pass in November 2023. "We are pleased to offer this new free amenity for nonticketed guests," PHL Director of Marketing and Branding Megan O'Connell noted in a statement. "We receive many inquiries from friends and family members looking to escort a passenger to or from their gate. The Wingmate Guest Pass will help loved ones spend more time with their family members before take-off or create a memorable arrival experience."
Those who want to acquire a Wingmate pass are encouraged to head to the airport website and complete an application form one to seven days before their visit, although same-day applications are also accepted. Only participants over 18 years or older with a valid ID can apply. Applications are vetted by the TSA, and after approval, pass holders must enter through the airport's D/E or A-East TSA checkpoints. What's more, you'll have to select a two-hour security entry window for TSA, and then visits are limited to six hours. Only 50 passes are issued per day. But within those six hours, visitors are free to explore the 140+ shops, restaurants, and bars throughout PHL.
Seattle-Tacoma International Airport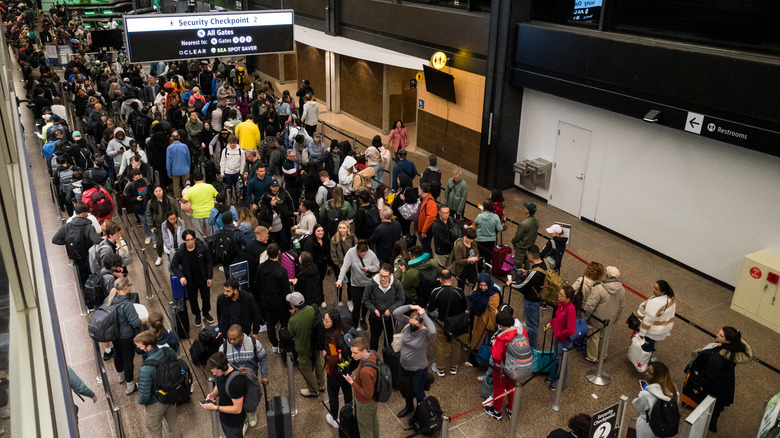 400tmax/Getty Images
Seattle-Tacoma International Airport is one of the pioneering airports introducing an airside access program, offering the SEA Visitor Pass since 2018. While there's a cap of 300 visitors a day, participants have the flexibility to either apply on the day of their visit or up to a week in advance. Just like with PHL, greyed-out dates are an indication that the daily limit has been reached.
Applications are done online; and if granted approval, you'll be given a QR code that functions as your pass. You are to scan the code at TSA Checkpoint 3 at the airport in either digital or printed formats, but you must also show a government-issued ID. Visitors can enter between 5 a.m. and 10 p.m. any day of the week, with the last call being at 9 p.m., as most establishments within the airport close at 10 p.m. What's more, you must exit the premises within four hours of entry time.
Tri-Cities Airport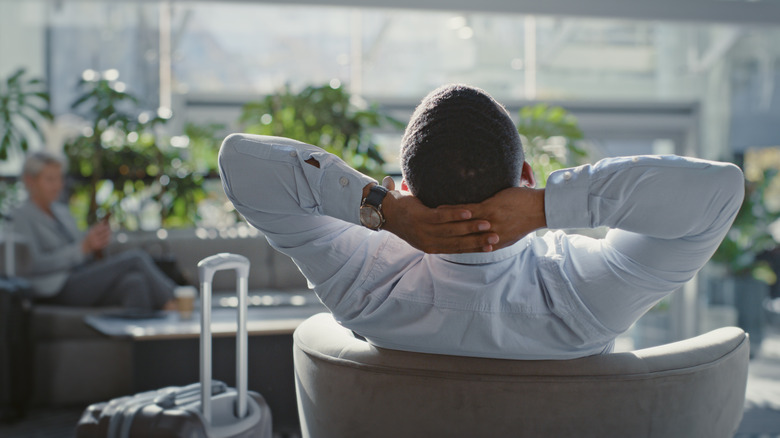 Kobus Louw/Getty Images
Another newer addition to airports granting airside access is Pasco, Washington's Tri-Cities Airport. "With PSC Pass, hellos and goodbyes don't need to be said curbside anymore," Buck Taft, the airport's director, shared in a July 2023 statement. "People can greet or say farewell to their loved ones right at the gate."
The PSC Pass is stricter than most airport visitor programs, unfortunately, as only 10 passes are issued a day. All prospective visitors, including minors, must register online before 9 p.m. the day before your planned visit. If approval is granted, the pass must be used within 24 hours after the request has been submitted. Participants are also only permitted to apply and use a pass once a month. Tri-Cities has not indicated a specific time of entry and exit, but its website notes that visitors may use their pass as long as the TSA checkpoint is open.
Tulsa International Airport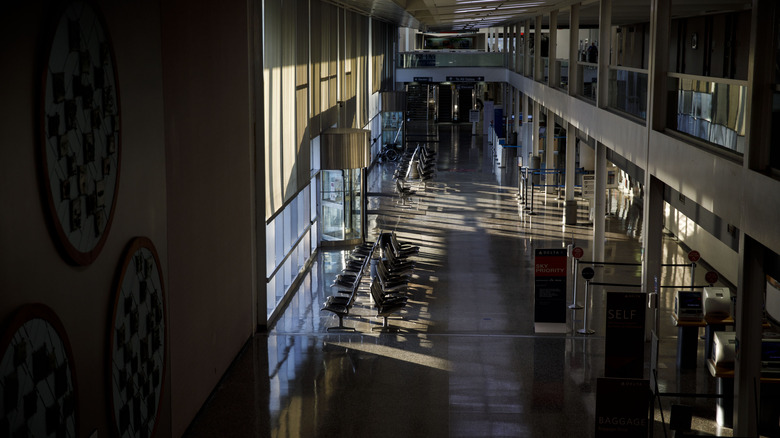 Bloomberg/Getty Images
In May 2023, the Tulsa International Airport announced that it was finally permitting non-fliers access to airside zones. "TUL Visitor Pass gives people the ability to meet their loved ones at the gate or extend their goodbyes, as well as enjoy all the amenities TUL has to offer," Andrew Pierini, executive vice president and chief commercial officer at Tulsa International Airport said at the time.
The application process is similar to other programs in that visitors are given the option to apply either on the day of their visit or up to seven days in advance. Each visitor, adult or otherwise, must complete an online application in which they must enter personal information that matches their government-issued ID. It's unclear what the cap for visitors is, but the website indicates that there's a limit per day. Once approved, you may enter the airport from the approved time of entry until 9 p.m. Exit and re-entry is also permitted, provided that it's within the approved day of the visit.