Discover Breathtaking Caves At This Southwestern State Park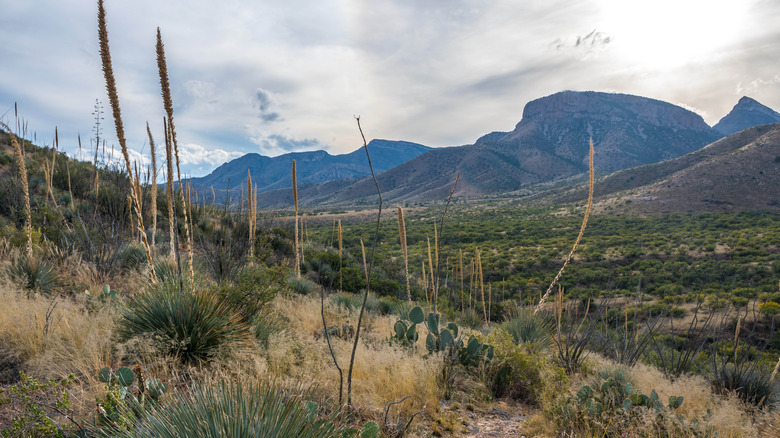 Cheri Alguire/Shutterstock
If you tell someone you're going to be visiting Arizona, there's a good chance a combination of sweeping desert landscapes and soaring temperatures will come to mind. However, this Southwestern state hosts some rather unexpected landforms and features as well. Underneath the ground, removed from any cactus-adorned terrain, there are breathtaking caves to explore in Arizona at Kartchner Caverns State Park.
Located in Benson, Arizona, Kartchner Caverns State Park is nestled into the foothills of the scenic Whetstone Mountains. While the above-ground view here is sure to inspire, it's the caves below your feet that offer up a seemingly other-worldly experience. It's estimated that the caves at the park were formed over the course of 330 million years. However, it wasn't until Kartchner Caverns was designated a state park in 1988 that the public even knew this incredible unground collection of subterranean recesses existed.
The caves were first discovered by Gary Tenen and Randy Tufts back in 1974 as they were recreationally exploring limestone hills in the area that were located on property owned by James and Lois Kartchner. They didn't reveal their find to the Kartchner family until 1978 when they decided the caves deserved more formal protection. The Kartchner family subsequently pursued state park status for the impressive site which they eventually achieved a decade later. Today, more than 150,000 visitors enjoy time at Kartchner Caverns State Park annually according to Arizona State Parks.
What you can observe inside the caverns
When you make time to explore the caves at Kartchner Caverns State Park, you'll have access to some spectacular underground formations. There are two highlight areas for guests to tour underground here which include a cavern known as the Throne Room and a connecting cavern known as the Big Room. When you make your way into the Throne Room, you'll be treated to views of a unique formation known as a bell canopy. This is the stunning result of water flowing over wall bumps over thousands of years.
As water has dripped and flowed along the cavern surfaces over time, it's left what's referred to as speleothems in its wake. These eye-catching underground formations are made up of layers of calcite that take on whimsical shapes and hues. While the formations are fantastic to observe, they're also extremely fragile, making their protected state park status that much more important.
Park visitors who travel through the Big Room underground will find themselves face-to-face with rare formations known as turnip shields and brushite moonmilk alike. Across both impressive caverns, adventurers can witness needle quartz formations up close while the Throne Room proudly boasts a 58-foot Kubla Khan column which is the largest of its kind in all of Arizona. Other exciting formations you can successfully check off your list while visiting the caverns include rimstone dams, totems, stalactites, and helictites too.
Tours, bat walks, and stargazing
To explore the caves here, you'll need to book a guided tour. Choose between a Throne Room tour or a Big Room tour with each covering about half a mile of underground terrain. Headlamp tours are also available for visitors wanting to get an authentic feel for how it would have been to initially discover the caves. Those with a passion for subterranean photography can book a special photo tour hosted on the third Saturday of the month.
In addition to mesmerizing underground formations, the caverns are home to a variety of bat species. If you're interested in learning more about these winged creatures, you'll want to book a spot on one of the park's nighttime bat walks. These outings are led by a naturalist who provides insight into bat conservation as you trek a half mile looking to spot bats overhead. Bat walk participants have opportunities to see up to 13 different species of bats during their excursion — all of which are considered keystone species for this important ecosystem.
If you're looking for above-ground adventures to add to your Kartchner Caverns State Park itinerary, there are plenty of scenic hiking trails to check out. The state park is also a designated International Dark Sky Park. This makes it an exceptional destination for observing the cosmos if you're someone who is always looking for great places to stargaze.