Slide Down The World's Longest Waterslide At This Southeast Asian Destination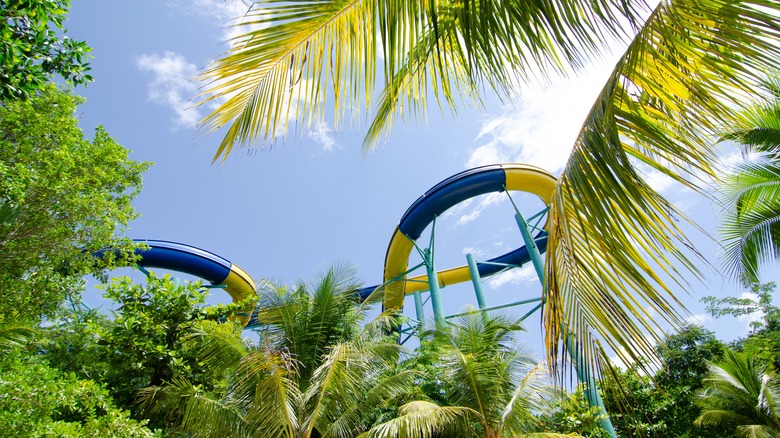 Cloud_Yew/Shutterstock
Penang is Malaysia's visitor playground, encompassing everything from quirky museums to elaborate temples and nature-filled beaches. However, in 2019, the island became a Guinness World Record holder for having the longest waterslide in its major theme park, Escape. The 3,645 ft slide goes through the jungle and it takes three minutes to get from start to finish. Visitors don't even need to walk to the top, as there is a chairlift to transport you to the beginning. 
It passes alongside Penang National Park and was built by hand so it didn't damage the natural landscape. Even though the park is on an island, it is actually very easy to get to from the mainland, as it is connected by two road bridges. The diversity of things to do in Penang is why it is often considered one of the best places to visit in Malaysia. It takes 30-40 minutes to drive from Penang's capital George Town to the theme park where you can put on your bathing suit and hurdle down the slide, simply nicknamed "The Longest."
What to do at Escape Penang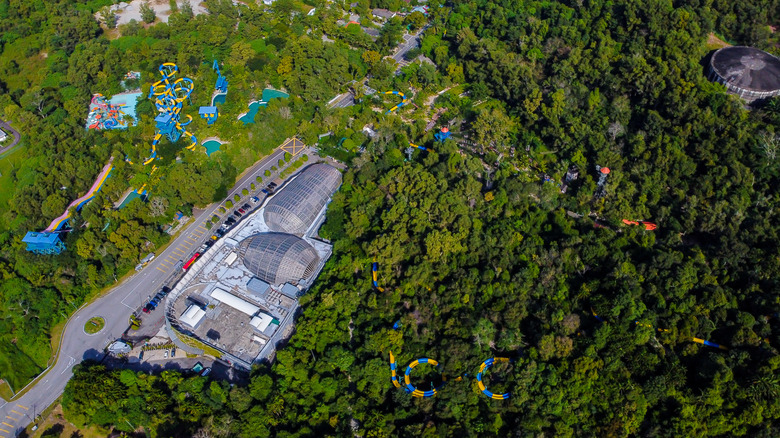 Hafizzuddin/Shutterstock
Aside from the waterslide, there is a wealth of other water-based and adventurous activities that are suitable for all ages here. The price of entry is $18-26 for 4 to 12-year-olds and free for kids under 3. Tickets cost $27-39 for people aged 13-59 and those over 60 are free with ID and a paying adult. There are ziplines, rope bridges, climbing walls, swinging ropes, jumps, and tunnels with plenty more pools and slides for different ages, including young children and toddlers.
The beauty of the location is that you can swing through the jungle like a monkey while being watched by long-tailed macaques, as they feed in the nearby trees. Located within the park is a camping zone called Base Camp, complete with parking, showers, toilets, 24-hour security, and two days of park entry included in the price. Tents are provided but you will need to bring your own bedding, food, drinks, and other supplies. If you love a BBQ, a firepit and wood are provided for you to do just that. If you wish to stay in a hotel outside of the park, there are plenty of fantastic upmarket options dotted around this eclectic island.
Where to stay in Penang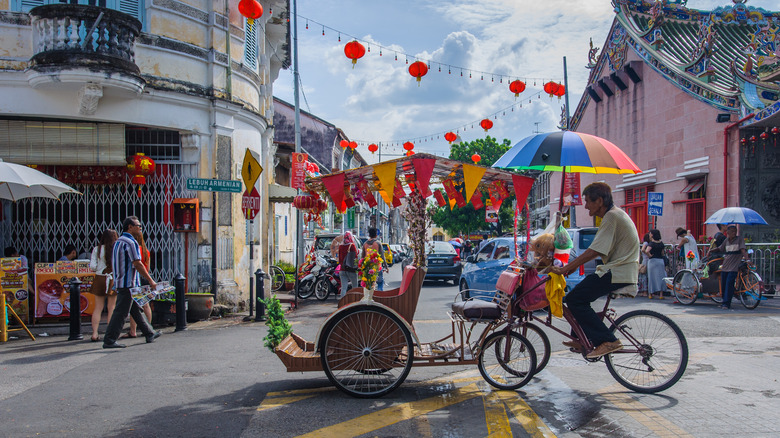 Filmlandscape/Getty Images
George Town is where most tourists stay. It is a UNESCO World Heritage Site due to its historic and cultural significance, and houses most of Penang's attractions. If you want to visit its unusual museums, search for famous street art, marvel at its preserved British architecture, and try the island's world-famous street food, then it is the best place to base yourself. A great value accommodation option in George Town is Areca Hotel Penang, due to its central location and amenities like a children's playroom.
If you prefer nature and the beach then it may be better to stay close to the theme park on the northwestern side of Penang. The top-rated accommodation in Penang is the ParkRoyal Penang Resort, located at Batu Ferringhi Beach. It is just a 10-minute drive from the park and it has ocean views as well as resort benefits like a pool and indoor kid's play area. As this island has been popular with tourists for a long time, there is accommodation to meet the needs of every type of traveler. Penang is a small island, so it is easy to get to the Escape theme park no matter where you choose to stay.