12 Best Places In The US To Celebrate New Years With Kids, According To Our Research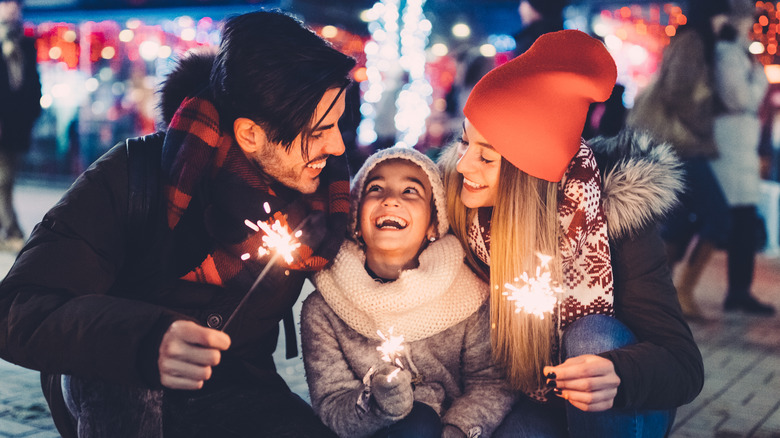 Martin-dm/Getty Images
Despite its reputation as a raucous, all-night event (hello, Times Square), New Year's Eve doesn't have to be limited to adults-only celebrations. In fact, there are plenty of kid-friendly parties across the country geared towards families who want to get in on the action without risking over-tired meltdowns or having to survive a mosh pit of a crowd in order to see fireworks. Many of these fun shindigs take place during the day, while others are set to start the night at a more reasonable time for those hoping to get their kids in bed early(ish). 
From a beach ball drop at Panama City Beach to a Noon Year's Eve countdown at the Louisiana Children's Museum in New Orleans to fireworks that start at 8 p.m. in Atlanta, families are in for a treat this December 31. And if all goes well, their little ones will be happily tucked in with enough time left over for their parents to watch a ball drop on TV from the cozy comfort of their hotel (or living) room.
We chose these locations based on the number of kid-friendly attractions and options — and these 12 had more than every other place we reviewed. We contacted each place directly to ensure they were still holding the events as detailed online. These spots have specific, kid-friendly offerings that went above and beyond, turning the mundane into a family-friendly NYE event that kids will beg to return to. They make it special enough that kids will feel as if they're part of the main event, even if that really happens at noon. Here are some of the best places in the U.S. to celebrate New Year's with kids.
Orlando, Florida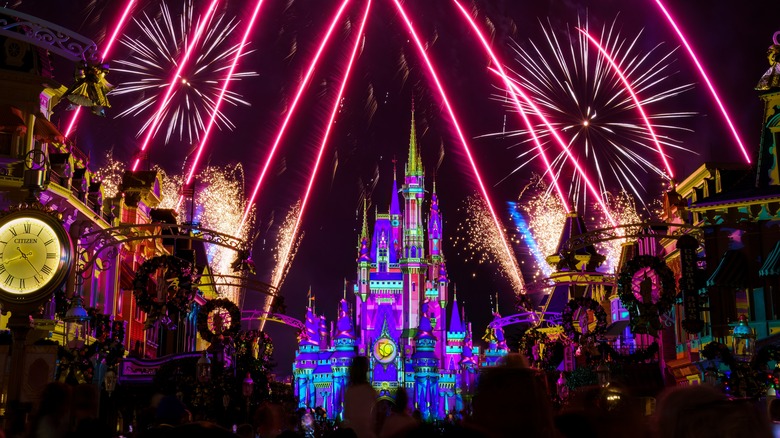 Donna R. Theimer AIFD/Shutterstock
Orlando is packed with so many kid-friendly places to visit that it can be tricky to know where to start. A haven for amusement park aficionados, you'll find two of the best, most popular theme parks in the United States in this central Florida locale — Walt Disney World and Universal Orlando Resort. Lucky for parents, both put on spectacular events to help ring in the new year.
Few places know how to welcome kids to the party better than Walt Disney World. From thrill rides to character meet and greets to fantastical shows, there's no limit to the fun that can be had at the Most Magical Place on Earth, especially if you plan your trip well. It doesn't hurt that Walt Disney World boasts some of the best NYE fireworks in the world. Both Magic Kingdom Park and Epcot put on special New Year's Eve fireworks shows. These get loud, so you may want to consider giving your child earplugs to dilute the cacophony.  Universal Orlando Resort is another buzzy spot to welcome the new year. You'll find fireworks and a countdown here, too, as well as Universal's Holiday Parade. Hoping to call it an early night? Check out LEGOLAND Florida Resort's Kids New Year's Eve.  Fireworks start early, usually around 8 p.m. 
Panama City Beach, Florida
A popular Spring Break destination, Panama City Beach is one of Florida's most underrated budget-friendly beaches. It also plays host to an epic New Year's Eve party. Well, technically, it's two parties, as the first is designed to please little ones who can't make it to midnight. Known as the Kids' Beach Ball Drop, 10,000 inflated beach balls are floated down to revelers on the sand at a more palatable time of 8 p.m. This happens at South Pier Park Drive and includes a countdown, so kids can feel like they're really part of the fun. A few fireworks will also be set off at this time. 
If you really want to make an evening out of it, head to Pier Park early. The streets are closed to traffic and lined with enough entertainment to keep even the pickiest of kids happy. Live music begins at 5:35 p.m. in front of Celebration Tower, and you'll find a slew of games, food vendors, shops, and kid-friendly activities. If you think your kids can make it to midnight, they'll be wowed by more fireworks and a massive, glowing beach ball being lowered to truly welcome the New Year.
New Orleans, Louisiana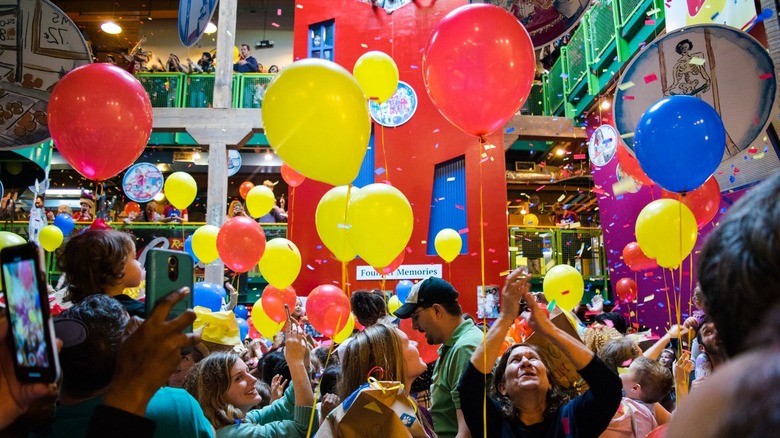 Louisiana Children's Museum/Facebook
New Orleans is one of the best places in the world to celebrate New Year's Eve, and we're not just talking about the rowdy happenings on Bourbon Street. Honestly, though, would you expect anything less than an epic party from a city known for its Mardi Gras celebrations? Parents who'd rather take it easy this year will love the variety of family-friendly festivities on offer. Louisiana Children's Museum is a must-visit attraction for a New Year's celebration with kids. The party here rages from 9:30 a.m. to 1 p.m. with enough dancing, face-painting, games, and crafts to please kids and adults of all ages. The noon-time countdown ends in a colorful explosion of confetti and bubbles, perfect for firework-averse kids. Tickets go on sale in late November and cost $14 per member or $24 for non-members.
A super fun Noon Year's Eve Bash also takes place at the Children's Museum of St. Tammany, which lies across Lake Pontchartrain from downtown. About 45 minutes away by car, this is an easy place to visit for a day trip. Festivities, which include a live concert and entry to the museum's attractions, begin at 10 a.m. and end at noon. 
Hershey, Pennsylvania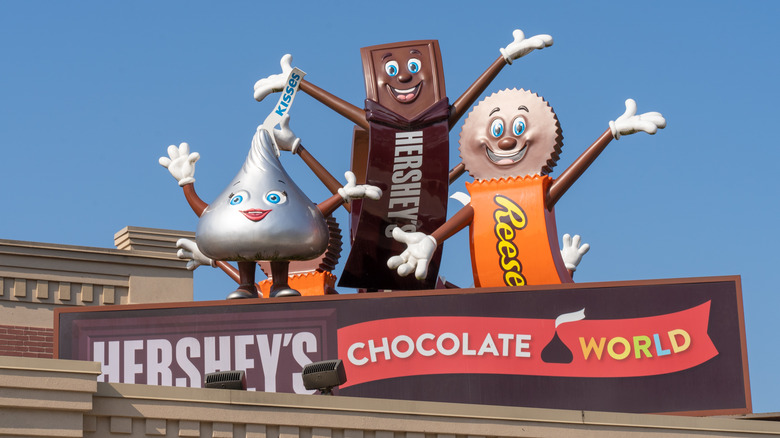 Arlutz73/Getty Images
Sweeten your New Year's celebrations with a trip to Hershey, Pennsylvania. Start your day at the Little Elves Workshop at The Hershey Story Museum on Chocolate Avenue, where kids can make ornaments from chocolate clay from 10 a.m. to 2 p.m. Next up are chocolate tastings, which last until 4:30 p.m., and a New Year's Eve Countdown that includes bubble wrap stomps on the outdoor patio at 11 a.m., 1 p.m., and 3 p.m. Let kids dance off their sugar rush at Hershey New Year's Eve, which is held in downtown's central Chocolate Square. There are plenty of bands primed to sing you into the next annum, along with a countdown to raising a 300-pound Hershey's Kiss at midnight with help from Hershey's characters.
December 31 is the last night for Hershey Park Christmas Candylane, a definite kid-pleaser packed with festive activities, including 5 million twinkling lights and 2 miles of wooded trails illuminated by 600 animated displays in the Hershey Sweet Lights exhibit. Select rides are open on New Year's Day, weather permitting, and kids can also visit their favorite animals in ZooAmerica Wildlife Park between 10 a.m. and 4:30 p.m. Hershey's Chocolate World is open later for those who'd like to extend the day — it closes at 9 p.m. Take a factory tour, enjoy Hershey's Great Candy Expedition cinematic adventure, and stuff your own one-pound Reese's Peanut Butter Cup. Beware of the ensuing sugar high!
Atlanta, Georgia
Paras Griffin/Getty Images
There are plenty of fun ways to ring in the New Year with kids in Atlanta. Whether you're hoping to do a morning countdown or see fireworks at 8 p.m., you and your little ones will feel like you've gotten in on the celebratory action while still managing to hit the hay at an early enough time to avoid January 1 meltdowns. The annual New Year's Eve Bash at the Battery is a beloved family event. Early Inning festivities begin at 6 p.m. with a concert on the Georgia Power Pavilion State. At 8 p.m., inflatable balloons drop to ring in the (early) New Year, and at 9 p.m., the Late Inning fun takes hold, with more live music before a firework and confetti display over Truist Park at midnight.
Hoping to celebrate a bit earlier? The New Year's Bubble Bash is "Atlanta's favorite NYE party for families." A haven for kids who like to party, dance, and play, there are enough activities on hand to keep them happily occupied until it's time for the countdown to bubble-wrap popping at 11 a.m., 2 p.m., and 5 p.m. The Peach Drop is another exciting New Year's event best enjoyed by older kids or those who don't mind crowds — over 100,000 visitors attend this event. Held at Underground Atlanta, the giant peach weighs over 800 pounds and takes 58 seconds to drop from the tower. Expect carnival rides, live music, and plenty of food vendors.
Seattle, Washington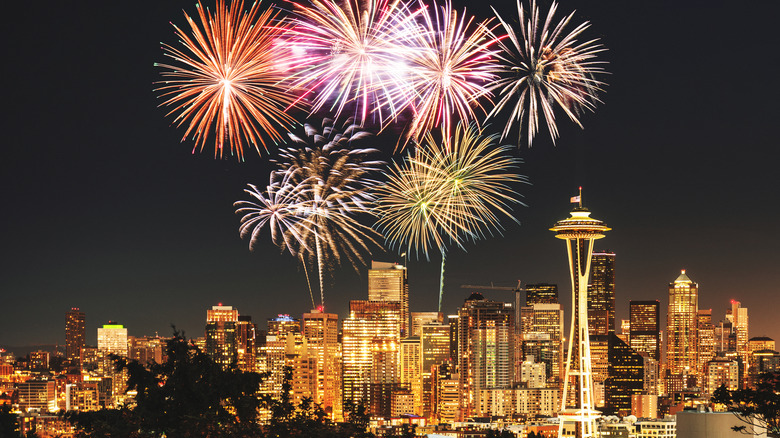 Franckreporter/Getty Images
A better fit for older kids or those who don't mind hanging out in the cold surrounded by thousands, the Seattle Space Needle boasts a lights and drone display as well as fireworks. Known as T-Mobile New Year's At The Needle, this is one of the world's largest structurally launched fireworks presentations and it's best viewed from the neighboring Seattle Center. Arrive by 11:30 p.m. to ensure you find a place to watch or head out earlier to visit the Needle's Observation Deck; the revolving glass floor is pretty impressive unless anyone in your family has a fear of heights. While the fireworks are free, heading inside the Needle isn't. Buy tickets in advance, especially since it closes early.
KidsQuest Museum hosts the popular New Year's Eve Countdown four different times on December 31, making it super easy to plan your celebration around nap time. Located in Bellevue, this museum is popping with activities on the big day, like face painting and a bubble wrap stomp. It's located a 30-minute drive across Lake Washington. If you're up for an exciting trip that involves a ferry ride, visit KiDiMu (Kids Discovery Museum). Located on Bainbridge Island, a 35-minute ferry ride across Elliott Bay from downtown, KiDiMu welcomes kids of all ages to enjoy a countdown to noon, with plenty of party crafts and entertainment like sock skating on a faux ice rink, confetti cannons, noisemakers, and a dance party. This fun-filled celebration lasts from 10 a.m. to 12:30 p.m. 
Boston, Massachusetts
Ice sculptures, pyrotechnics, and concerts! There's a lot of excitement happening at First Night Boston. The most famous New Year's Celebration in Beantown, this iconic party has been thrown since 1976, and it is not to be missed. A word of warning: It will get crowded — over 1 million visitors typically attend this event. Worried about your little ones getting overwhelmed? Aim to arrive earlier in the evening. The First Night Parade (aka the People's Procession Parade) begins at 6 p.m., where colorful and celebratory groups" will walk from City Hall Plaza to Boston Common, wearing all sorts of fabulous costumes. At 7 p.m., fireworks are set off over the Common, allowing plenty of time for parents to wrangle tired, over-stimulated kiddos back to the hotel before things get even busier downtown. 
If your kids are older or simply raring to go, you can take them to see the free concerts, performers, and the pyrotechnics show that happens at 11:59 p.m. over City Hall Plaza. At midnight, more fireworks can be seen lighting up the skyline over Boston Harbor, launched from The North End Waterfront and Seaport. Remember to bundle up, because it can get cold!
San Diego, California
The San Diego Zoo is sure to thrill visitors of all ages with its Jungle Bells exhibition. New Year's Eve is the last night for the zoo's music, holiday decor, entertainment, tempting treats, and lighting display, so this is a perfect time for families to visit. A great place to spend an entire day, the zoo's event ends at 8 p.m. While in town, visit LEGOLAND California Resort on New Year's Eve. Here, families can enjoy all the rides, shows, and meet and greets you'd expect from the famous amusement park, with the added bonus of attending San Diego's largest Kids' New Year's Eve Party. A 40-minute drive north of the city, this is an easy day trip destination from San Diego. Plus, midnight is celebrated much earlier here (at 6 p.m.), so there's plenty of time to get home for bed.
Hotel Del Coronado, known locally as The Del, often hosts family-friendly parties on New Year's Eve. At 7:30 p.m., they play a movie in their theater under the stars. For $25 each, families can enjoy the film from the comfort of a sand chair, and an extra fee will get you a private bonfire primed for s'more-making. Once kids are jazzed up from watching a flick outside, they'll be rewarded with a fireworks show just for them.
Austin, Texas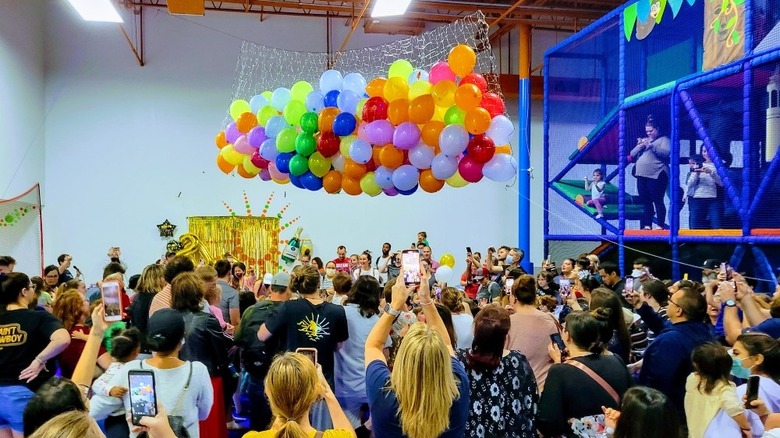 Indigo Play
When it comes to, well, pretty much anything, Texans like to approach things with a "go big or go home" mentality. When that anything is New Year's Eve, you can bet there will be some spectacular events for families. The New Year's Eve Balloon Drop happens twice on New Year's Eve at Playland Skate Center — 2 p.m. and 5 p.m. — making it easy to work around busy schedules. For $13, each family member can rollerskate to their heart's content (well, between 12 p.m. and 6 p.m.) while waiting for the balloons to fall. Arrive early if you want free party favors.   
Indigo Play is a safe and fun indoor play center popular with little ones. Its Noon Year's Eve Party runs from 11 a.m. to 1 p.m. and features a balloon drop at noon, games, free pizza, and a champagne toast for parents. The kids get sparkling juice, for the record. One of the biggest parties in town is the annual Austin's New Year Celebration, hosted at Auditorium Shores. This is where you'll find live music, fantastic food, and a massive fireworks display to ring in the new year. As with any big celebration in a large city, though, be prepared to share your experience with hordes of people. Much of the lawn is left open, so go early to find a spot and pack chairs and a blanket. 
Yosemite National Park, California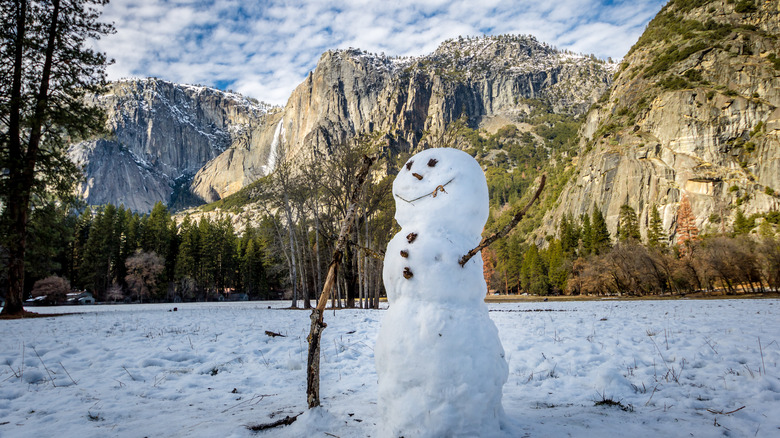 Diegograndi/Getty Images
Tenaya Lodge knows that New Year's Eve isn't only for adults. That's why this lovely resort in Yosemite National Park hosts a special NYE celebration just for kids. Actually, it offers two parties geared towards their youngest guests. First up is the Kids' "Camp Out" party. Designed for children aged 9 to 14, this fun event includes camp games like archery, crafts, songs, and even potato sack races. Next is the resort's Kids' "Wild Safari" party. A happening spot for little ones aged 4 to 8, children are welcome to participate in a scavenger hunt for hidden "gold," trek through safari animal play huts, and make their own wild animal masks. There are snacks, drinks, and plenty of games involved. Tickets cost $75 per child, and the events run from 6:30 p.m. to 12:30 a.m. 
Meanwhile, parents can enjoy more upscale, adult-centric events (like gaming tables and a lavish, plated dinner) with a final champagne toast and balloon drop before collecting their kids. Tickets for this are $225 per adult. Worried about being separated from your kids when the clock strikes midnight? Don't. They'll be having so much fun they won't even notice you're gone. Plus, you can spend most of the day together making memories while hiking, ice skating in Curry Village, building a snowman, or skiing and snow tubing at Badger Pass Ski Area.
Mount Olive, North Carolina
Be warned; your kids may talk about Mount Olive's Pickle Drop for years after they first experience it. In addition to a falling pickle (that's right, a glowing pickle falls into a giant brine tank at this unique event), families can enjoy live music, great food, and line dancing. The main countdown happens at 7 p.m. when the pickle is dropped from the top of Mount Olive's Volunteer Fire Department's Tower 23 ladder truck, accompanied by a fireworks display to prolong the drama. By the way, 7 p.m. is midnight in Greenwich Mean Time, so if your kids are clever enough to realize it's not really the new year, you can assure them that it's 12 o'clock somewhere.
The New Year's Eve festivities begin at 5 p.m. with a video screen counting down the "last" hours of the year from then until 7 p.m. so you'll know when it's time to stop grooving to the live music and head towards the giant pickle. As an aside, this is likely the only New Year's Eve party where attendees receive Mt. Olive Kosher Dill pickles along with noisemakers and hats. That's only fitting for a town named after a crudité staple.
Williamsburg, Virginia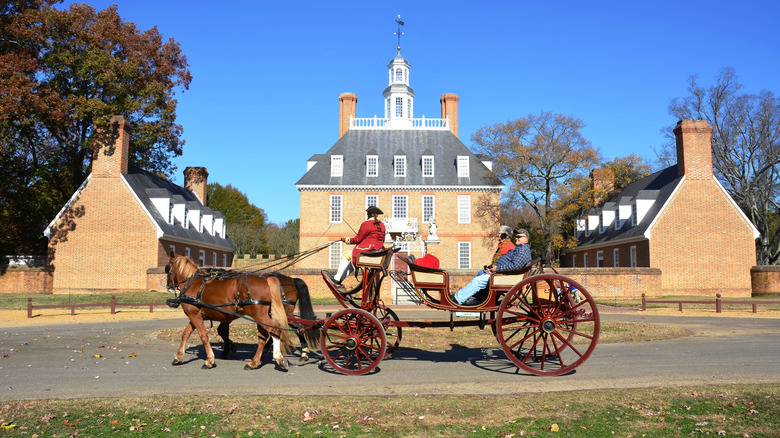 StacieStauffSmith Photos/Shutterstock
Williamsburg may not be as flashy as a big city like Boston on New Year's Eve, but that makes it one of the best places in the U.S. to celebrate New Year's with kids. Busch Gardens New Year's Eve Celebration is an unmissable family-friendly attraction during this holiday. Its remarkable Christmas Town boasts a fantastical light display, with over 10 million twinkling lights providing a stunning backdrop for New Year's festivities. Holiday shows, thrill rides, and special meals will be served on December 31, culminating in a fireworks show set to music. The park closes at 1 a.m., and the party is included with park admission.
Step back in time with a more unique experience at Colonial Williamsburg. Here, kids will learn what life was like for an 18th-century family at the Geddy House during the day, watch interesting historical performances and presentations, and enjoy a New Year's Eve brunch at Williamsburg Inn. Don't forget to grab a ticket for Hogmanay, an exciting and quirky concert toasting the New Year in true Scottish style.