Take In One Of A Kind Scenery At This National Geopark In China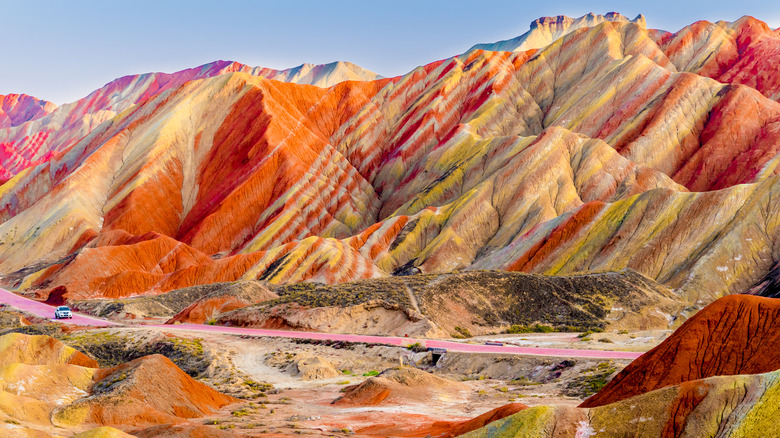 THONGCHAI.S/Shutterstock
Explorers longing to surround themselves with thrilling discoveries will find a long list of reasons to set their travel sights on China. Rich in ancient heritage, China is home to world-renowned landmarks like the Great Wall, which beckon visitors looking to pursue the past in a modern world. It is also famous for its savory local cuisine, captivating cultural customs, bustling cityscapes, and wildlife like the giant panda, which isn't found anywhere else in nature across the planet. But for all of the better-known reasons to book a trip to China, it's also a country that's adorned with breathtaking landscapes and hidden wonders to explore.
If you're looking to encounter one-of-a-kind scenery that falls into this category during your visit, you're going to want to be sure to make time for a stop at the Zhangye Danxia National Geopark. Nestled within the foothills of the Quilian Mountains in the Gansu province, the park is not far from the Mongolian border.
The geopark is popular among locals and international travelers alike for its colorful collection of hills and rocks. The vivid array of natural hues found here has led to the area being referred to as the "Rainbow Mountains." Between the peaks, visitors will be treated to views that feature unique bands of orange, brown, yellow, and russet that create an almost other-worldly scene.
A colorful and captivating view awaits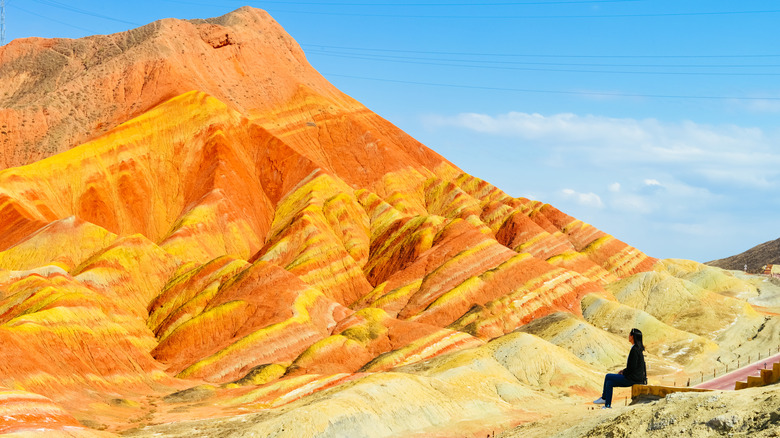 Isweetriver/Getty Images
The rainbow-hued rocks and peaks that are towering within the parameters of the Zhangye Danxia National Geopark are undeniably whimsical. However, the reason for their alluring collection of colors is more scientific. For millions of years, wind and weather slowly worked away at sandstone and mineral deposits of varying kinds. As natural erosion occurred, contrasting color bands were revealed, forming the Rainbow Mountains that can be viewed in the geopark today.
In total, the Zhangye Danxia National Geopark covers over 124 square miles of colorful terrain. This means there's plenty for visitors to check out and when you do, you'll be enjoying a place that was designated a UNESCO World Heritage Site back in 2009. Zhangye Danxia earned its status as a national geopark in 2011 and welcomes just over 2 million visitors annually.
When you visit this vibrant geopark, you'll find it split into three distinct sections to explore. The Sunan Danxia Scenic Area is more off-the-beaten-path while the area known as Binggou is situated along the Lyuan River. If you have limited time to visit, the best and most colorful views are available from within the easily accessible Linze Danxia Scenic Area.
There are many options for sightseeing within Zhangye Danxia National Geopark. Upon arrival, you'll find a collection of strategically placed platforms and stairs to traverse at your preferred pace. These provide direct access to the hilltops and panoramic views, while simultaneously protecting the fragile landscapes you've come to admire.
Planning your visit for maximum color exposure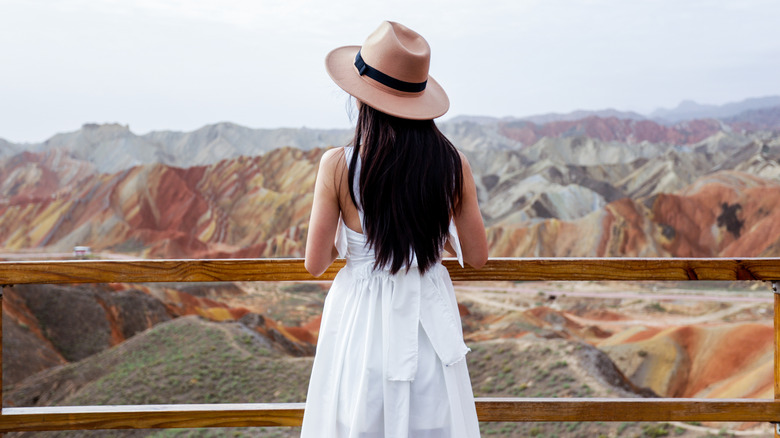 Lamhub/Shutterstock
If you're spending time in Gansu and hoping to add a stop at the Zhangye Danxia National Geopark to your itinerary, you won't be far from the fun and views ahead. Plan on driving about 30 minutes from the nearby town of Zhangye to reach the park entrance. There are also options to head to the park by bus if that's preferable.
Utilizing the on-site hop-on, hop-off bus service is a convenient way to see all of the best and most colorful sites during your visit. There are opportunities to link up with these tourism buses at the north and west entrances to the park. The route takes passengers to each of the five main observation points, giving you plenty of time to relish the views before getting on the next bus and moving along.
No matter when you make your way to the Zhangye Danxia National Geopark great views are included in the experience and you'll want your camera gear in hand. That said, strategically picking the season of your visit can enhance the colorful vistas further. The months between June and September typically come with plenty of sunshine, elevating the mountain hues and creating even more spectacular landscapes to enjoy. If you have the option to visit the park in the early morning or later in the evening, lower temperatures and emerging sunlight can showcase beautifully clear and impressive terrain.