This Village Is Considered One Of The Top Camping Destinations In Europe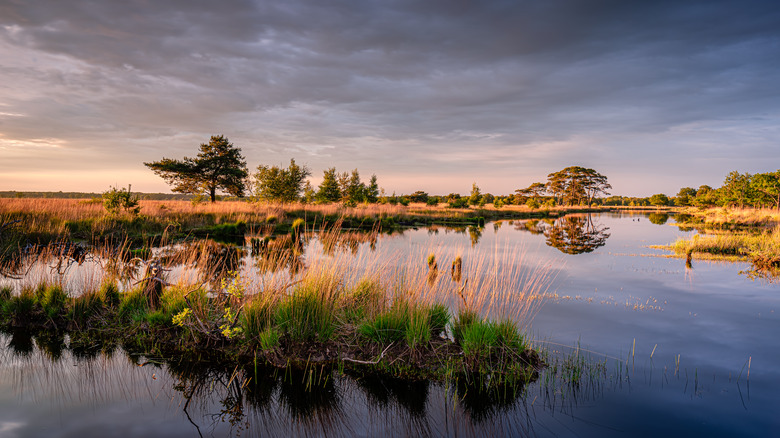 Gijs Rijsdijk/ Shutterstock
With less than 400 year-round residents, it's pretty unlikely that you've heard of Ansen, Netherlands. However, if you're a camping aficionado, this small Dutch village should be on your bucket list. While this town is quaint and slow, it happens to offer an amazing attraction for outdoorsy people like yourself — a one-of-a-kind campsite called d'Olden Kamp.
This lush, woodsy retreat away from the hustle and bustle of city life has everything you need to get in tune with nature. With a variety of accommodations and amenities, you can decide just how luxurious or basic you want your camping setup to be. From pitching your own tent to staying in a turf hut, this camping oasis will provide you with whatever camping experience you're looking for. Situated right beside the outstanding Dutch national park,  Dwingelderveld National Park, you'll have your hands full of things to do and see in the Dutch backcountry.
d'Olden Kamp accomodations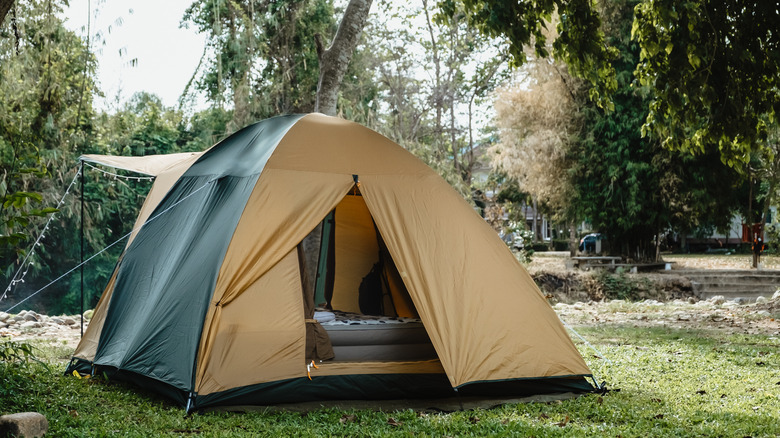 Mut Hardman/ Shutterstock
d'Olden Kamp provides 40 different fantastic campsites for guests to choose from. If you are getting a view of the countryside and traveling with a camper or RV, the site also provides places for you to set up the perfect RV campground. Each area offers a nice level of privacy, with a personal lawn and plenty of space between neighbors. If you're traveling with friends or family that are staying at a different site, you can opt to reserve the family field where you will be closer to one another and share grassy space. You can also take your camping trip with your dogs and/or horses, as d'Olden Kamp is especially animal-friendly.
Along with your camp area, you'll also have access to shared toilets and shower facilities. And while a trip here will allow you to take a step back from modern life, you won't have to completely disconnect since d'Olden Kamp offers guests complimentary Wi-Fi. For those who are a little less savvy when it comes to the outdoors, don't worry — d'Olden Kamp offers more sturdy places to stay. Take a step up from a tent and spend the night in a turf hut. Or check out their unbelievable, cottage-sized luxury treehouse.
Activities at d'Olden Kamp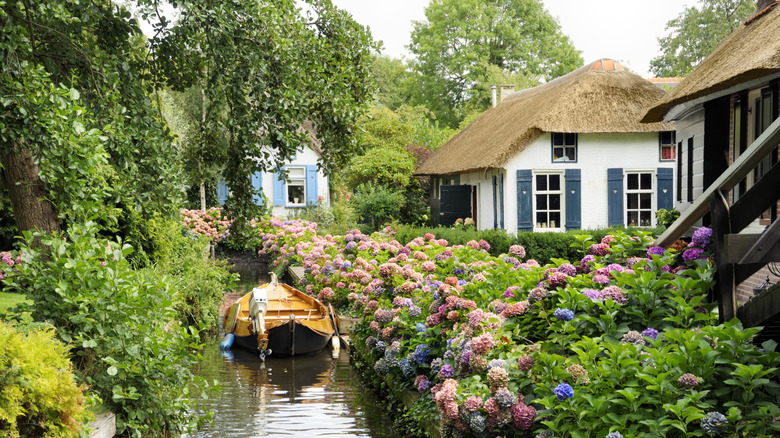 Nikitje/ Getty Images
Although Ansen is relatively remote, there's no shortage of things to do while staying at d'Olden Kamp. Just a short walk away from Dwingelderveld National Park, this 3700-hectare nature reserve is full of hiking, cycling, walking, and horseback riding paths just waiting to be explored. Conveniently enough, d'Olden Kamp offers bike rentals onsite if you're looking to cycle through the park's scenic moorlands and dense forests.
While you're staying at d'Olden Kamp, it's also recommended that you spend a day visiting the village of Giethoorn. A thirty-minute drive from your campsite lies this magical little town. Known as the "Venice of the Netherlands," Geithoorn is solely connected by bike paths and canals. Decorated with willow trees and traditional, old-timey Dutch homes (thatch roof and all), taking a boat tour through this village is an unforgettable experience you won't want to miss while you're nearby.
If you want to spend a day at the campsite, there's enough to keep you and the family entertained. Perhaps the most unique part of d'Olden Kamp is its on-site petting zoo. Home to a compact farm, you and the kiddos can get a chance to pet and even help feed their collection of goats, pigs, chickens, and rabbits. A stay at d'Olden Kamp entails not only the serenity of its remote location but a wealth of activities and attractions.