This Western US Destination Is A Great Couples Getaway For Nature Lovers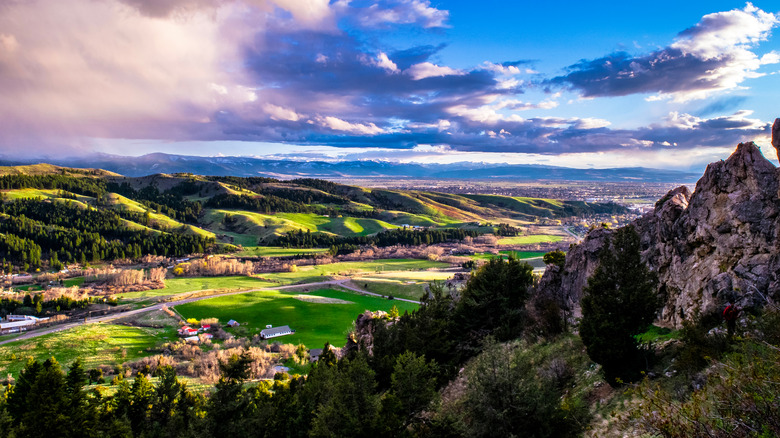 Jeremy Janus/Shutterstock
Couples find one another in many interesting ways. While some meet by chance, others are drawn together pursuing shared interests. Once you find your person, spending quality time together is often key to keeping the relationship alive and well, which is why long-distance relationships aren't for everyone. If you happen to be a couple with a shared love for nature and you're looking for a vacation destination to enjoy together, there's no place quite as appealing as Bozeman, located in Montana, one of the U.S. states most known for the outdoors. Home to Montana State University, with just over 57,000 year-round residents, Bozeman is a beautiful western U.S. destination that's great for couples looking for plenty of scenic and open landscapes to discover. Situated within the Central Montana Rocky Mountains, Bozeman acts as a convenient gateway to iconic outdoor points of exploration such as Yellowstone National Park, perfect for exploring on a budget.
Whether you're a couple that can't wait to spend all your time hiking, biking, wildlife-watching, or exploring off-the-beaten-path locales, Bozeman is a place where it's simple to customize your outdoor itinerary according to your sense of adventuring style. If you feel like stepping back and simply savoring the dynamic surroundings this destination is known for, that's an option, too. Between the small-town charm and inviting opportunities for outdoor recreation, Bozeman is a place you might find yourself longing to return to as a couple year after year.
Summertime outdoor adventures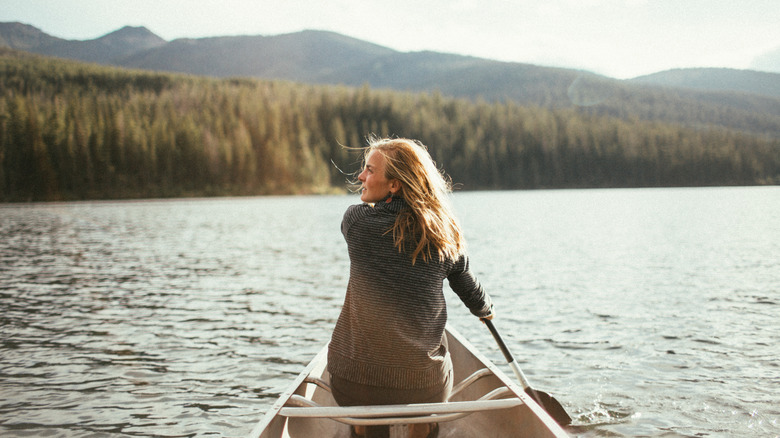 Epicurean/Getty Images
Boasting mountains, waterfalls, valleys, and lush forests alike, Bozeman, Montana, has a way of capturing the imaginations of travelers upon arrival. Couples wanting to spend as much time as possible outdoors will find summer an exciting season for time on the hiking trails. The M Trail is a popular route to enjoy with an access point just 10 minutes from downtown. The dog-friendly trail loop is only 1.7 miles long but treats trekkers to breathtaking valley views.
If mountain biking is your style as a traveling pair, the cycling trails that run through Custer Gallatin National Forest are not to be missed. Those looking to cool off in the summer with adventures on the water instead will find Bozeman is home to a variety of blue-ribbon and world-class trout streams. Experienced anglers can head off with gear in hand to access the Gallatin River, Jefferson River, Yellowstone River, or Madison River depending on preference. They're all within easy driving distance of Bozeman, and local guide companies can help you plan a trip if you're new to fly fishing, too.
The Madison River is a particularly wonderful choice for couples who want to pair their fly fishing fun with tubing or kayaking in the summertime. If you're a couple looking for a new perspective on your surroundings, consider setting aside some time for rock climbing at Hyalite Canyon. Practice Rock on the north end has more than 25 established routes to explore.
A winter wonderland of fun for couples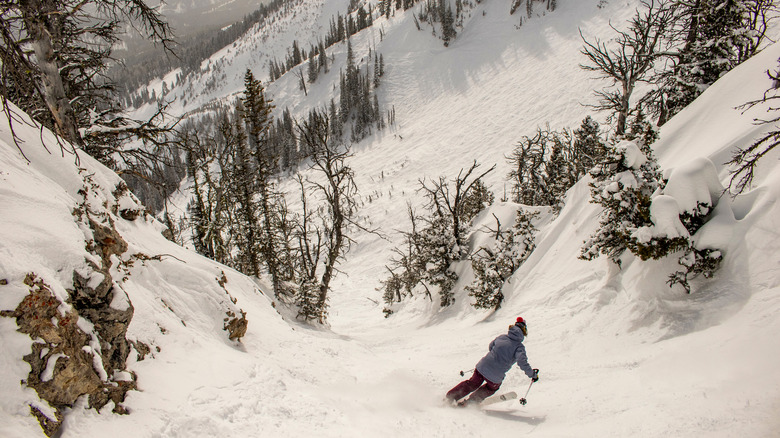 Leif D/Shutterstock
Warm-weather getaways to Bozeman, Montana, are filled with options for outdoor fun. However, couples who travel here in the winter will find just as much waiting to be enjoyed. When the snow falls, Bozeman is no more than an hour from two impressive ski destinations.
The couple that skis together can pick and choose between spending time at Big Sky Ski Resort and the Bridger Bowl Ski Area. Selecting the Big Sky Ski Resort means exploring more than 5,800 acres of skiable terrain paired with exciting trails. Bridger Bowl isn't quite as vast but conveniently sits within Bozeman city limits.
Those same hiking trails transform into picture-perfect snowshoeing routes in the winter across Bozeman. Snowmobiling is another popular activity in this area for winter visitors looking to get into nature at a thrilling pace. The team at Summit ATR offers snowmobile rental options as well as guided snowmobiling tours.
After all that time exploring and enjoying the great outdoors, warm up, relax, and unwind at the Bozeman Hot Springs. What began as a small natural pool that delighted visitors over 100 years ago has grown into a collection of 12 pools guests can enjoy all-year-long. Each pool hosts a unique temperature, and wet and dry saunas for guests are also available.