How To Do Yellowstone National Park On A Budget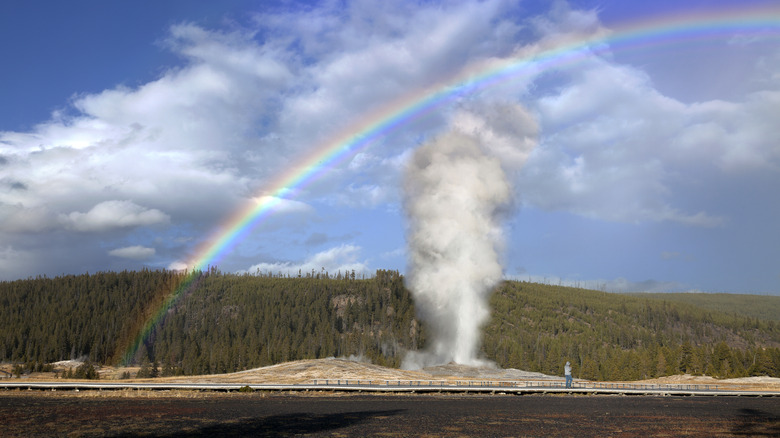 Kingwu/Getty Images
Boasting over 2.2 million acres of pristine wilderness and some of the most incredible natural wonders on the planet, Yellowstone National Park was the world's first national park and remains a wildly popular bucket list destination for nature lovers. From scenic backcountry trails and majestic geysers to time-carved canyons and some of the world's most diverse wildlife, Yellowstone National Park is simply incredible, welcoming over four million visitors annually.
While Yellowstone is well worth the price of admission, the national park isn't exactly a cheap destination to visit. Given its popularity, somewhat far-flung location, and the limited amount of accommodations and services, Yellowstone can be surprisingly expensive. However, if you thoughtfully plan for your accommodations, transportation, and daily expenses, you can visit Yellowstone National Park on a reasonable budget. Yellowstone may still cost a bit more than many natural wonders in the world, but this once-in-a-lifetime experience is still accessible to the budget-minded traveler with a little know-how.
Stay on the outskirts of Yellowstone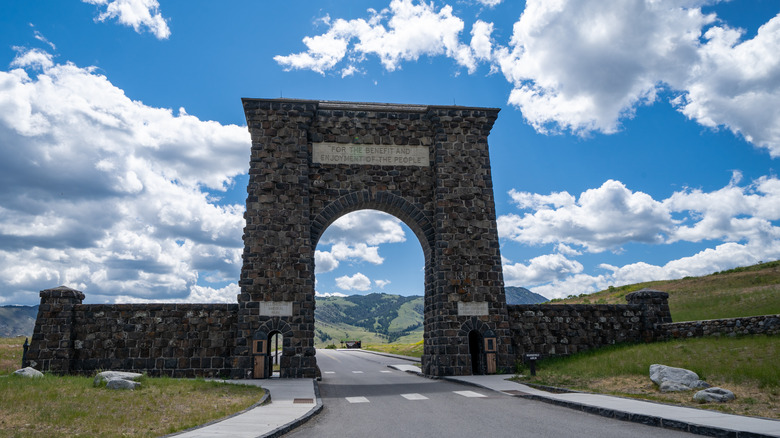 Melissa Kopka/Getty Images
To begin our budget planning, we should first consider where to stay when visiting Yellowstone. Due to its popularity and the limited amount of accommodation options, staying inside the national park itself is expensive. You're better off staying outside the park and making daily trips into the park. 
While staying in West Yellowstone is a popular option, the city's popularity also makes it an expensive one. In truth, you'll typically need a car to explore the national park anyway, unless you're relying on tour operators, so the town you choose to stay in won't make too much of a difference. In other words, the price tag for avoiding a few extra miles of driving isn't typically worth it.
For budget-conscious travelers, the towns near the northern part of the national park usually offer better lodging prices. The town of Gardiner sits on the border of Montana, and it's only a few minutes' drive from the national park. Although it's one of the larger towns outside of Yellowstone National Park, Gardiner doesn't typically experience as large of tourist crowds as West Yellowstone.
Cooke City is another northern option that provides budget accommodations, tourist amenities, and natural beauty without the larger crowds and price tags of West Yellowstone or the park itself. We should mention that both Cooke City and Gardiner also offer cheaper campsites than you'll find within the park.
Explore your camping options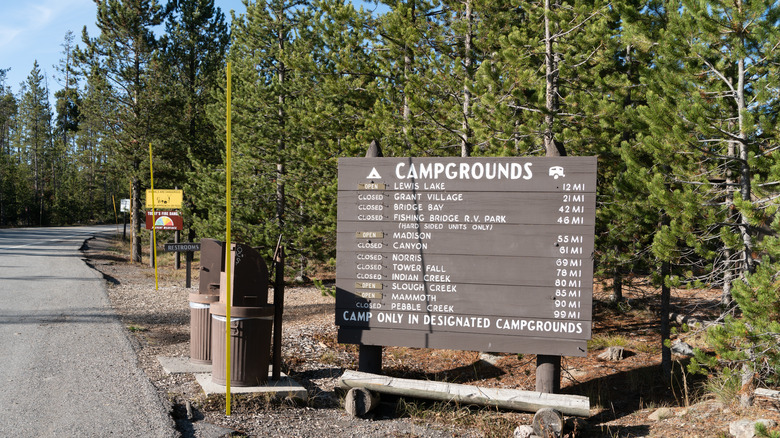 Jason Sponseller/Shutterstock
We'd be amiss to not dig a little deeper concerning camping, as Yellowstone National Park is an incredibly popular camping destination. While there are various camping options in and around the national park to accommodate different budgets, the same price tag considerations for accommodations, in general, are true when it comes to campgrounds. Campgrounds outside of the park itself will typically be cheaper.
You can camp in the backcountry of the park, but you're limited to three days and will need to purchase a permit. While, of course, this will probably be cheaper, you'll need to be an experienced camper and comfortable forgoing campground services and amenities. If your heart is set on camping, which can be an incredible experience, you may consider bookending your stay on the outskirts in one of the cities mentioned and then backcountry camping for three days in between. 
Or, both Cooke City and Gardiner (and West Yellowstone) also feature great campgrounds immersed in the area's natural splendor. While camping inside the park is also gorgeous, you won't compromise the area's natural beauty by choosing to camp outside of the park to save a few bucks.
Consider visiting during the off-season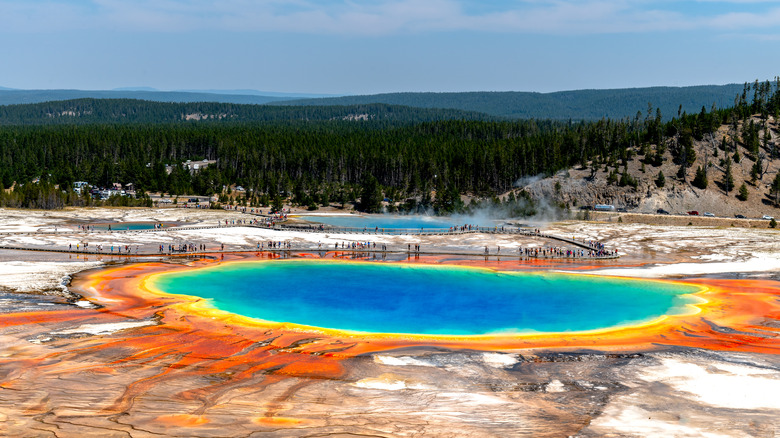 Stefano73/Shutterstock
As mentioned, Yellowstone National Park is vast, and many first-time visitors underestimate how big it actually is. Without question, the easiest way to explore the park is by personal vehicle. The national park does not offer any public transportation, but the park's road system is simple to explore. A central loop takes you to the park's most well-known attractions, such as Old Faithful and Grand Prismatic Spring, while the outside loop provides easy access to the northern parts of the park, entrances, and exits.
If you fly into Bozeman Yellowstone International Airport, the closest airport to Yellowstone, then you'll need to either rent a car or take tours each day to explore the park. For the budget-conscious, it's probably more cost-effective to rent a car, but we'd suggest shopping around.
Lastly, summer will always be the peak season for Yellowstone. Summer brings ideal weather for hiking, camping, boating, and other activities, but it also brings larger crowds and higher price tags for airfare and accommodations. Each season is truly unique, so don't completely dismiss visiting Yellowstone National Park during the winter, spring, or autumn. If you're visiting to experience the park's natural beauty but rather skip the crowds and high cost, then exploring during the off-season may be something worth considering.