Take In Incredible Landscape Views On This Stunning US Road Trip Route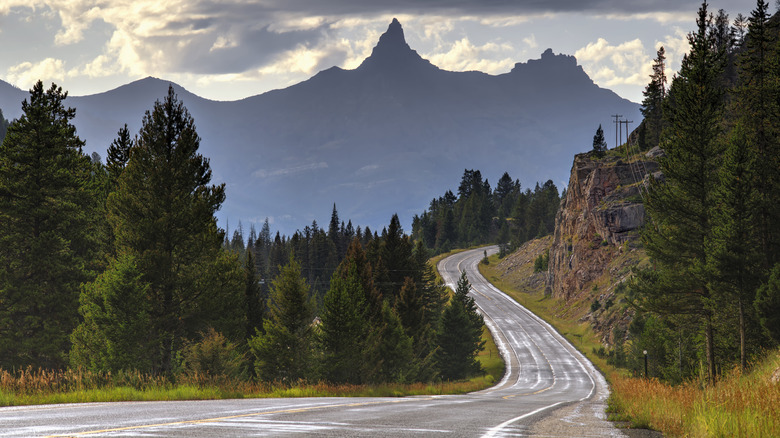 Sergeyatunin/Getty Images
Did you know that there are about the same number of people in Montana and Wyoming put together as there are in Manhattan? Well, sure, you might say. Everyone knows Manhattan's pretty densely populated. But stop and picture it for a moment. Montana and Wyoming cover around 245,000 square miles, and about 1.7 million people call these states home. Manhattan covers 23 square miles (no, we didn't miss a zero) and is home to around 1.6 million people. In comparison, swathes of Montana and Wyoming are basically empty.
But why are we talking about math in a travel article? We want you to get a sense of just how epic the Big Sky road trip through Montana and Wyoming is and how wild and wide-open the landscapes are. A journey across these states is about vast plains stretching as far as the eye can see, precipitous peaks, jewel-colored lakes, and big skies. After all, Montana is famous for being Big Sky Country.
The Big Sky Country road trip route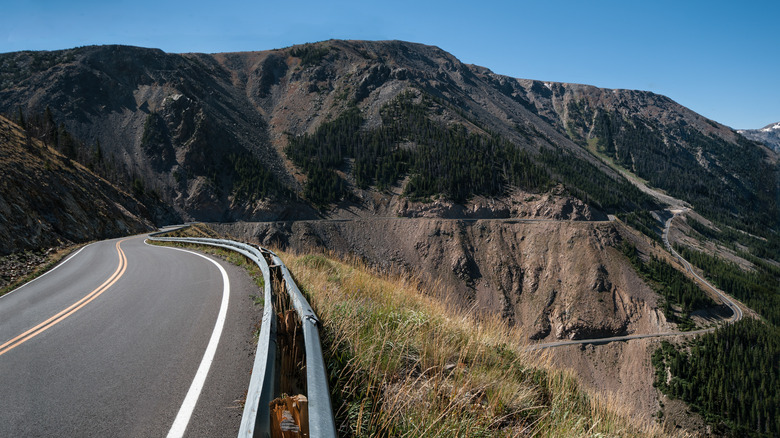 Wakr10/Getty Images
When in Montana, you want to see mountains. The very name Montana is based on the Spanish word for mountain (montaña). And when in Wyoming, you expect to see plains. The name Wyoming likely comes from a corruption of a Lenape word, maughwauwa-ma, which loosely translates to "on the great plain." AAA has designed a road trip that will allow you to see these state's best scenery in a 425-mile round-trip drive.
Your route starts in Billings, MT, where you drive south past huge plains to reach the Beartooth Scenic Byway at Red Lodge. Designated an All-American Road, this beautiful highway winds through breathtaking scenery to Cooke City, one of the entrances to Yellowstone National Park. You'll pass through dense forests and towering mountains covered in glaciers. One driver wrote on Google that the Byway is "unbelievably scenic."
However, reviewers also warn that the road is "scary beautiful." Its twists, hairpin turns, and often inclement weather conditions can make it a challenging route even in the summer. The Byway is usually open from Memorial Day to October 15, though this is very much weather-dependent. You can get detailed information about road conditions from the Montana Department of Transportation. Once you've completed this stretch of the journey to Cooke City, you can head into Yellowstone or continue to Cody, WY, along the gorgeous Chief Joseph Scenic Byway. (Every road is a delight in these parts!)
The Wild West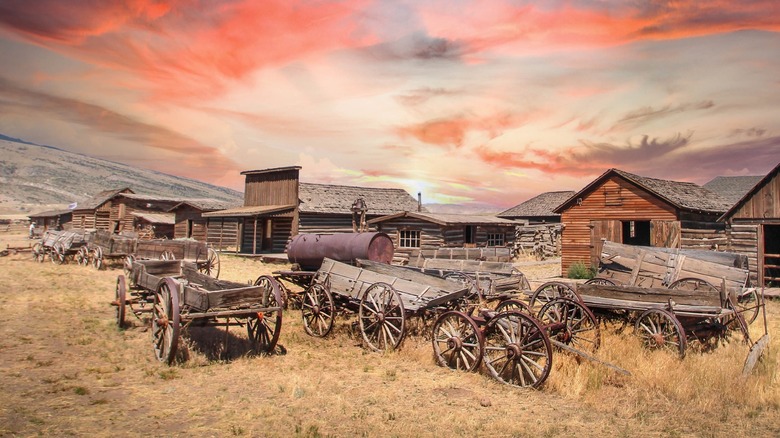 MisterStock/Shutterstock
"Buffalo Bill" Cody established a town with his namesake, and it has retained its Wild West atmosphere. There are nightly rodeos in the summer, reenactments of shootouts, and the Old Trail Town with a collection of frontier buildings from the 1890s. One of the biggest attractions in Cody is the Buffalo Bill Center of the West, which houses five separate museums that showcase the region's history under one roof. The Center gets a five out of five rating on TripAdvisor, with reviewers writing that it is "wonderfully curated" and suggesting you could easily spend two days exploring here.
When you're ready, it's time to move out of Cody and head east across the grasslands of Wyoming to the Bighorn National Forest. Blogger Thriving in Tie Dye calls this "Wyoming's best-kept secret," and the vistas of rolling hills, mountain peaks, and lush forests made one Google reviewer say they "liked it better than Yellowstone." We're not weighing in on that, but go see for yourself!
Finally, you'll go north toward the Little Bighorn Battlefield National Monument. You can learn more about this historic battle between the U.S. Cavalry led by General Custer and the Lakota Sioux, Northern Cheyenne, and Arapaho tribes at the cemeteries, memorials, and museum here. From there, it's just an hour's drive across Montana's plains back to where you started in Billings.