This Mexico Beach Is A Great Destination For Art Lovers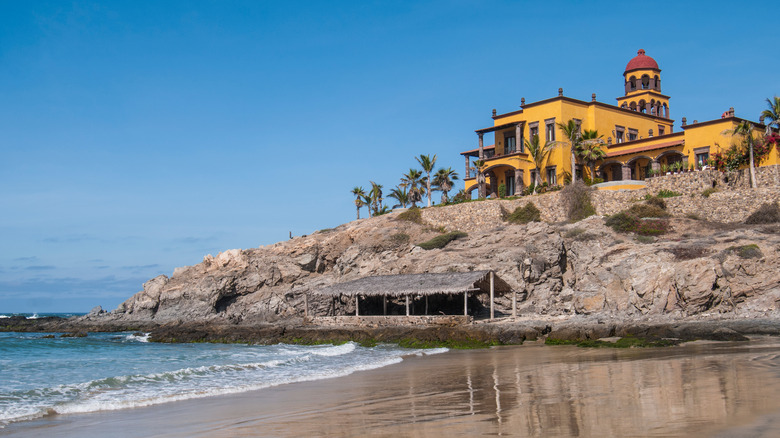 VG Foto/Shutterstock
Ideally situated against the backdrop of the Sierra de la Laguna Mountains, Playa Los Cerritos is considered by travelers to be one of the best beaches in Mexico. Named after its picturesque location, Cerritos means "little hills" in English. Unsurprisingly, the undulating vistas that surround the golden sand of Cerritos have inspired many artists over the years. Several artists have even set up their own galleries here, as well as in the delightful nearby town of Todos Santos.
Located on the Baja California peninsula, this popular beach for art enthusiasts is only a 50-minute drive from the resort city of Cabo San Lucas. Another draw is that Playa Los Cerritos is safe to swim in, unlike most Baja beaches. It is also a surfing hub, with adventure-lovers from all over the world stopping by to catch some waves. While it may be a small place, there is an array of activities and events to enjoy in the area, including in Todos Santos. This vibrant town has even more artists, galleries, and beautiful beaches that are well worth exploring in your time here.
What to do at Playa Los Cerritos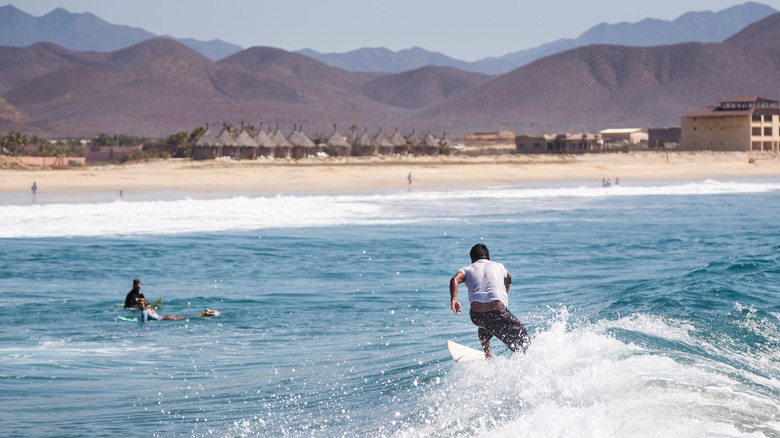 Adam Melnyk/Shutterstock
Playa Los Cerritos is a renowned surf hotspot, so for those who want to catch some waves here, there are several schools offering lessons for beginners through to advanced learners. The CRT Surf School is a top-rated establishment, with five stars on Tripadvisor. Aside from the surf scene, December to April is the whale-watching season, when giant cetaceans such as humpback and gray whales can be seen from the beach. To get even closer, join a boat tour and view them breaching up close.
If you can't get enough of marine life, try a snorkeling or scuba diving trip where you will see tropical fish and if you're lucky, sea turtles. From December to April turtle hatchlings are released at Tortugueros Las Playitas, just north of Todos Santos. They are let go as the sun goes down and tourists are permitted to watch from a distance. Playa Los Cerritos is incredible during sunset when you can ride a horse through the waves or sink a cocktail in one of Cerritos' trendy bars. Inland is the village of El Pescadero which has more delicious options for eating and drinking as the sun goes down. If you are extending your time here, or you want to browse more art galleries, then head to Todos Santos.
How to enjoy Todos Santos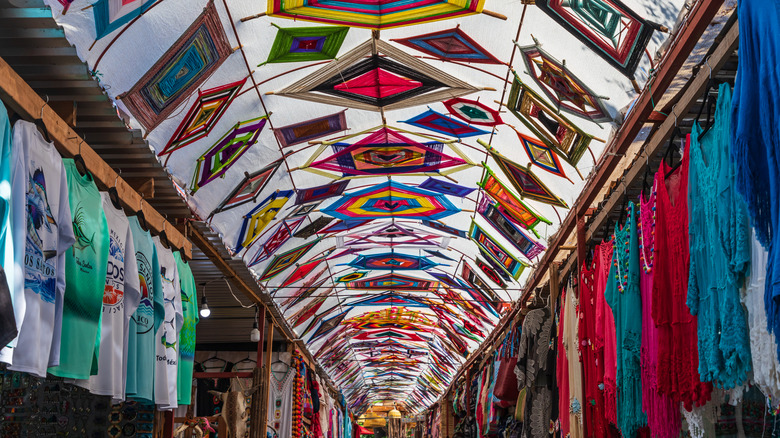 Emily_m_wilson/Getty Images
Only a 10-minute drive north from Playa Los Cerritos, is the upmarket yet peaceful town of Todos Santos. It is a place that lives and breathes creativity, with brightly colored flags and textile art decorating the streets. Here there are markets and artisan craft makers to discover around every corner. Between March and April is the Todos Santos art festival, which includes exhibitions, dance, gastronomy, parades, art workshops and theatre shows. Also held here in March is the Festival de Cine which celebrates all things film.
In June, the town has its own food festival, featuring star chefs, live music and entertainment. If you get lucky, you may be in town for a hilarious performance by the Teatro Pescadero theater company. They became famous when they performed in their swimming trunks in "Speedo Shakespeare's A Midsummer Night's Dream." Once you've enjoyed some wonderful art or performances, Todos Santos also has great beaches like Playa Pescadero and La Pastora. The town is also close to the Punta Lobos coastal area where you can hike to the mirador (viewpoint) or down to its beaches. If you are here for a festival, it could also be the perfect place to relax and get away from it all.