Sleep Better At The Airport With This TikTok Influencer's Genius Hacks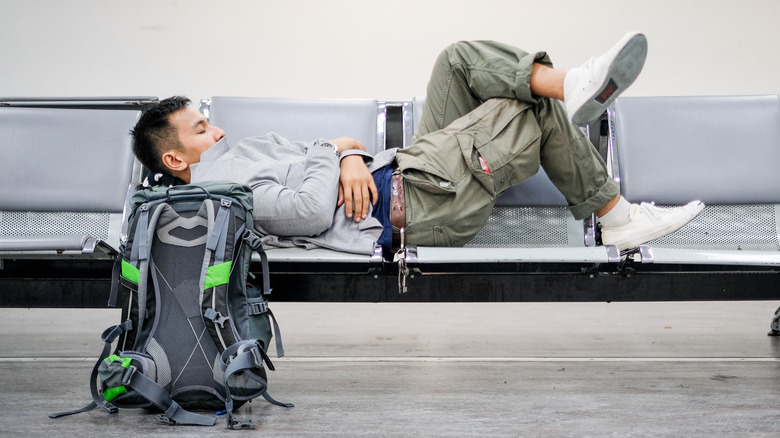 Ibnjaafar/Getty Images
Sometimes it feels like we're consulting TikTok nearly as often as Google. In July of 2022, Claude Lukyamuzi innocently posted, "I don't Google anymore. I TikTok" on X, formerly known as Twitter, and received thousands of likes and attention from media outlets like BuzzFeed. Around the same time, there was even a commercial with the tagline "TikTok Taught Me" featuring frequent app users showing off the skills and so-called life hacks that they had learned from TikTok creators. 
Posts from prominent influencers on the app have seeped into virtually all aspects of our lives, and travel is no exception. As TikTok users share their enjoyment of travel, many also detail their highly relatable issues. Sabina, the influencer behind @GirlvsGlobe, offered her advice on one of the most common struggles: Sleeping in airports. 
Whether you are dealing with flight delays or missed connections, Sabina recommends waiting to hunker down until you've reached the flight gate areas, which have more seating. The dilemma then becomes seats with armrests. If these are the only seats available, Sabina manages to catch some shut-eye by simply sleeping on her stomach. 
Keep your bags safe with headphone wires
Aside from the generally uncomfortable nature of sleeping on airport gate seating (or on the floor, as many weary travelers are often forced to do), keeping your luggage safe while getting some much-needed rest is a concern for both light and heavy sleepers. Sabina of @GirlvsGlobe offers tips for this too. Using earbuds, she ties her bags to her wrist. If someone swipes your bag or suitcase, you would likely wake up if it was attached to you, even if it is just loosely tied.
Likewise, sleep near other people for further protection. Sabina and Jamie, who is behind the TikTok account @JamieBanksTravel, have also both recommended the website Sleeping in Airports in their videos. This website offers tips for sleeping in multiple airports around the world. Jamie posted a video highlighting the fact that they even point out nearby hotels and locations of airport lounges or other comfortable places in whichever location you find yourself. 
Simply type the airport into the website's search bar to check it out. Of course, not everything on TikTok can be trusted, but it doesn't hurt to try these recommendations if you are attempting to have a more relaxing time at the airport — especially if you're delayed for hours on end.