Hikers Will Love This Stunning Midwestern State Park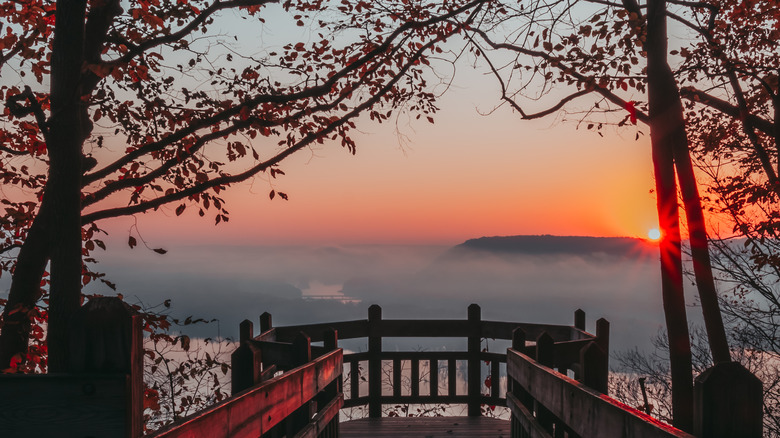 Bella Bender/Shutterstock
Iowa may not be on the top of your list of states to visit for hiking, but Pikes Peak State Park will make you reconsider. This stunning Midwestern state park is brimming with unique trails that hikers of all skill levels will love.
Located near McGregor, Iowa, Pikes Peak State Park contains close to 1,000 acres of protected landscapes. The Midwestern park is dubbed the "Little Switzerland of Iowa," and for good reason: the park has towering bluffs that offer splendid views of thriving old-growth forests, and the confluence of the Wisconsin and Mississippi rivers. Notably, within the park are many iconic manmade landmarks; in fact, there are 63 burial mounds that were sculpted by Indigenous peoples who once inhabited the land. Featuring 11.5 miles of trails lined by small fossils, woodlands, and ancient mounds, Pikes Peak State Park is a prime spot to go trekking in Iowa. Whether you spend a couple of hours or a full day exploring the park, there are several hikes that should not be missed.
Short hikes with incredible vistas
amber hartness/Shutterstock
Pikes Peak State Park has several popular hikes that take around an hour to complete. The Bridal Veil Trail leads you to Bridal Veil Falls, a small, picturesque cascade that sits in front of a looming cave. This moderate, point-to-point route is only a half-mile long. The trail begins as a paved path before it quickly transforms into a boardwalk that cuts through woodlands. At the beginning of the trek, you'll pass Bear Mound, an effigy built sometime between 800 to 1200 AD. You'll also pass the Crow's Nest, a scenic overlook that sits a whopping 500 feet above the Mississippi River. At the end of the main boardwalk, you'll follow a spur trail that leads to a closer overlook of the lovely falls. After snapping a couple photos, turn around and head back down the boardwalk.
The West Hickory Ridge Trail is another shorter route offering opportunities to immerse yourself in nature while enjoying incredible views. This half-mile hike leads through an oak-hickory forest where you may spot some wildlife before the trail opens into a clearing. Here, hikers can catch a glimpse of ancient burial and ceremonial mounds created by Indigenous Americans. The trail also offers a remarkable vista (and a different point of view) of where the Mississippi River and Wisconsin River merge. Rather than just turning around, you can head back to the trailhead by traversing the East Hickory Ridge Trail — which is just .4 miles long — to complete a loop. On this path, you'll travel past more sacred mounds.
More trails in the park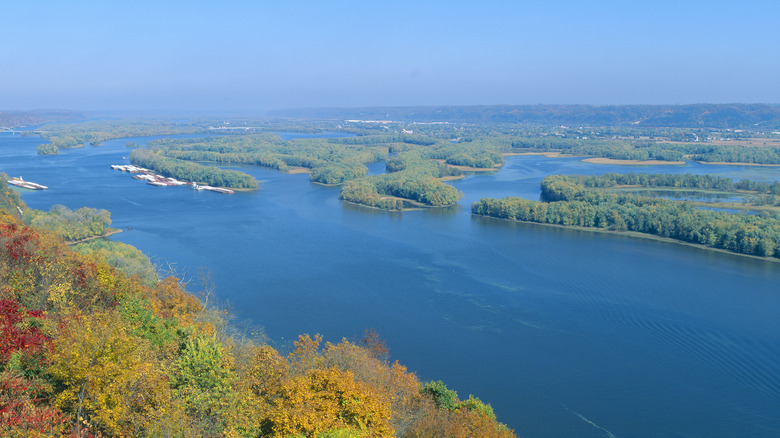 Joseph Sohm/Shutterstock
Pikes Peak State Park also has longer trails that will satisfy experienced hikers and those who want to spend extra time in the great outdoors. From the main parking area of the park hikers can set off on the Point Ann Trail, which is generally more remote than other trails. You'll weave through a hardwood forest with a few clearings, and past unmarked prehistoric mounds as you make your way to the main observation point. The Point Ann overlook provides picturesque views over the town of McGregor. Moreover, this is a sought-after destination for gazing at fall foliage and birdwatching — particularly peregrine falcons. Mountain bikers can also venture on this trail to the overlook.
For even more scenic views of the Mississippi River, especially during autumn, journey along the Chinquapin Ridge Trail. A bit more challenging than other trails in the park, this route follows a series of switchbacks through the forest and several prairies. As you hike the ridge, the river will sit to the east. If you look toward the steep cliffs that engulf the path, you're likely to spot bald eagles and turkey vultures. Many of the trails at the park overlap, so you can bring along a park trail map to explore different loops. On your next Midwest adventure, stop at Pikes Peak State Park for some unforgettable hiking.