Visit This Midwest State Park For Stunning Views Of More Than 100 Lakes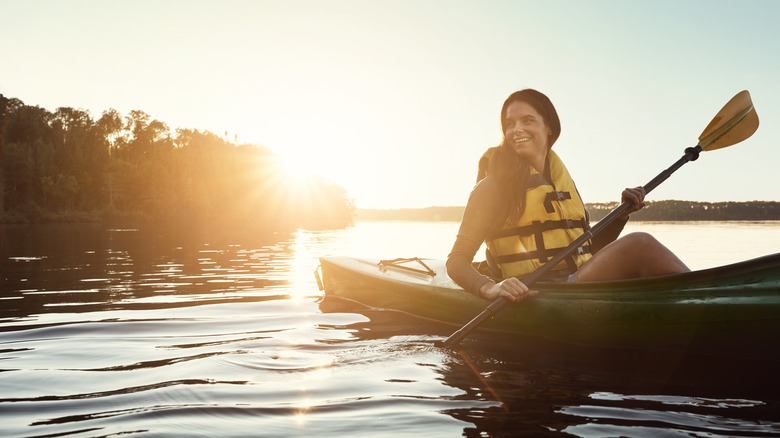 PeopleImages.com - Yuri A/Shutterstock
Itasca State Park is a quintessential representation of Minnesota. This park is composed of trees and lakes, making it an ideal spot for fishing, swimming, hiking, and more. What makes it distinctly Minnesotan, in our opinion, is the abundance of bodies of water — there are more than 100 lakes here! No matter where you look, or which path you take, you'll find yourself near a lake. It's a beautiful, peaceful place to immerse yourself in the wilderness.
The 32,000 acres of park includes the Itasca Wilderness Sanctuary, which strives to keep the land in the state it was in before settlers came. When you visit, you can explore the flora and fauna species that are native to the land, as well as speculate what the region would've looked like before people drastically altered it with cities and farms.
Water is just as, if not more, abundant than the land here, which is great for both aesthetics and health. Looking at natural bodies of water is soothing, and science backs that up. A Journal of Environmental Psychology study found that spending time looking at bodies of water can help calm your heart rate, decrease blood pressure, and help you relax. What better place to see for yourself than one with more than a hundred lakes?
Water and land activities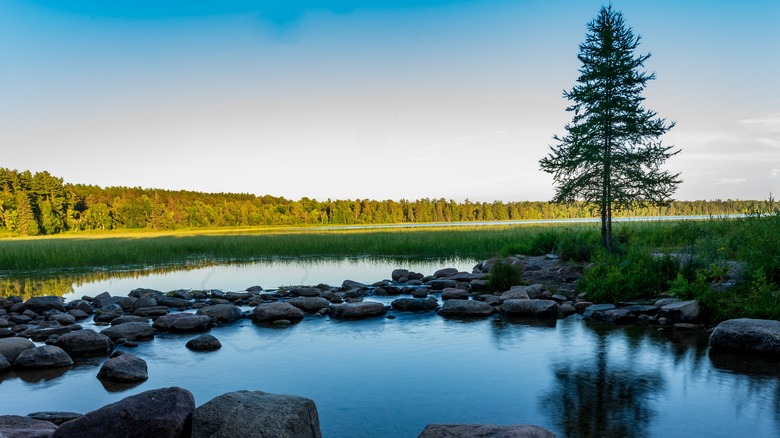 Randy Runtsch/Shutterstock
Itasca State Park is home to the Mississippi River's headwaters, which begin at Lake Itasca. Explore Minnesota shared the local legend that claims individuals who cross the headwaters "will live a long and happy life." Why not test the legend out and cross the waters yourself? In addition to seeing if the myth is real, you can explore both the Mississippi River and the plethora of other lakes, trek the land, or even pause just to observe it all.
Take a boating tour if you want to see the park and learn its history, or if you want something quieter and more personal, rent a kayak, canoe, or paddleboard. Paddle along with the current and breathe in nature's stillness. There are also more than 45 miles of trails that weave throughout the park, making for great hiking adventures. For those who prefer biking, there are 16 miles of biking paths for you to explore.
Considerations for your visit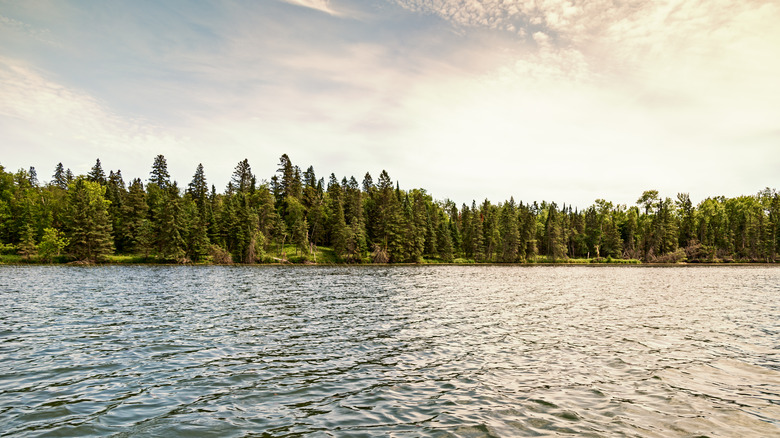 Skhoward/Getty Images
Itasca State Park is historic, it's the oldest one in the state. Ever since it opened in 1891, it's been drawing people in from all over. It's located in Park Rapids, Minnesota, but the heart of the town is about 20 miles away. If you're planning to fly into Minnesota to visit, you'll want to fly into the nearest airport, which is the Bemidji Regional Airport. From there, you'll need to hop in a car and drive about 35 miles to get to the state park.
There are multiple campgrounds located throughout the park, so whether you bring a tent or RV, there's an opportunity to choose the best campsite for you, just be sure to pay the fees. Each camping site is first come, first served. For those wanting something a little bit less rustic, you can reserve a cabin in the park, or a hotel at one of the aforementioned towns.
The park is open year round and is busiest between Memorial and Labor Day. Fall is a particularly special time to visit because of the foliage reflecting on the water, it's truly a breathtaking sight. If you come in the winter, you'll have a bunch of winter activities to choose from such as skiing and snowshoeing. Summer and spring are the ideal times for camping.