Visit This Southeast Asian Destination For A Tropical Couples Getaway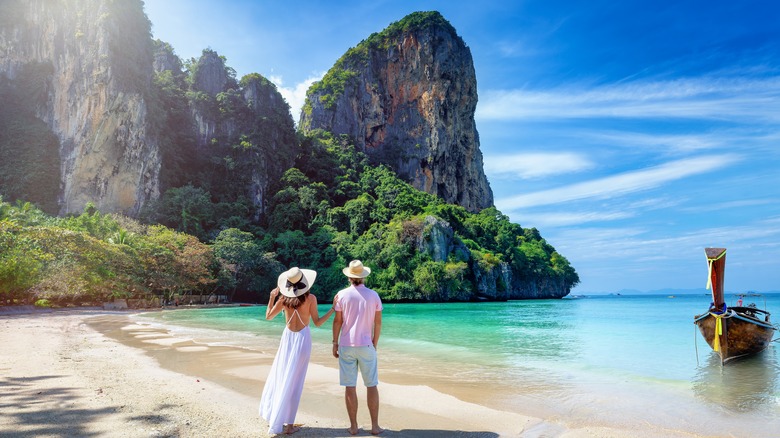 Sven Hansche/Shutterstock
Southeast Asia has long been a favorite among travelers, with its rich culture, out-of-this-world landscapes, and genuine hospitality (and impeccable food!). For couples seeking a romantic retreat, Krabi in Thailand stands out as an exceptional destination. Known for its stunning beaches, crystal-clear waters, and laid-back atmosphere, Krabi is a slice of tropical paradise that offers an enchanting mix of relaxation and adventure.
Often overshadowed by the more cosmopolitan Phuket across the Andaman Sea, Krabi stands out for its natural environment and down-to-earth vibe. Krabi's coastline is dotted with 200 islands and some of the most picturesque beaches in Thailand. Ao Nang, Railay Beach, and Klong Muang Beach are just a few that offer soft white sands and azure waters, perfect for sunbathing, swimming, or simply enjoying a seaside stroll. Thanks to the west-facing coastline, Krabi's beaches have spectacular sunsets — for couples, this is an ideal backdrop for romantic moments, whether it's a picnic by the sea or a heart-to-heart under the stars.
An hour's boat ride away are the famous Phi Phi Islands, an archipelago that's nothing short of paradise. Here, you can snorkel in the warm waters, marvel at the colorful marine life, or simply relax on the pristine beaches. The smaller, less crowded Bamboo Island is perfect for couples seeking a more secluded experience. You can organize a private tour or hop on a $30 speedboat departing from the many Krabi piers for the most idyllic island day trip.  
From beachside rock climbing to national parks in Krabi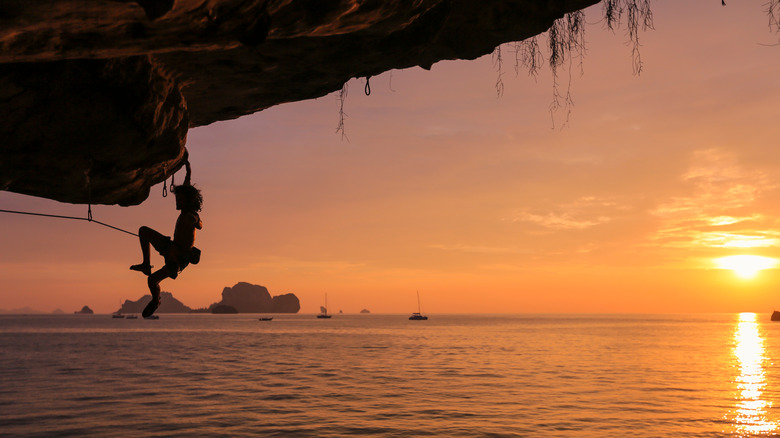 King Ropes Access/Shutterstock
For couples who thrive on adrenaline, you're in luck. Rock climbing at Railay Beach is a popular activity, as the stunning limestone cliffs provide an exhilarating challenge and also offer breathtaking views. You can take full- or half-day climbing courses with Krabi Rock Climbing School. For some more adventure, kayaking through the mangroves at Ao Thalane is unforgettable. Paddling through the calm waters even allows for close encounters with wildlife and ancient caves.
The beauty of Krabi extends beyond its coastline. The Emerald Pool and the hot springs in the Krabi rainforest are must-visits. The Emerald Pool, with its ethereal turquoise waters, is perfect for a refreshing swim, while the natural hot springs offer a relaxing and therapeutic experience. For animal lovers, a visit to The Elephant Sanctuary Krabi is a must. There is no controversial elephant riding in this sanctuary — just gentle elephants being themselves. You can feed them fresh fruits, help give them a bath, and watch them play in the mud. 
The Thung Teao Forest Natural Park is a splendid place for couples to immerse themselves in nature. The park boasts a diverse range of flora and fauna, and the trails lead to the Crystal Lagoon, an enchanting spot for a swim. Hat Noppharat Thara-Mu Ko Phi-Phi National Park and Than Bok Khorani National Park are also worth a visit. These parks protect important natural areas and offer opportunities for hiking, bird-watching, and exploring habitats. Entry fees range from $5-10. 
Temples, food, and accomodations in Krabi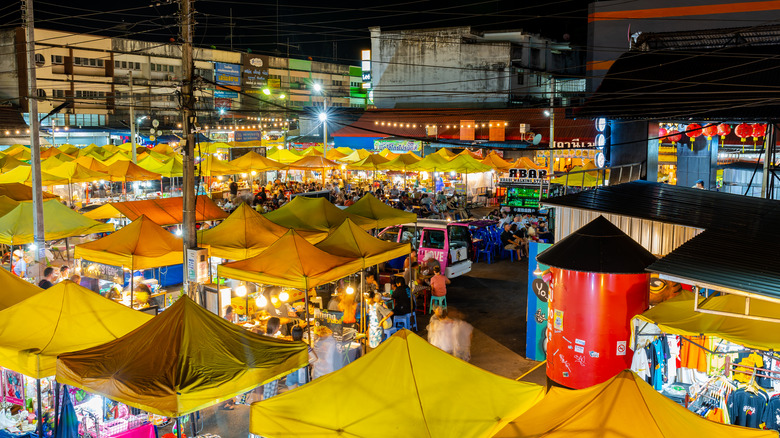 Finn stock/Shutterstock
Krabi offers more than just naturescapes. Visiting the Wat Tham Sua (Tiger Cave Temple) is a spiritually enriching (and strenuous!) experience. The temple is known for its Buddha statues and the sweaty 1,237 stair climb to the top for the 900-foot-high panoramic views of the region. Krabi also hosts various public events, including the Krabi Boek Fa Andaman Festival, which marks the start of the tourist season, and Loi Krathong, a traditional festival of lights. Both celebrations happen in November, so time accordingly if you want to join the fun.
Thai cuisine needs no introduction. From street food stalls to fine-dining restaurants, couples can enjoy romantic and spicy dinners featuring classic Thai dishes. For a taste of local life, the Krabi Town Night Market is a vibrant place to explore. Here, couples can indulge in waffles that cost less than $1, try Thai whisky, get a street-side reflexology treatment, and shop for matching elephant pants — all in one place.
Krabi International Airport facilitates easy access to the province; and once in Krabi, getting around is straightforward, with options like taxis, tuk-tuks, and rental scooters. For your stay, there is a range of accommodations, from budget-friendly guesthouses to luxurious resorts. For couples, the latter offers an indulgent experience with private villas, infinity pools, and world-class amenities — Banyan Tree Krabi is a five-star choice. Many resorts also offer couples spa treatments, providing a perfect way to unwind. Visit this popular Thailand destination for an incredible beach vacation and a romantic couples getaway. Krabi awaits!