Visit This Japanese Destination In The Winter For Incredible Ski Adventures And More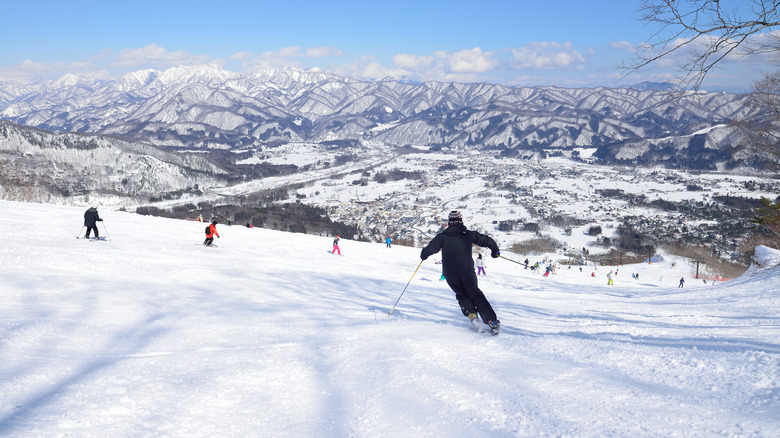 M_blue_surgeon/Shutterstock
From the thatched-roof farmhouses of Shirakawa-go to the snow and ice sculptures of the Sapporo Snow Festival, Japan offers more than one destination for a picture-perfect winter vacation. In some places, like the towering snow corridor along the Tateyama Kurobe Alpine Route, you may have a photo op that looks like winter, even when it's spring. Sapporo isn't the only city here that has served as the site of the Winter Olympics, either. Hosting the 1998 Winter Games also put the city of Nagano on the map for international skiers.
In Nagano, you can still see the Olympic Cauldron standing in the sports park outside the stadium where the opening and closing ceremonies took place. Twenty-five years later, the surrounding prefecture — also named Nagano — now lays claim to more ski resorts than any other prefecture in Japan. At Shiga Kogen, you can even ski through a UNESCO Eco Park.
TripAdvisor's 10 highest-rated ski hotels in Nagano Prefecture are all located in the village of Hakuba, which is only about an hour by bus from Nagano Station, where the bullet train stops. If you need to rest beforehand, the station has many hotels, such as Hotel JAL City. It also offers access to the historic Zenkoiji Temple, said to house Japan's first Buddha statue. Another way to reach Hakuba is via the local train from Matsumoto, where you can see the beautiful black "Crow Castle," one of only a few surviving castles in Japan that is an original, not a reconstruction.
Skiing options in Hakuba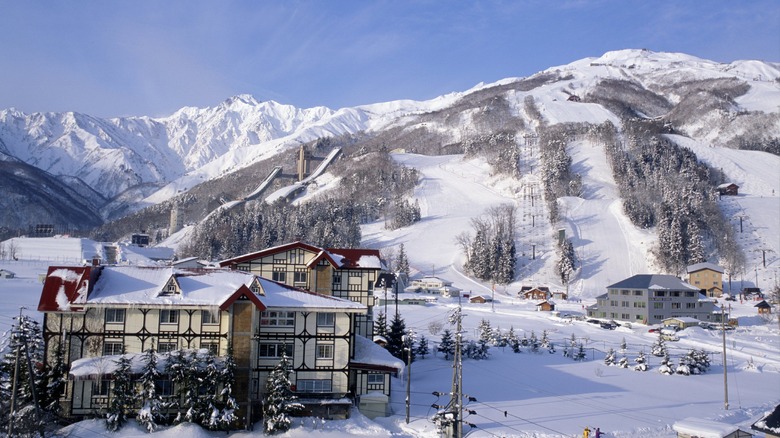 Mike Powell/Getty Images
Tucked away in Japan's Northern Alps, what makes Hakuba, like Hokkaido, such a great winter destination for skiing is the amount of fresh snow it gets (upwards of 35 feet per year). The village is at the foot of the mountains, and Happo-One, the biggest resort in Hakuba Valley, has a vertical drop of over 3,500 feet. All the way to the bottom, it's almost a 5-mile run, with the steep courses along the upper slopes being a good option for advanced skiers. The adjacent Hakuba47 also boasts a nearly 4-mile run, not to mention early snow and Hakuba's longest ski season. Both resorts have an off-piste area where expert-level Double Black Diamond Club members can ski.
Hakuba has a shuttle bus that runs between all 10 of its resorts, which makes getting around easy, too. Tsugaike and Sanosaka have been cited as two of the better resorts for beginners and families. Goryu and Iimori share a reputation as kid-friendly resorts, while Iwatake and Cortina are known, respectively, for their scenic views and powdery tree skiing.
In Hakuba, you'll also find Olympic facilities like the Snow Harp, where you can still do cross-country skiing across three different courses. Taking the lift up to the Hakuba Ski Jumping Stadium observatory allows you to view the same panorama athletes once beheld. For accommodations, The Hakuba Collection offers comfy chalets, while outside Hakuba, the Karuizawa Prince Hotel rates high with guests in overall value for Nagano ski hotels.
Nagano off the slopes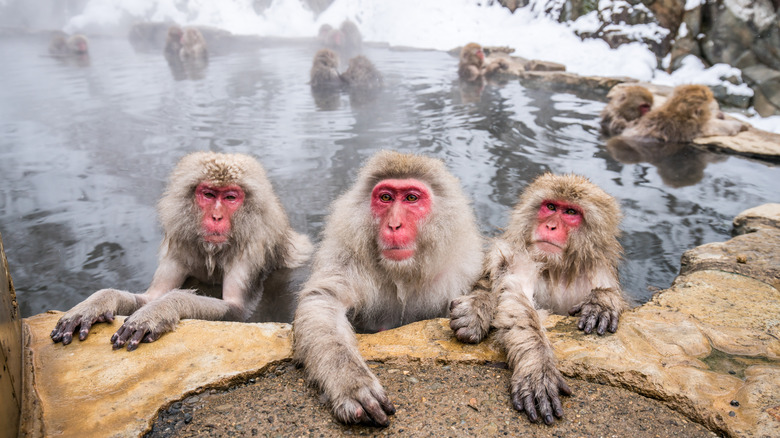 mapman/Shutterstock
While skiing is the main draw for many visitors, there's much more to see and do in Nagano once you venture off the slopes. This includes visiting the Nagano Olympic Museum at the M-Wave arena (so named because of the unique architecture of its roof, which resembles a wave of mountains). M-Wave is where the 1998 speed skating events were held, and from October to May, its Memorial Skating Rink is open to the public. In addition to skating, you can see an exhibition of ice sculptures here and even try riding an ice resurfacer.
Shirahone Onsen is a hot spring town that looks as lovely in winter white as it does when the fall colors are out. Nozawa Onsen is another such town with a ski resort located above its hot spring village. It caters to English-speaking visitors and skiers of all levels and even has a synthetic course for summer skiing. Nagano is also famous for a different sort of hot spring at Jigokudani Monkey Park, where you can see wild snow monkeys (Japanese macaques) bathe communally with steam rising off the water.
If you have children and are in the city from May to November, the Kids Ninja Village theme park on Mount Togakushi will let them have fun running obstacle courses at what was once the training site for a real ninja school. The nearby forest complex of Togakushi Shrine, open year-round, has also been rated one of Nagano's top tourist attractions.