This Island Of Japan Is A Great Winter Destination For Skiing And Snowboarding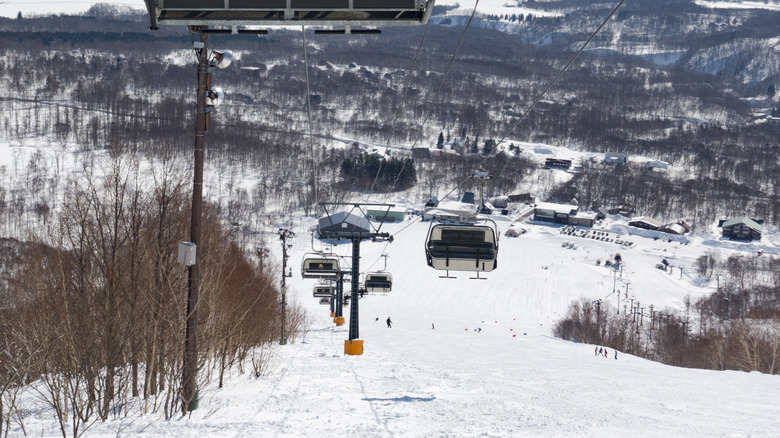 Seastock/Getty Images
Far beyond just Tokyo, there are so many unmissable destinations in Japan. It's no secret that the country draws in a great deal of travelers who are hungry to hit the slopes, but where on this island nation is best to do so? Turns out, you're going to want to get away from the mainland and head to one of Japan's 14,000 plus islands, instead. Consistently voted one of the best places in the world to ski, there's one Japanese island that attracts chionophiles near and far.
Hokkaido, just north of mainland Japan and the country's second-largest island, is a real snowy standout. The island's capital, Sapporo, acts as the gateway for international travelers via New Chitose Airport (CTS). There are flights from Seoul and Shanghai, as well as direct flights from Tokyo which take approximately 90 minutes. Travelers can also opt to take a Japanese bullet train — yes, despite being on separate islands, there are trains connecting the two — or the ambitious 10-hour ferry ride from Tokyo to Hokkaido. Whichever way you choose to arrive there, one thing is for certain: Hokkaido is a prime destination for those winter wanderlust wonders.
Hokkaido is snowy standout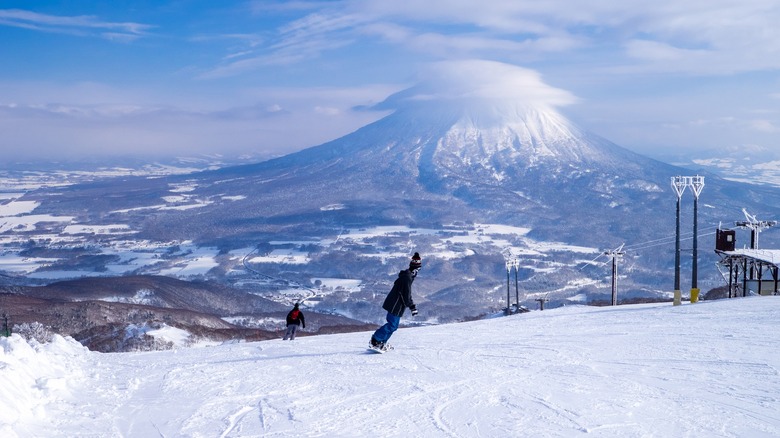 Mayumi.K.Photography/Shutterstock
Of all of the potential places to go skiing in the world, what makes Hokkaido a snowy standout? The Japanese island is home to some of the world's most renowned ski and snowboarding resorts. Within Hokkaido, Niseko is the town many are heading to, largely thanks to the uber-popular Niseko Grand Hirafu Ski Resort. Another great option in Niseko is Hanazono Ski Resort, which has 12 ski routes. Hanazono goes far beyond just ski courses, though, and guests can also go snowmobiling, snowshoeing, and even snow tubing.
Since Niseko is best known as a skiing and snowboarding destination in Hokkaido, it can get quite crowded. For a more off-the-beaten-path experience, head to Otaru. Approximately a one-hour drive from Noseki, this port city is an underrated skiing and snowboarding destination. Asarigawa Onsen Ski Resort is a great option if you're basing yourself in Otaru. The resort is smaller, with only four lifts and eight total ski runs. 
Resorts aside, Hokkaido's location makes it prime for powder enthusiasts. Typical winter weather here creates stellar conditions for the snow to be silky smooth for skiing and snowboarding needs. 
Go beyond the slopes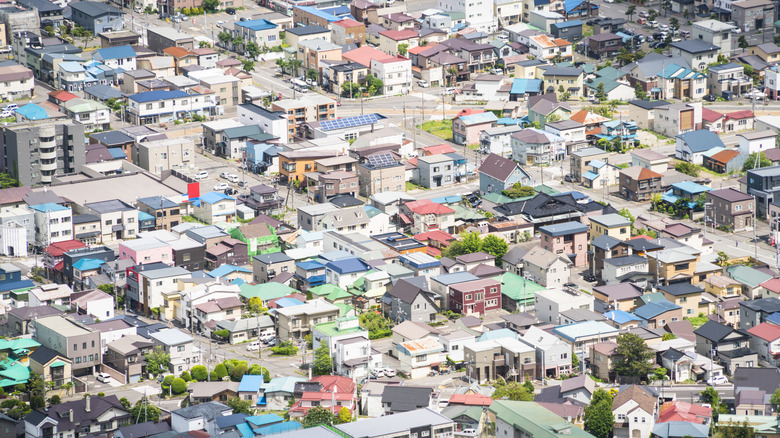 Davorlovincic/Getty Images
Beyond skiing and snowboarding in Hokkaido, there are plenty of winter activities to keep you entertained. You'll definitely want to check out the annual Sapporo Snow Festival, which takes place every February. The event celebrates all things snow and ice, with massive sculptures and art displays.
While many associate Tokyo or even Kyoto as having some of the country's best food, locals swear by the cuisine of Hokkaido. Best of all, Hokkaido's cuisine is comforting, which is perfect for those chilly winter days and nights. Why not slurp down some fragrant soup curry to keep you warm? In addition, despite Japan not being known as a dairy destination, Hokkaido surprisingly produces exceptional milk, cheese, and ice cream. Of course, Hokkaido is also home to Sapporo beer, one of Japan's most famous brews.
Above all, Hokkaido is a true winter wonderland. There's a reason millions of visitors flock from all over the globe to go there. The glistening snow sets the backdrop that looks like a screensaver, and of course, it doesn't hurt if you like to ski or snowboard.