Visit This Western European Destination For A Picture-Perfect Medieval City Views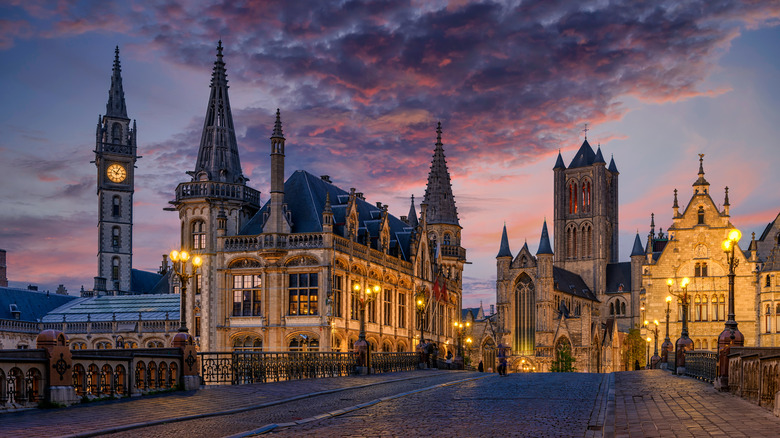 Catarina Belova/Shutterstock
When we think of medieval European buildings, we often think of London, Germany, and France. One of the loveliest places to see architecture from this time period, however, is in a city you might not have thought of. This city is Ghent in the northwest of Belgium.
The medieval era began around 476 CE and lasted for around 1,000 years. You can think about this as the era of castle spires and Gothic arches in churches. Ghent, which is full of buildings from this era, is part of what was the country of Flanders in the medieval era. Ghent grew quite a bit between the 12th and 13th centuries, and became wealthy through its high-quality cloth manufacturing. These days, the city is still known for its cloth industry, as well as its flower cultivation, beer, and treats like waffles and chocolate.
Ghent has some gorgeous buildings and churches, many of which survived fairly intact from the time period, from the cathedral of Sint-Baafs (or St. Bavo's), to the Lakenhalle or cloth hall. Then there is Geeraard de Duivelsteen or Castle of Gerard the Devil, which is a medieval Gothic fortress built in the 13th century, named after the 15th Viscount of Ghent's son. It's also been a monastery, a prison, an orphanage, and an asylum through the years. We'll take a look at some of the best medieval and medieval-style buildings and what to do while you're visiting Ghent.
Medieval buildings to visit in Ghent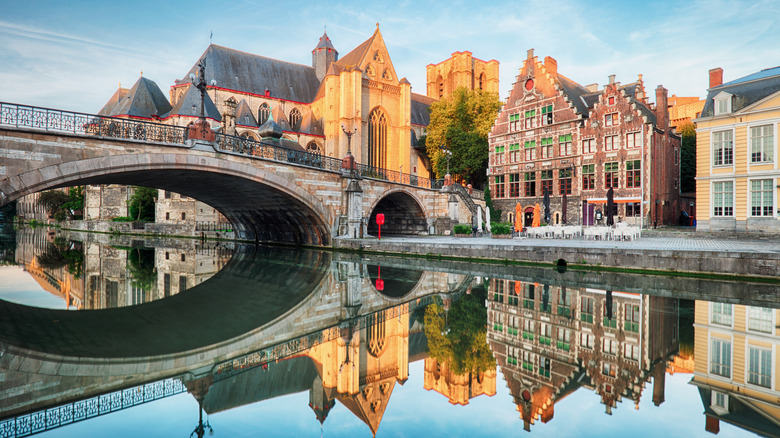 Tomassereda/Getty Images
Between the cobblestone streets, cathedrals and spires, this Belgian city is a feast for historical architecture buffs. One place you cannot miss is Sint-Baafs kathedraal, or Saint Bavo cathedral. This Gothic-style building was constructed between the 14th and 15th centuries and has beautiful stained glass windows. It's got some famous art inside, like tombs of the Bishops of Ghent and the Ghent Altarpiece, aka "The Adoration of the Mystic Lamb" by Hubert and Jan Van Eyck.
Sint-Niklaaskerk or St. Nicholas' Church was built in the 13th century, another Gothic building with a tower you can climb for a view of Ghent. If you're a castle fan, you must visit Gravensteen, a 12th-century castle-slash-fortress that once housed the Counts of Flanders. This place has the rounded towers that we often associate with fairytales, a courtyard to tour, and a dungeon you can visit. There is also a museum full of items found in the castle, like armor and swords.
Belfort en Lakenhalle is a Gothic-style building that has a museum showing the history of the city's main industry and an open-air market. You mustn't miss the famous Belfry right next door, which rises nearly 300 feet. (Yes, you can climb this for a great view.) There are 54 bells in the carillon (bell tower), which still chime. That's just the tip of the iceberg in terms of this city's medieval buildings. 
Things to do in Ghent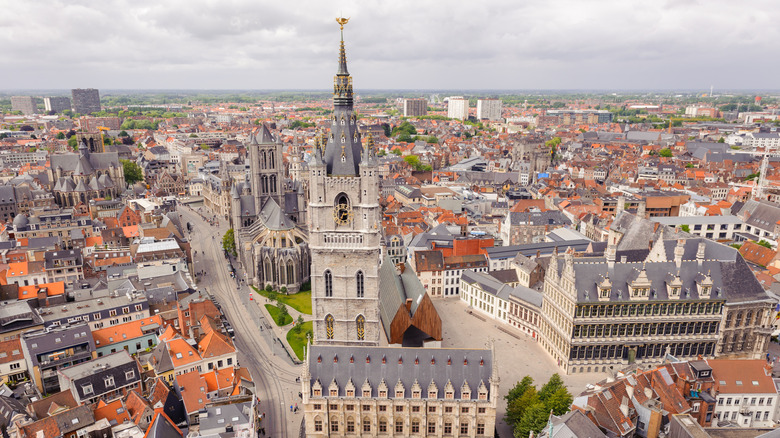 Thomas Dekiere/Shutterstock
As you're touring Ghent and admiring the buildings, don't skip a boat ride or a walk down the flower-lined canals in the area. You can stop at any number of places for a snack and a drink of one of the country's famous Belgian beers. The ones that originate in Ghent can either be made with hops, or with herbs for flavor. There are a number of breweries like Waterhuis Aan De Bierkant on the Leie river, the quirky 'T Velootje Bar Peculia, and De Dulle Griet, just to name a few. 
Ghent is known for other delicious treats, and these are on the sweet side. This place is famous for Belgian chocolate, and there are chocolatiers like Sophie's and Hilde Devolder. Then there are Belgian waffles, which you can get all over the city. Make sure to try the cuberdons, the little cone-shaped candies that look like the hat of a priest (they're sometimes called chapeau-de-prêtre in French, neuzekes, or little noses). They have a crust and are full of a fruit filling and are often purple. You should also make a point of snacking on some Belgian fries.