Visit One Of The World's Largest Barrier Reefs At This Central American Marine Park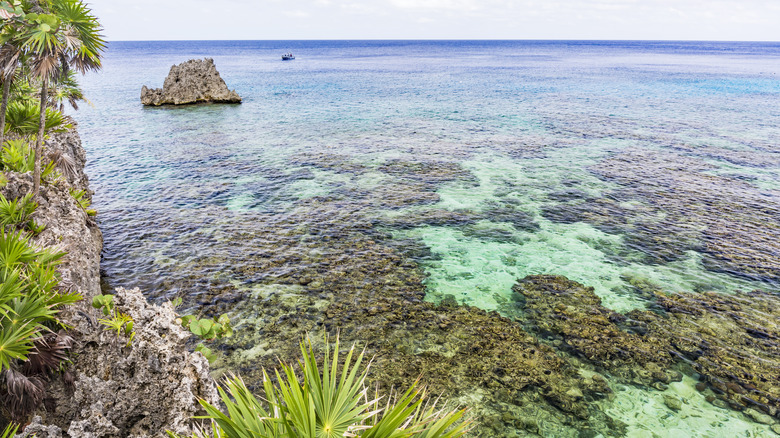 Lightphoto/Getty Images
Not many people realize that Honduras shares the second-largest barrier reef in the world with the neighboring countries of Mexico, Belize, and Guatemala. Their segment surrounds their beautiful Bay Islands and one of the most incredible parts of this is the Roatán Marine Park. In fact, Roatán's reefs have been named in the top 100 "Must-Visit National Parks" in the world by Outdoors.
Roatán's reefs form part of the Mesoamerican Reef which stretches into surrounding countries, with fascinating marine wildlife moving freely between them. Roatán is the largest of the Islas de la Bahía (as they are called in Spanish). There are over 100 dive sites here, so it is the ideal place to get to know the diverse marine wildlife of the Caribbean Sea. And it's not just the creatures that are interesting. The sites are eclectic too, encompassing wrecks, crevasses, and subterranean caverns. If you decide to visit Roatán Marine Park, you will be introduced to an underwater world so rich it may even surpass your own imagination.
Where to go diving in Roatán Marine Park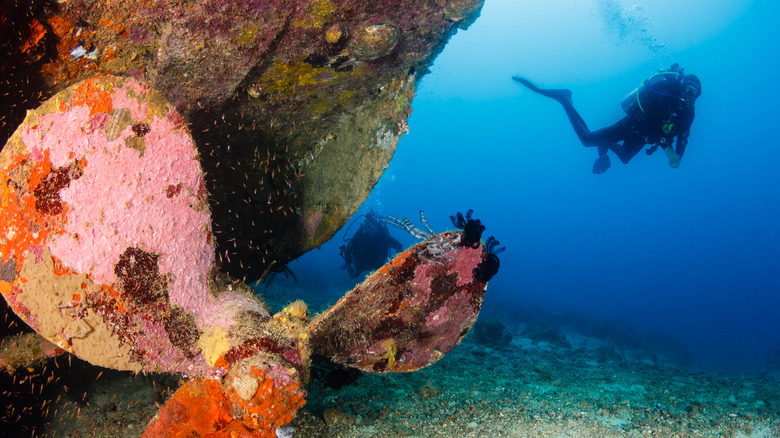 Richard Whitcombe/Shutterstock
The best way to get to know the Roatán Marine Park is to spend some time underwater at one of their dive spots. It is also the perfect place to get your PADI open water diving qualification or advanced qualification, as there are several dive outfits here. According to PADI, the best dive spots are Hole in the Wall, Cara a Cara, Mary's Place and El Guila Wreck.
Hole in the Wall is made up of holes and swim-throughs, as well as a cavern that you need a deep divers certificate to investigate. Mary's Place is a volcanic crevice full of corals and the El Guila Wreck is an old cargo ship artificially sunk to create a marine environment. Cara a Cara is a must for shark lovers as it is famous for its Caribbean reef sharks. For those who are interested in the environment, it is possible to dive to the coral nursery at Anthony's Key Resort to learn about restoring the reefs. If you don't have your diver's license, never fear. There are plenty of snorkeling opportunities around Roatán, where you can still see stunning marine life.
The marine life you'll see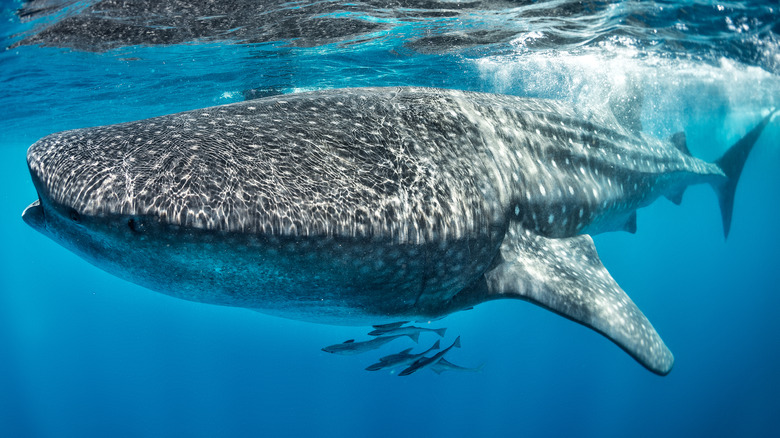 Extreme-photographer/Getty Images
Roatán's aquatic wildlife ranges from the tiny seahorse to the almighty whale shark and everything in between. Inside the colorful array of fish that you'll find hidden in the reef are angelfish, parrotfish and butterflyfish. Nudibranches (sea slugs) also graze on the reefs. Bigger species like barracuda, grouper, eagle rays and sea turtles also make regular appearances. The types of sharks include nurse sharks, reef sharks, hammerheads and the elusive whale shark. For those hoping to see a whale shark, the best time of year to see them here is from March to May and August to October.
Keep your eyes peeled even when on the shore, as pods of dolphins can be seen passing by. It is also worth investing in a snorkel as you can access the West Bay reef from the beach to see even more wildlife in between dives or boat trips. If you're a budding enthusiast, you may want to invest in a marine life identification guide. That way, you'll know what you're seeing and be able to tell your dive mates all about it.