This Beach In Spain Is A Must-Visit For Amazing Cliff Jumping Adventures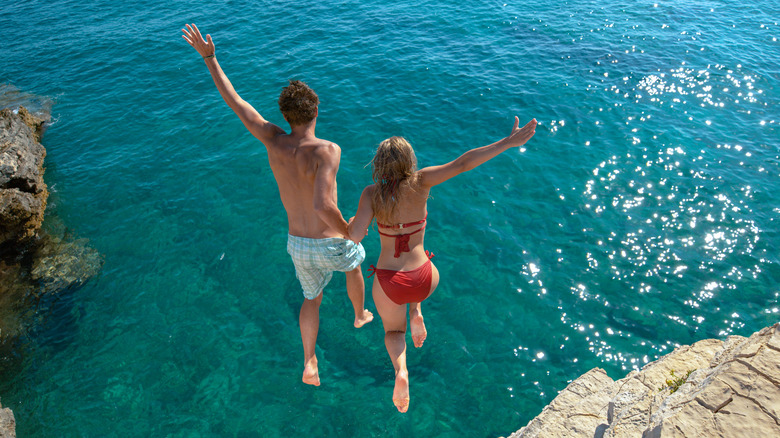 Flystock/Shutterstock
Thrill seekers and ocean lovers come together to visit the Cala Llombards beach in Majorca, Spain. Of course you'll have the typical water activities and plenty of space for lounging, but the main draw is great for adrenaline junkies: cliff jumping. Imagine it: You're surrounded by gorgeous views and can clearly hear the sound of waves gently rising and falling below you, beckoning you in. You're high up, at least momentarily. Then you take a leap and splash into the calm waters waiting for you below, your heart racing each second. This beach is the ideal location for just that.
You can find cliffs of various heights here, the tallest being about 65 feet. If you've never cliff jumped before, you can start with a shorter one and slowly work your way up if you're feeling brave. Regardless of your experience, you're sure to have a blast at this quiet beach.
Safety measures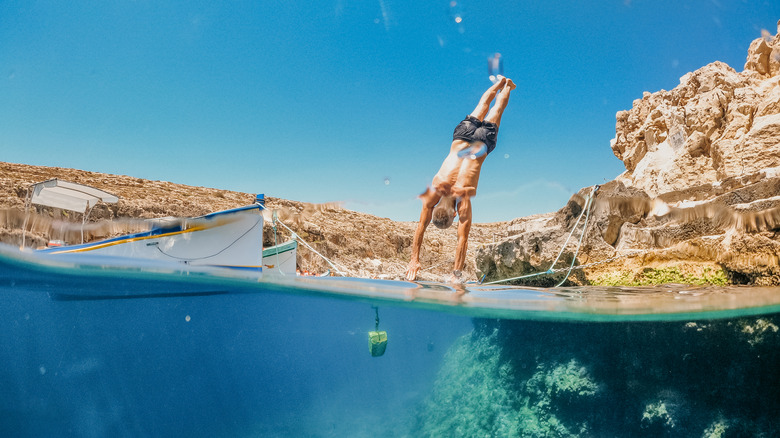 The Cala Llombards is a small beach at 180 feet long and popular among locals, but cliff jumping is what draws most people in. Before you join in on the fun, make sure you understand the safety precautions. Cliff jumping is thrilling, but can also be dangerous. Some key factors to consider when finding a spot to jump are height, depth, and obstacles. Jumping from heights greater than 60 feet is especially dangerous. If you're a beginner or don't have a diving background, it's better to stick to the shorter cliffs.
Next, make sure that the water is deep enough. Jumping in water that's too shallow can cause serious injury. After you've figured out height and depth, make sure there aren't any obstacles in the water, like large rocks or anything else that could be a hazard. Finally, make sure you're with someone. This makes the experience much more fun while also serving as a safety precaution in case an emergency does happen. They can help you and/or get you the help you need, and vice versa.
Where to stay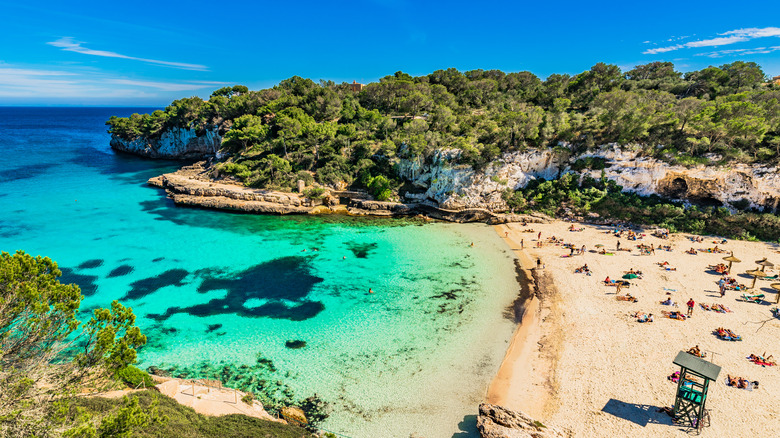 vulcano/Shutterstock
Once you're familiar with the safety measures, you're ready to take a dive at Cala Llombards. If you work up an appetite after cliff jumping for the day, there's a beach bar that'll have what you need to refuel and refresh.
If you want to spend a few days at the beach, you can book a nearby hotel in the quaint village of Es Llombards. Hotel Cala Llombards is a short ten-minute walk from the beach and offers fun amenities like a beach volleyball court, café, and restaurant. Hotel Canferrereta is a five-star hotel that's a ten-minute drive from the beach. They have a lovely spa that's the perfect way to relax after a day outside.
This underrated destination in Spain will provide you with an exciting adventure, gorgeous views, and a space to relax and take it all in. Next time you're looking for a thrill and some sunshine, consider cliff jumping at the Cala Llombards beach in Spain.