This India Destination Is A Great Addition To Your History-Buff Bucket List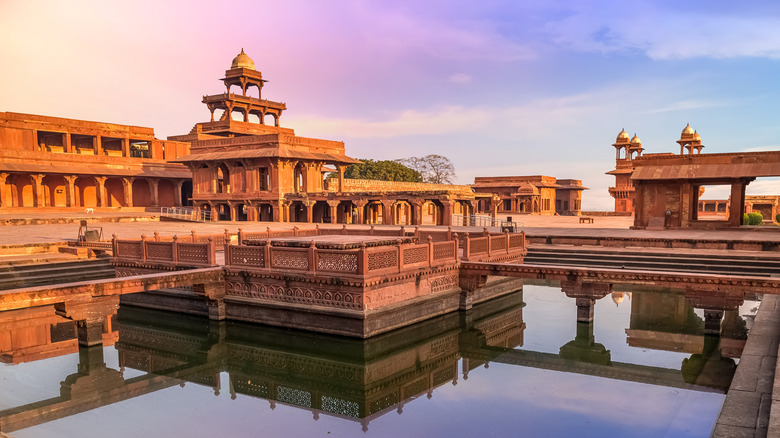 Roop_Dey/Shutterstock
India is truly a destination that has it all: mouth-watering food, cultural diversity, and a fascinating history. The country is a popular destination for tourists. According to statistics from India's Ministry of Tourism, almost 1.5 million Americans traveled to India on vacation in 2018, and most arrived in Delhi.
For history buffs, Delhi holds several attractions, from the Red Fort and Humayun's Tomb in the Mughal Gardens to the winding alleyways of Old Delhi. Other cities like Varanasi, Udaipur and Madurai draw history lovers, too. But one destination stands out for those who want to dive deep into India's past. Agra, just 125 miles from Delhi, is a history buff's dream.
You might know that Agra is home to the fabulously grand Taj Mahal, which was selected as one of the new seven wonders of the world by hundreds of millions of votes. And while the UNESCO-listed site should be at the top of your bucket list, there's so much more to see in Agra.
Agra's timeless sights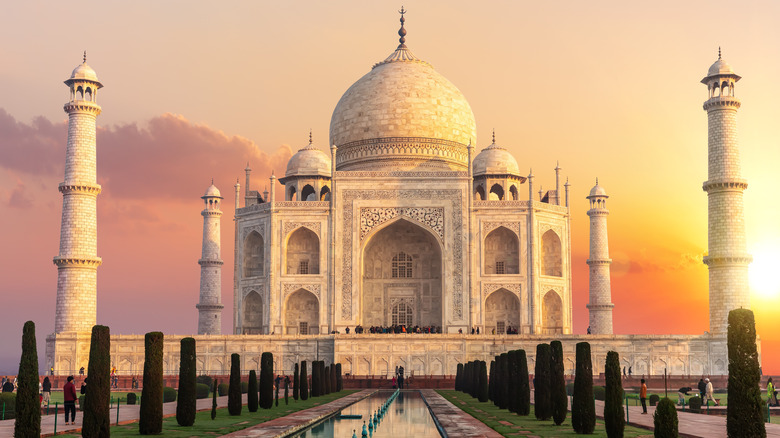 AlexAnton/Shutterstock
The Taj Mahal is unquestionably India's most famous sight. The white marble Mughal mausoleum is instantly recognizable, with its arches, domes, and minarets. Stepping through the entrance gate, you'll see this beautiful building reflected in a tranquil pool. The history of the Taj Mahal is as spellbinding as its architecture. It was built in the 17th century as a mausoleum by Mughal Emperor Shah Jahan for his wife Mumtaz Mahal after her death. Visitors reviewing their visit to the site on Google say the Taj is "mesmerizing" and "unforgettable."
UNESCO didn't stop with the Taj Mahal in Agra however. There are two more sites on the World Heritage List around the city. One is Agra Fort, just 1.5 miles from the Taj Mahal. Constructed in the 16th century, it was the home of the Mughal rulers before the capital moved to Delhi. Within its massive walls lie a series of palaces, pavilions, and two mosques that transport visitors back to a time of imperial opulence. Most reviewers on Google strongly recommend hiring a guide to explore the fort with.
The final UNESCO-listed site in the area is Fatehpur Sikri. Within its fortified walls are red sandstone palaces, public buildings, and pavilions. Inside the complex, is one of the most famous sights — the magnificent Jama Masjid – a vast, beautiful mosque. Another fascinating site to visit in Agra, is the Tomb of I'timād-ud-Daulah, often called the Baby Taj. Like the Taj Mahal, it's a white marble mausoleum but on a much smaller scale, set in lovely gardens.
Tips for traveling to Agra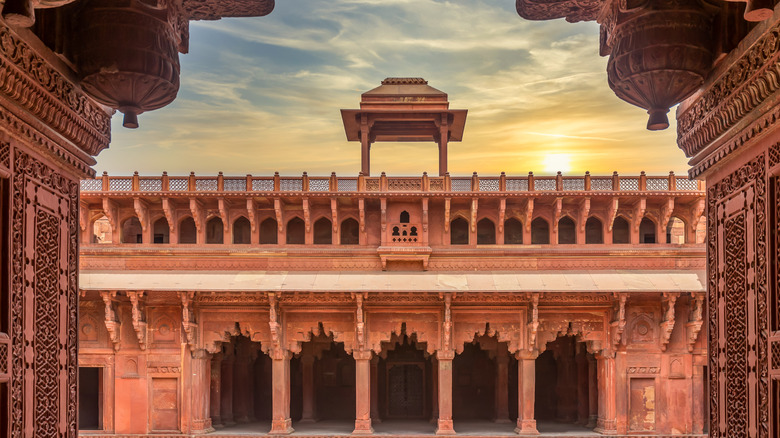 Avigator Fortuner/Shutterstock
You can reach Agra easily by public transport from Delhi. Trains and buses leave Delhi regularly, and the Taj Mahal and Agra Fort are close to Agra Cantt railway station. However, Fatehpur Sikri is about 25 miles from Agra. We recommend hiring a driver rather than driving yourself; India's roads can be very busy and stressful.
In addition, it is a good idea to hire a guide when visiting Agra. Drivers cannot usually enter monuments with you in India; guides and drivers are different. In the Australian Financial Review, journalist Paul Bailey wrote that his guide in Agra was invaluable in helping him get tickets to skip the long queue to enter the Taj Mahal. Other reasons to hire a guide include their knowledge of the places you'll visit and their ability to protect you from scams. With that said, you should still be careful when choosing your guide. The Indian Association of Tour Operators has a list of government-approved guides.
If you don't want to get a guide, book tickets online for the Taj Mahal so you can get in quickly. One of the best and most popular times to visit the Taj is sunrise. Blogger Cazzy from Dream Big Travel Far recommends turning up at least an hour before sunrise to join the queue. Another tip from blogger Uprooted Traveler is to dress modestly when visiting Agra's sights, so cover your shoulders and knees (this goes for India in general, not just Agra.)