Visit This Southeast Asian Island For Incredible Nightlife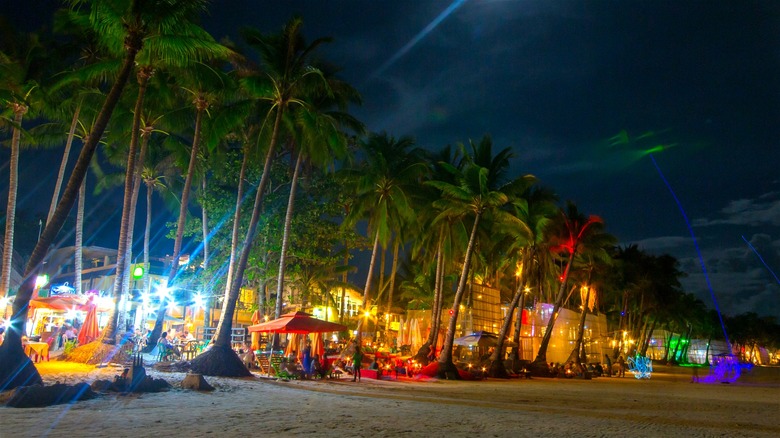 Paulpacheco/Getty Images
Island life is usually characterized as a slow-paced paradise for those who want to relax. While many are described as "sleepy," the island of Boracay is nicknamed, "the island that never sleeps." Located in the Philippines, this beachside getaway is world-famous for its vibrant, bolstering nightlife. During the day, visitors can bask in the sun on its breathtaking beaches. However, in the evening, you'll find the majority of them enjoying tropical cocktails and hitting the dance floor.
You can celebrate with up to 1,000 partygoers while dancing at the two-story ocean-front club, Paraw Beach Club. Or, listen to a set at Epic Bar, where you can watch some of the world's most famous DJs perform. If you're looking to make some friends or just can't decide which of the island's countless venues to visit, follow a guided tour with Boracay PubCrawl. You'll stop at the island's most iconic drinking spots and get to know fellow travelers.
Why Boracay is so famous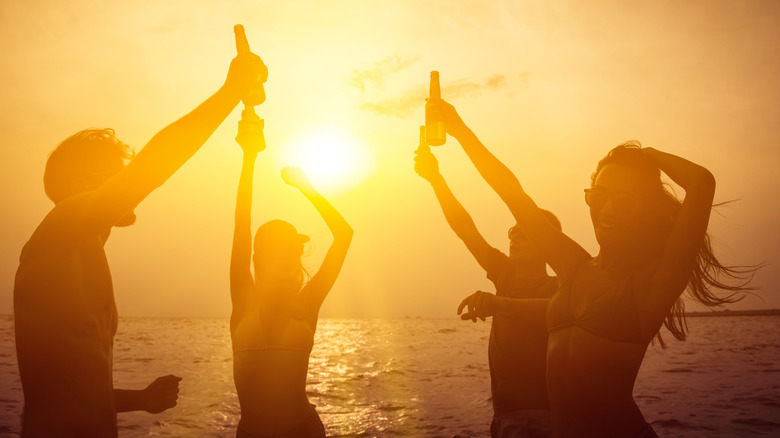 Atstock Productions/Getty Images
Boracay reigns supreme as one of the most popular attractions in the Philippines for both its beautiful beaches and vibrant nightlife. This Southeast Asian island has consistently been awarded the title of one of the best islands in the world. In 2023, 165,000 voters chose Boracay as No. 10 on the list of Travel and Leisure Readers' 25 Favorite Islands in the World.
White Beach is a hot coastal attraction that spans two and a half miles and offers beachgoers pristine turquoise water and snow-white sand. Besides being one of the best places to witness Boracay's incredible sunsets, the beach lights up with a seemingly endless row of bars, clubs, and restaurants where you can party and dance the night away. When visiting Boracay, you need to prepare yourself for a wild night out. Among its many accolades, we almost forgot to mention that it's often listed as one of the top 10 beach party destinations in the world, alongside other famous destinations like Ibiza and Bali.
Start planning your trip to Boracay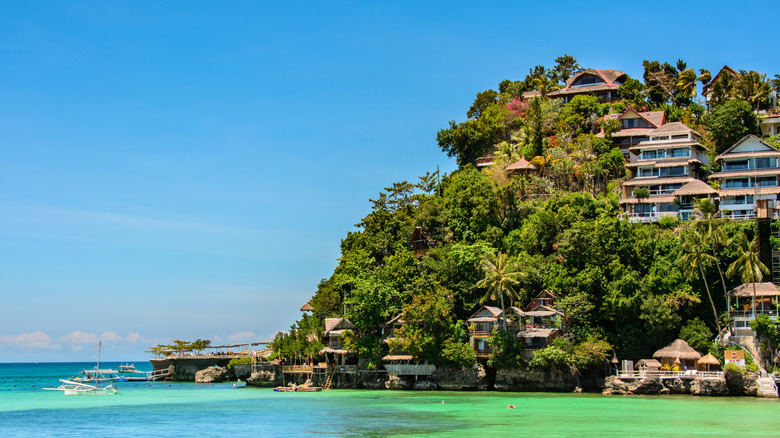 Maks Ershov/Shutterstock
Getting to Boracay isn't too difficult, but the process does have some unique elements to be aware of. First of all, to gain access to the island, local authorities require that you show a voucher proving you have reserved accommodation. Once this is ready to go, visitors can fly into Caticlan Airport or Kalibo Airport and then head out to the island via boat from Caticlan Jetty Port.
The most popular time of year to visit Boracay is from December to May when the weather is warm and dry. But, we caution against visiting during Christmas, New Year, Chinese New Year, and Easter, as these are the most expensive and crowded times on the island. If you're looking for easy access to nightlife, staying on White Beach is your best bet. Within White Beach, you'll find the shoreline is separated into three sections, known as "stations." Station One is known for its upscale resorts while Station Two offers heaps of bars, clubs, and shopping, and Station Three is quieter and suitable for budget backpackers. If you love to party, Station Two will be the place for you.