Take A Trip To This Beachside Park In Hawaii For Snorkeling And Water Adventures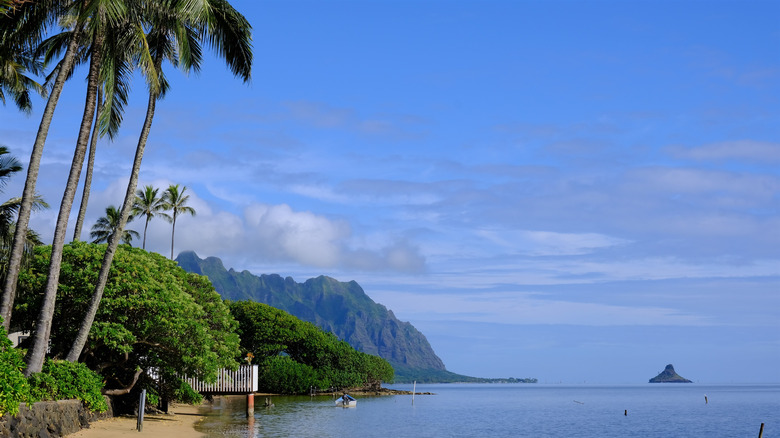 Teri L Wertman/Shutterstock
As the weather turns colder and the holidays barrel towards us, it's lovely to dream about lounging on a Hawaiian beach or watching fish swim by your snorkel mask in crystal blue waters. If you're considering making that dream a reality, look no further than the beautiful Kahalu'u Beach Park on the Island of Hawaii. Not only is the bay stunning, but it's perfect for snorkeling and swimming.
Kahalu'u Bay has some very cool history as well. It was the site of a temple where prayers were offered for a good surf, and the remains are still there next to a small blue-and-white church from the 1880s called Saint Peters by the Sea. It's still a fantastic place to surf if that's the direction your watery aspirations point you in. The area was also where the royal houses of the islands were located, and near the birthplace of King Kamehameha III. Let's take a look at Kahalu'u Bay and what you can do there while you're enjoying the Hawaiian sunshine.
Swimming and snorkeling at Kahalu'u Bay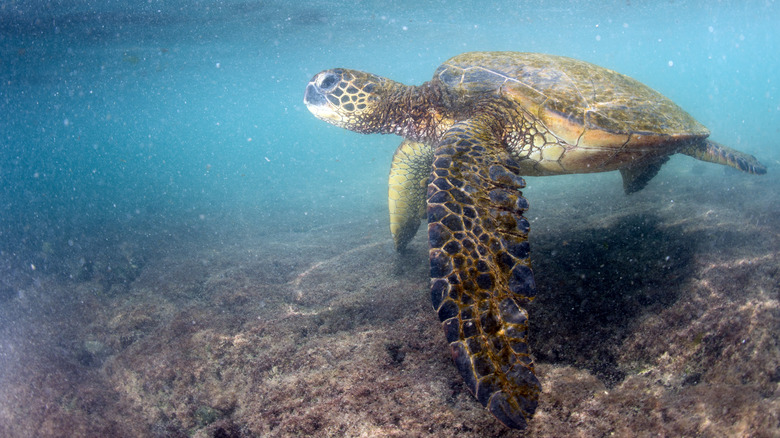 Andrea Izzotti/Shutterstock
The park is not far from historic Kailua Village in Kailua-Kona, so you can stop there for breakfast before you swim. The area has a coral reef, which is home to many fish and sea creatures. (Make sure you never touch the coral, which can be easily damaged). If you snorkel (and this area's calm and shallow water is great for beginners), you're likely to see sea turtles swimming by, as well as octopuses, eels, orangespine unicornfish, yellow tang, black durgon, rockmover wrasse, several species of sea urchin, and Moorish idols to name just some of the species.  (The green sea turtles in the bay are protected, and you're required to stay 10 feet away, which is still great for taking pictures.) It's recommended that you wear water or water shoes when you visit to avoid lava rocks as you head to the water. It's also important to stay between the lifeguard towers so you don't end up in the surfing area. 
If you love surfing, you're in the right place. The waves in the area can hit up to 4-6 feet here. If you're new to the sport, the bay has surf schools and rentals, so you can take lessons if you want to try. Part of the reason this is a great place to visit for surfing, swimming, and snorkeling is that there is a rock wall barrier in the water that was built by ancient Hawaiians to create better conditions for fishing.
Things to do in the area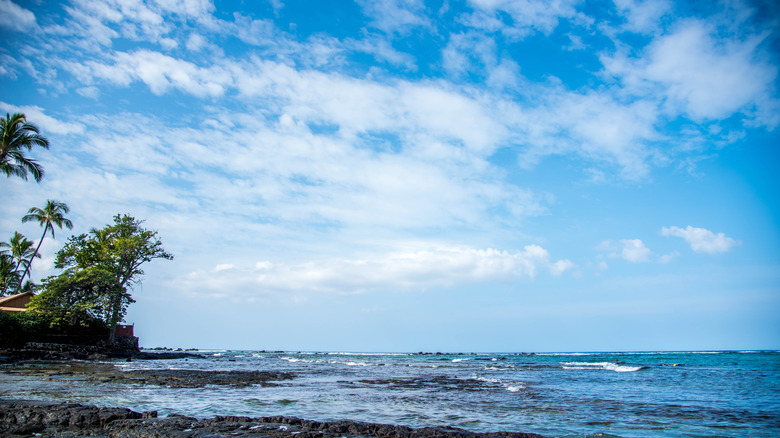 AndyCandy0501/Shutterstock
Since you're so close to Kailua-Kona, you can head over to one of the local bars and restaurants, many of which have a sunset view. One really fun activity for when you need to let your fingers and toes de-prune is a coffee and chocolate tour. You'll visit a plantation to learn about how they're both made — and yes, you can drink and eat what you're learning about. There are even walking food tours in Kona if you've done enough swimming and need to refuel for tomorrow. 
If you enjoyed your snorkeling during the day and you can't get enough, 2 miles south of Kahalu'u Bay is Keauhou Bay, which is famous for night snorkeling with manta rays, and there are companies that will take you out to see these majestic creatures. And, of course, since Kahalu'u Beach Park is on the Big Island, you can dry off with a visit to the Kilauea volcano crater with tours that leave from Kailua-Kona. Aloha!