This West Coast Destination Is One Of The Top Ranked Swimming And Diving Spots In America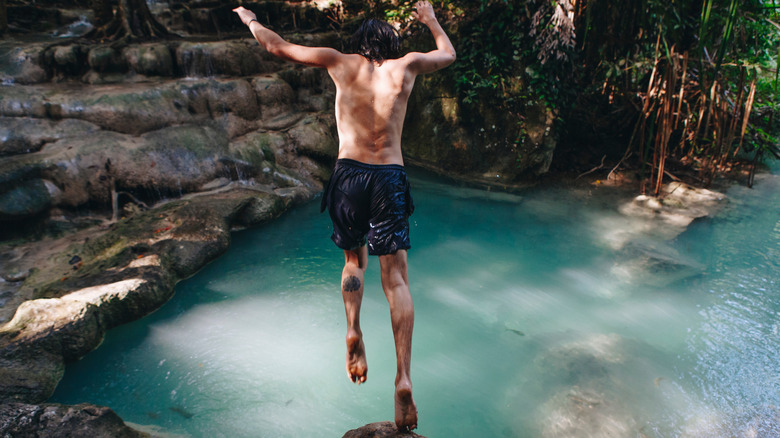 Rawpixel.com/Shutterstock
Swimming in natural bodies of water is a beautiful experience. Waves wash over you, the sun shines on your skin, and nature surrounds you, filling your eyes with beauty no matter which direction you look. You truly immerse yourself in nature when you dive into a lake, river, or ocean. One place known for such a lovely experience is Three Pools in Lyons, Oregon. This natural and incredible swimming hole is ideal for people looking to jump into summer fun.
The area is forested, meaning you'll swim under a canopy of trees. Small cliffs surround the water in some sites, making opportune spots for jumping into the water. If you hope to do this, do so with extreme caution. Rocks, shallow water, and other forms of danger can lurk in the water when you jump, so ensure the area is safe before you leap. If you'd rather swim and wade, there's a place for that, too. Bring your children and let them splash around in the shallow area. This destination is a place of fun for the whole family.
Swimming in the Three Pools and exploring beyond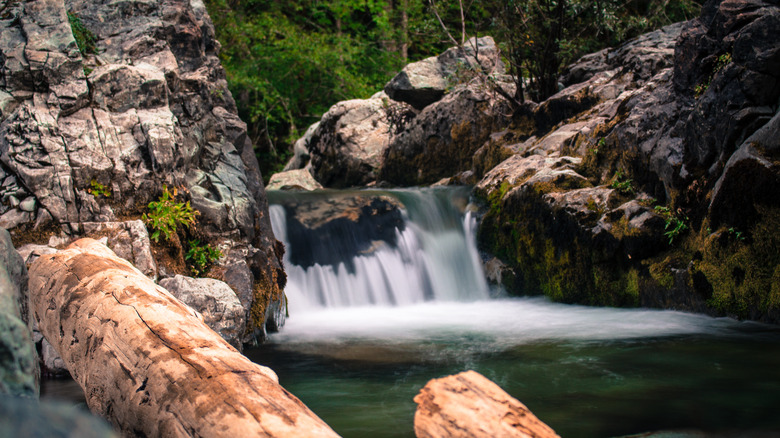 christopher sorenson/Shutterstock
Three Pools is surrounded by basalt, a volcanic rock, and trees. The water itself is a shimmering emerald color, and its depth varies, so you'll have some spots that are great for jumping from the rocks into the water and others that are ideal for young children to swim and play in. While you'll likely have space for yourself, it can and does get crowded often.
If you're tired from swimming or need a quick break, you can sunbathe on the shore or even have a picnic. While you can bring food and drink, leave the alcohol at home since it's not allowed in the park. If you want to explore beyond the pools, you can find a place to hike. The pools are located in Willamette National Forest, which has over 500 hiking trails and several other bodies of water you can swim, kayak, or canoe in. If you decide to explore beyond Three Pools, move your car to a different parking lot so others can take your space.
Getting there and where to stay
Getting to Three Pools is a simple feat. You can drive to the Three Pools Day Use Area and park there. It's a short walk to the serene swimming hole. It's best to get there early because once all 90 parking spaces are full, the area is closed off until people leave. The entrance fee is $5 per day per vehicle. Alternatively, you can hike to the area on the Opal Creek Trail when it opens again. It was closed after the wildfires — check for updates on the Forest Service website.
If you hope to spend your nights under the stars, Shady Grove is the closest campground to the Three Pools. Like the Opal Creek Trail, this area is currently closed due to fire damage. You can once again check out the Forest Service website for updates. Otherwise, you can stay in the town of Lyons, Oregon. If you want something a little bit rustic but not too much, book a cabin with Smith Creek Village.
As you plan summer trips in the great outdoors, don't forget about Oregon, Three Pools specifically. Check for updates to make sure it's accessible before booking. Once confirmed, get excited for your dive into nature.