This African Island Is A Must-Visit For An International Beach Vacation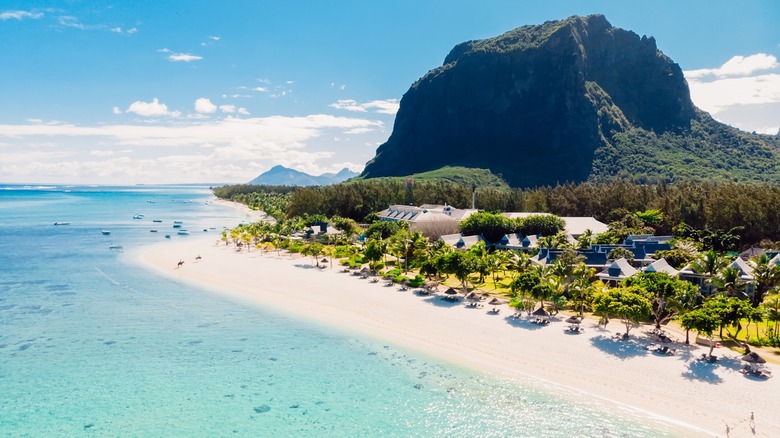 Wonderful Nature/Shutterstock
Mauritius is an island about 500 miles east of Madagascar in the Indian Ocean. Like many other islands, it has white-sand beaches and clear, turquoise waters. Despite its distance from mainland Africa and Asia, its tourism sector is bustling, with dozens of beachfront resorts. Many hotel resorts are world-class, offering full-service spas, fine dining, water skiing, kayaking, and various other amenities.
These are all wonderful offerings, but they aren't unusual for a tropical island, and they certainly aren't what makes Mauritius a must-visit beach destination. What makes Mauritius truly special is that it combines features of a typical tropical vacation with others that are more novel. The result? A beach destination that is so enticing you are willing to travel a few extra thousand miles to get there. So, whether you're seeking relaxation in a luxurious beachfront resort, thrilling adventures, or a taste of the island's unique Creole culture, Mauritius promises an experience that will linger in your memories long after you've left its shores.
Nature and adventure in Mauritius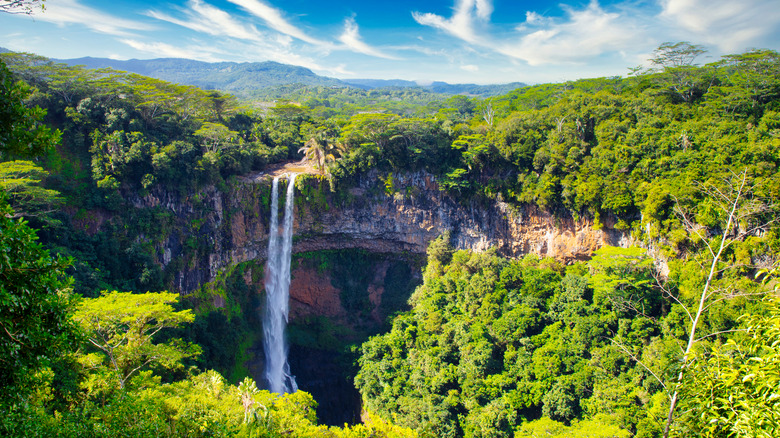 Marc Stephan/Shutterstock
Here are a few reasons why we consider Mauritius an exemplary international beach destination. In addition to its gorgeous beaches, lush forests, impressive botanical gardens, and spectacular waterfalls, the island has plenty more enigmatic features. These include the volcanic crater of Trou aux Cerfs, the lava tubes of Pont Bon Dieu, and the Seven Coloured Earths of Chamarel, where the sand dunes have taken on seemingly impossible hues, including orange and violet. Mauritius also has some unique flora and fauna, including giant water lilies and pink pigeons, but it's delightfully free of poisonous snakes. 
Another reason to love Mauritius: Its striking natural features provide a setting for spectacular adventures. The warm waters around the island and the presence of diverse coral reefs and shipwrecks create ideal conditions for snorkeling and scuba diving. Have you ever wanted to try kite surfing? Thanks to the consistent trade winds, Mauritius is a prime destination for this exciting sport, too. 
Mauritian culture and cuisine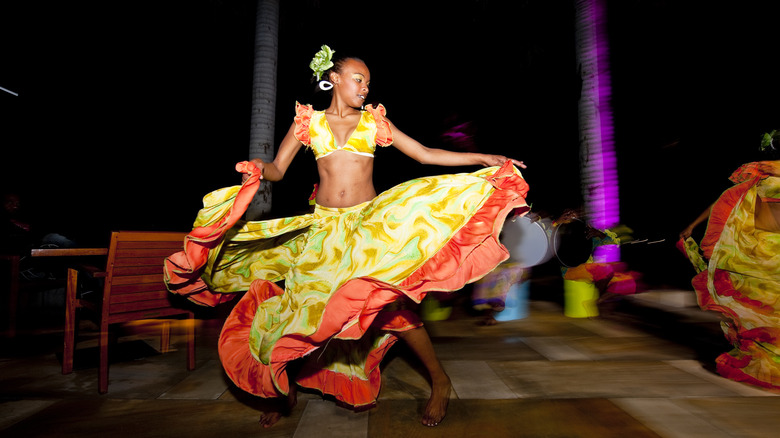 Tarzan9280/Getty Images
The culture of Mauritius never ceases to fascinate, weaving together African, Indian, French, and Chinese influences — yet another reason the island is a must-visit international beach destination. A powerful way for visitors to experience local culture is by attending a Sega performance. Sega is a traditional Mauritian style of dance and music that's registered on UNESCO's Representative List of the Intangible Cultural Heritage of Humanity. The lively performances feature dancers in billowing floral skirts swirling to the rhythmic beating of drums, like a window into the country's collective consciousness.
Spicy Mauritian cuisine also reflects the diverse cultural heritage of the island and promises that the palate will never, ever get bored. Many island cafés serve tantalizing Mauritian dishes and many hotels offer buffet-style cuisines in their restaurants. Visitors can also sample a variety of street foods, such as flatbread stuffed with spiced yellow split peas, steamed dumplings, and deep-fried chili cakes.
But there is one final factor that sets Mauritius apart from other locations. Its warmth far exceeds that of your average tropical island, but not because of the sun, because of the people. Mauritians are known for their genuine smiles and warm hospitality, and the impression they leave on a visitor lasts much longer than a suntan. For all the above reasons, but especially this last one, Mauritius earns a spot on our list of must-visit international beach destinations.