This Midwest State Park Is A Must-Add To Your Outdoor Adventure Bucket List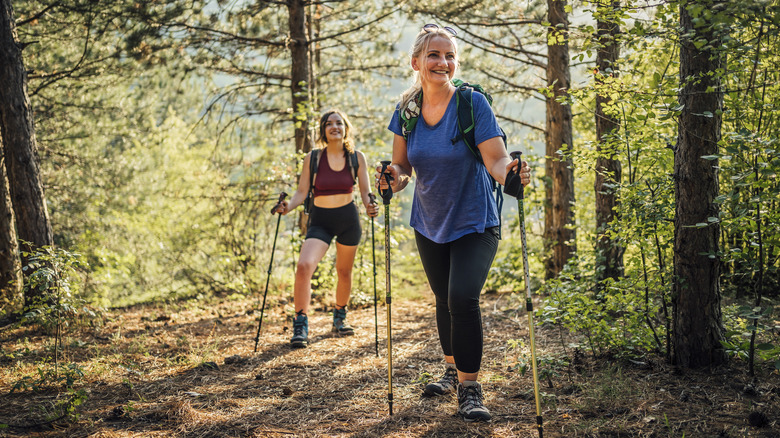 Lordhenrivoton/Getty Images
There's something special about being surrounded by trees and water. It's soothing for the soul to connect with nature, and venturing into the woods is a great way to do that. For those living in the Midwest as well as those interested in seeing the beauty it holds, Minnesota is a fantastic destination for outdoor activities. The state has 66 state parks and nine recreation areas, giving you plenty of options for where to visit. One park that's known for its waterfalls and great rock climbing is Tettegouche State Park, located in Silver Bay, Minnesota. There you'll find trails to hike, bike, or ski, with multiple vantage points that make great spots for meditating or reflecting, camping, and more. It's a great stop to make whether you're with friends, family, or on your own.
The park, which is on land that traditionally belongs to the Anishinaabe people, sprawls out over more than 9,000 acres and is home to various wildlife, including lynx, raccoons, snowy owls, and peregrine falcons. It's a great spot for bird-watchers and nature lovers in general.
Outdoor activities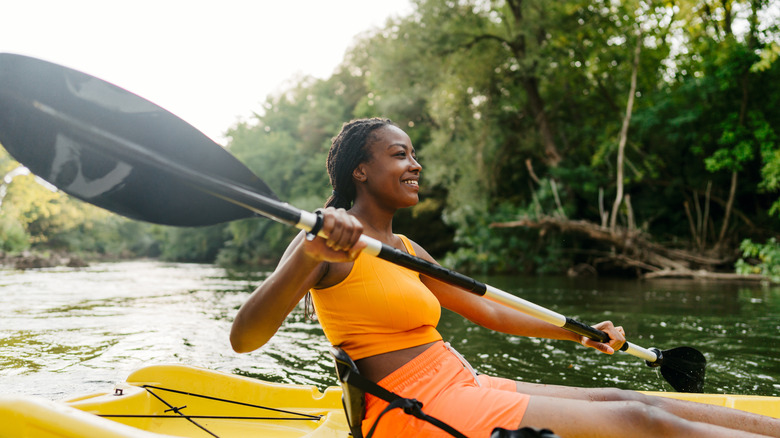 Aleksandarnakic/Getty Images
One of the most popular sights in Tettegouche State Park is its High Falls. One common way to get there is by taking the Superior Hiking Trail. Other waterfalls you can hike through include Cascade Falls and Illgen Falls, among others. However, waterfalls aren't the only sights to see. Numerous trails will take you to sweeping views of Lake Superior, others will take you to grand views of the forests, and others still will lead you to wildlife sightings. If you love climbing, you'll be happy to know that there are eight climbing spots located among the trails.
If you'd rather be in the water than observe it, you can rent a kayak, paddleboard, or canoe. They're available between May and October. There are beaches where you can wade into the water to immerse yourself completely for a swim. You can fish along the shore or in a boat — just note that motorized boats are only allowed on Michael Larson Lake.
If you're visiting in the winter, there are miles of trails for cross-country skiing.
Camping and rules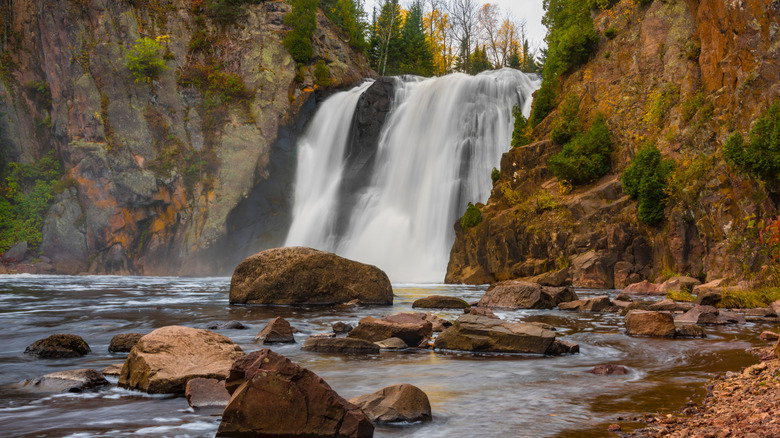 Craig Hinton/Shutterstock
If you want to stay in nature for the night (or two), you can camp. While there's no camping inside of the park (with the exception of the four cabins available for rent and the drive-in camp sites), you can stay at one of the campgrounds surrounding the park. Finland and Eckbeck are the closest and each operates on a first come, first served basis. There are also 28 drive-in sites located around the park. As for the cabins, those require reservations and aren't accessible by car. You'll have to hike to get there, which makes it an adventure in and of itself.
When you're out exploring, make sure you adhere to the park's Leave No Trace rules, which means understanding environmental ethics and acting accordingly. Leave the area just as it was before you came, which you can do by picking up your garbage, staying on the trail, etc.
No matter when you decide to visit and how long you plan to stay, you'll be able to immerse yourself in the wilderness and great beauty of Tettegouche State Park.