Immerse Yourself In The Wilderness On This Midwestern Water Adventure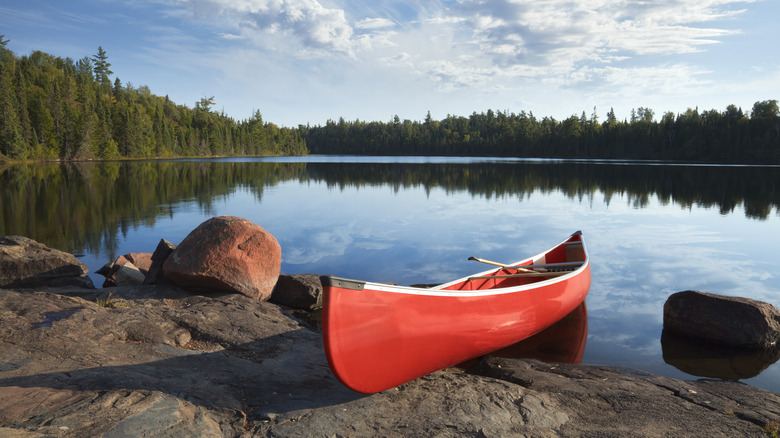 Dan Thornberg/Shutterstock
Minnesota is known for outdoor adventures, especially on the water. There are more than 10,000 lakes in the state (one of which is Lake Superior); the Mississippi River starts from a small, spring-fed lake in Minnesota's Itasca State Park; and you can visit the U.S.'s only water-based national park at Voyageurs. Despite all of these attractions, Minnesota is in the bottom half when it comes to the number of visitors by U.S. state. But that means there are vast swathes of wilderness just waiting to be explored, far from the madding crowds.
One area where you can enjoy true solitude in Minnesota is the Boundary Waters Canoe Area wilderness (BWCA.) Covering more than 1 million acres and containing more than 1,100 lakes and 1,500 miles of canoe routes, the Boundary Waters are a pristine playground for canoers. But you don't have to be a pro paddler to enjoy the area, and you definitely don't need to canoe the whole 1,500 miles. There are adventures for beginners to advanced canoers in this slice of Midwestern paradise.
How to plan a trip to the Boundary Waters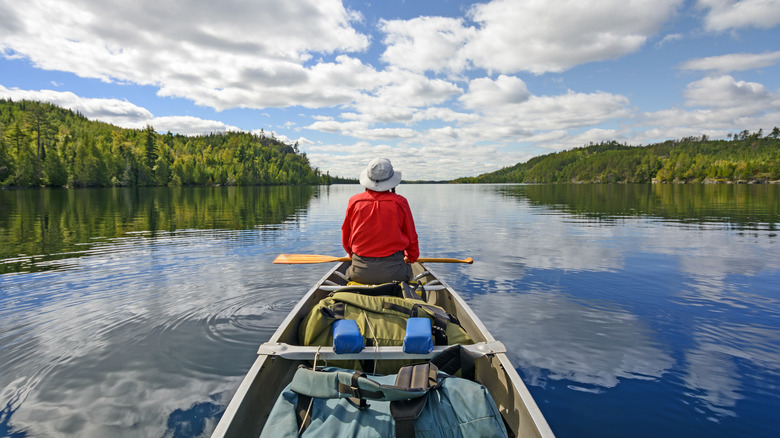 Wildnerdpix/Shutterstock
You've got 1 million acres at your disposal. Where do you start? If you're going to the BWCA for the first time, our top tip is to find an outfitter. Outfitters don't just provide all of the necessary equipment, but they also help you plan your trip, giving you the best route for your trip duration and ability. Many also offer fully guided trips.
However, there's a catch. You'll need to choose a side of the Boundary Waters to enter from before picking an outfitter. The main entry points are around Ely in the west and Gunflint Trail in the east. The Gunflint Trail area (the trail begins in the small town of Grand Marais) tends to be less busy and has more dramatic terrain. Ely is a cool town, and from there, you can get into the Boundary Waters faster. You'll drive out from either town to reach your put-in point.
There are an almost unlimited number of routes you can take through Boundary Waters. However, most outfitters have some suggestions on their sites. You'll want to spend at least four days on the water to experience true solitude. The entry points to Boundary Waters are always more crowded than the areas you can reach in a one or two-day journey by canoe. You can spend all your time at just one of the 2,000 campsites in the area or move every night. BWCA is a choose-your-own-adventure kind of place.
What to know before you go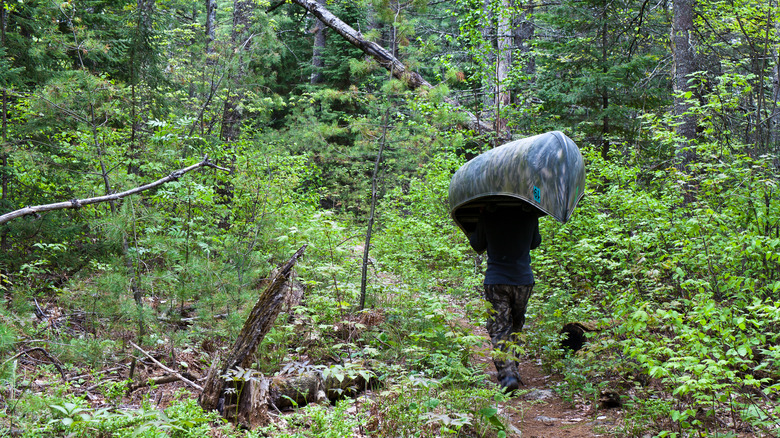 Bogdan Denysyuk/Shutterstock
The most important thing to know before you visit Boundary Waters is that you must get a permit to enter. You will need to reserve a permit between May 1st and September 30th, and reservations tend to open in January of the year you'll be traveling. There is a quota for the number of permits issued, so plan ahead if you're traveling in the peak season (more on that in a moment.) Outfitters can book your permit for you or you can reserve a permit on recreation.gov.
All of the campsites in Boundary Waters are first-come-first-serve, which can be both a blessing and a curse because you can stop at whatever campsite you want, but so can other people. If the campsite you've got your eye on is occupied, you'll have to keep paddling, or portaging — which brings us to our next point. You won't be paddling the whole time in the BWCA — you will need to carry your canoe from one lake to the next. The canoes that outfitters rent to visitors are lighter than many traditional canoes.
We know you're wondering about the bathroom situation. Every campsite has a latrine — these are pit toilets out in the open air, set away from the area where you'll pitch your tent. Nothing aside from the obvious should go in the latrines. You'll need to pack out all of your trash in Boundary Waters.
When to go and what to take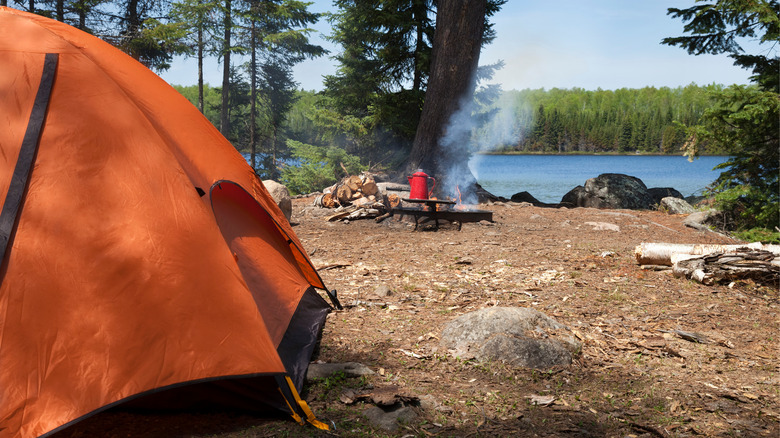 Dan Thornberg/Shutterstock
The most popular time to visit Boundary Waters is from July to the middle of August. However, you can usually paddle here from mid-May to September. Many Redditors on the r/minnesota forum like to canoe Boundary Waters during peak time, when the days are long, and the weather and water are warm, though others love the lack of bugs in late September.
What do you need to take to Boundary Waters? If you're using an outfitter, your equipment will mostly be taken care of, so you'll mainly need quick-dry clothing, rain gear, wool socks and two pairs of footwear. The BWCA recommends bringing a navigation device such as a GPS or maps of the area, camping gear, an axe or saw for chopping firewood (always make sure campfires are permitted when you're in BWCA.), bug protection and sunscreen. A waterproof pack liner is also recommended to keep your things dry. Happy paddling!