This National Park In India Is A Great Destination For One Of A Kind Wildlife Views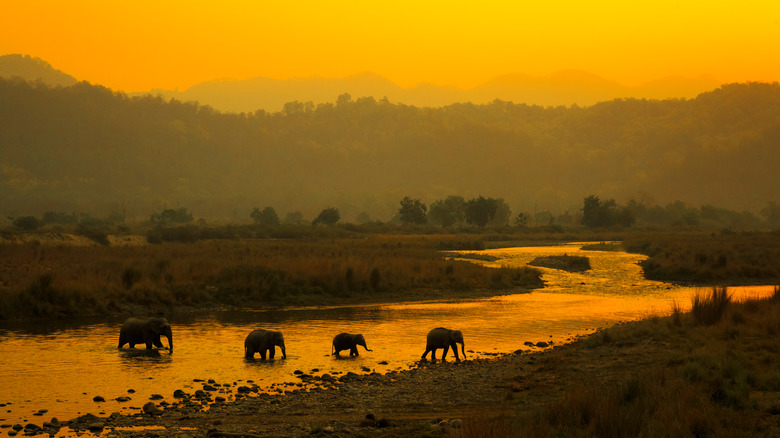 ABHILASH VISWA PICASSO/Shutterstock
Observing animals in their natural habitat is an amazing way to connect with the outdoors and remind ourselves of the incredible beings that share the Earth with us. The diversity of the animal kingdom, which includes the sheer athleticism of jaguars and the intelligence of curious monkeys, has the power to inspire wonder. Traveling internationally to witness some of the planet's most awe-inspiring wildlife is well worth the trip. Jim Corbett National Park stands out as an incredible destination for this purpose.
This wildlife sanctuary can be found in Uttarakhand, a state in northern India. Located at the base of the renowned Himalayas, the park contains 201 square miles of stunning rivers, lush forests, and rolling hills. And while the landscape is an attraction on its own, the park is most famous for the majestic wildlife that roam its ground. If you're looking for a once-in-a-lifetime adventure, visiting Jim Corbett National Park will give you just that.
The wildlife at Jim Corbett National Park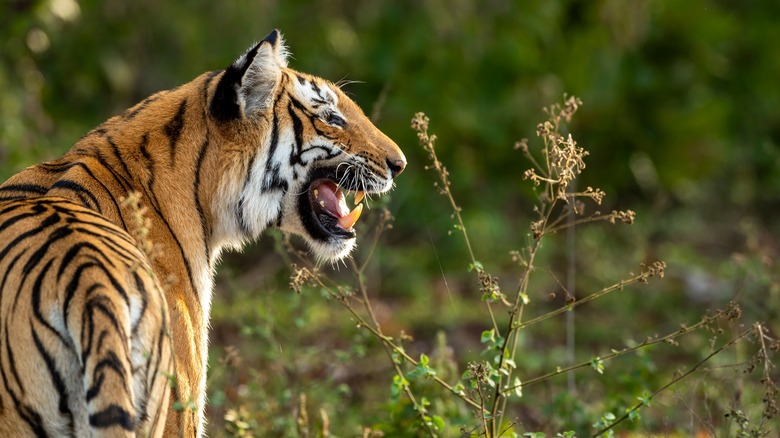 Sourabh Bharti/Shutterstock
Jim Corbett National Park was established in 1936 as India's oldest national park. Not only is it the oldest, but it is also its most popular. 
The park's Corbett Tiger Reserve is a wildlife sanctuary best known for the abundance of wild Bengal tigers that call the park home. With its large concentration of native tigers, Jim Corbett National Park is where the Indian government first debuted Project Tiger: a national commitment to the protection and conservation of this striped predator. Taking a safari tour through the park practically guarantees you'll get a look at this rare species.
Along a tour of the national park, you'll also come across a multitude of unique species including elephants, langurs, sloth bears, Indian gray mongooses, jungle cats, wild boars, pythons, and crocodiles. In addition, you'll find over 600 bird species soaring through the park skies. If this sounds a bit scary or overwhelming to you, don't worry. The park's expert guides offer safe and informative tours through the park.
Safari tours of Jim Corbett National Park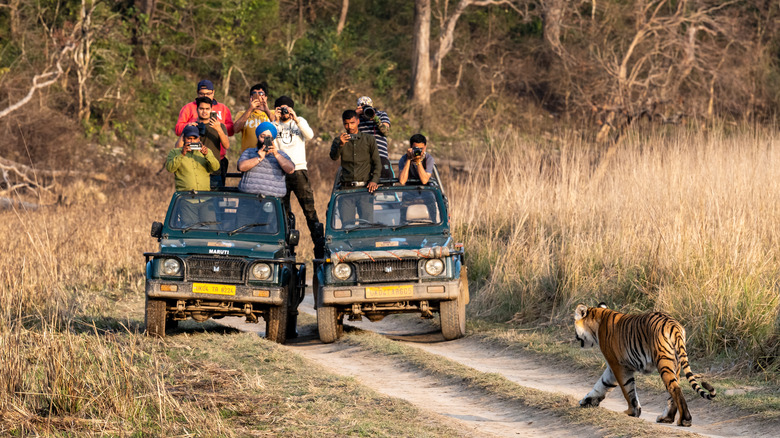 Sourabh Bharti/Getty Images
Although a visit to Jim Corbett National Park makes for an amazing vacation, for guest safety, it's essential that all visitors remember to respect Mother Nature. The park authorities have many rules in place to ensure this. In fact, visitors only have access to about 5% of the park's land. If you want to explore Corbett Tiger Reserve, you are required by law to do so with a registered professional guide. Walking through this terrain is not an option, and visitors are required to remain aboard a designated safari vehicle at all times.
However, this won't stop you from experiencing the park's glory. There's a variety of local tour companies to choose from, some of which even offer overnight stays in the park. For an award-winning safari Jeep tour, we recommend you check out The Pugmark Safari. If you want to get an even closer look at the wild animals of Jim Corbett National Park, try taking a tour while sitting up on an Elephant's back at Corbett Big Cats Safari. But before you make any reservations, note that the best time of year to visit is October to February. The park is closed to visitors during the monsoon season, which runs from June through November.