Why You Should Think Twice Before Staying Near The Eiffel Tower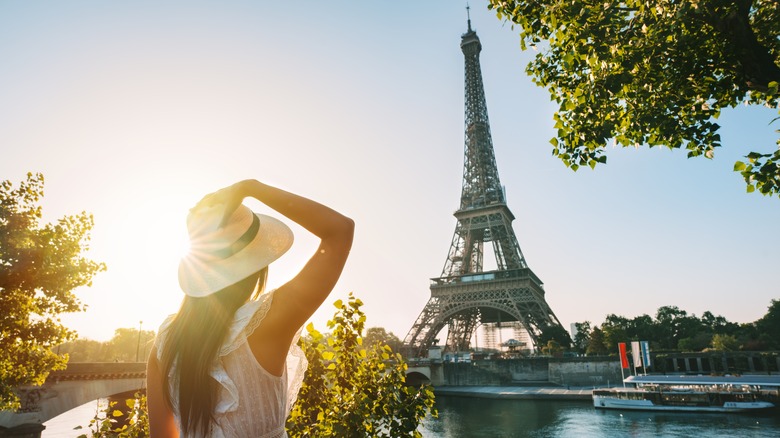 Creative Cat Studio/Shutterstock
The Eiffel Tower is a must-see Parisian attraction, so it's understandable that visitors consider lodgings nearby. However, staying near such a famous attraction can have its drawbacks. These can include high accommodation prices, crowds, restaurants aimed solely at tourists, barely any locals, and fewer opportunities to interact with French culture. Located in the 7th arrondissement, the area around the Eiffel Tower serves as a tourist trap for the second most visited city in the world — according to the latest Global Destination Cities Index report — with 19.1 million international overnight visitors per year.
The Eiffel Tower is also the most visited monument in the world, with an impressive 7 million visitors per year. Because 75% of those people are foreign visitors, it is not a great place to interact with French people or locals. An expatriate advice website summarizes the Eiffel Tower arrondissement as largely catering to tourists, as well as expensive and lacking in nightlife. Because Paris has a convenient city Metro system with 300 stops, at €2.10 per ticket (around $2.25), it is cheap and easy to get to the Eiffel Tower stop, Champ de Mars-Tour Eiffel, from another district. This makes going to places in Paris that aren't overrun with tourists easy as well.
Where to stay in Paris instead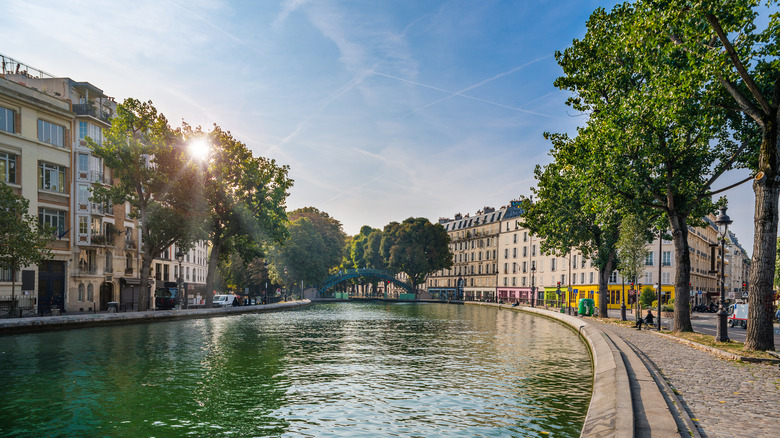 Alexander Demyanenko/Shutterstock
Those who want to make their budget go further as well as experience a deeper connection to this fascinating capital can stay in other areas that will bring them closer to French culture. The French call Parisian neighborhoods arrondissements. They number from one to 20 and spiral outward from the city center in a "snail shell" formation. We recommend Le Marais, Saint-Germain-des-Prés, Montmartre, Canal Saint-Martin, and the Latin Quarter as five of the best places to base yourself in this city.
One of the great things about staying in these districts is that they have their own personalities as well as their own unique attractions. They just won't be as mobbed with visitors as the 7th. The Panthéon is in the Latin Quarter and is close to the Notre Dame Cathedral, which is currently being rebuilt after a 2019 fire. The famous Sacré-Cœur Basilica is in Montmartre, as is the Moulin Rouge cabaret. Canal Saint-Martin has a range of coffee shops as well as independent shops to browse along the waterfront. Le Marais, which is home to both the Picasso National Museum and the Pompidou Centre, is a haven for art lovers. In Saint-Germain-des-Prés is the Jardin du Luxembourg and the Church of Saint-Germain-des-Prés. Just make sure not to pack in too many activities during your Paris trip, which can be overwhelming!
How to save money on accommodation in Paris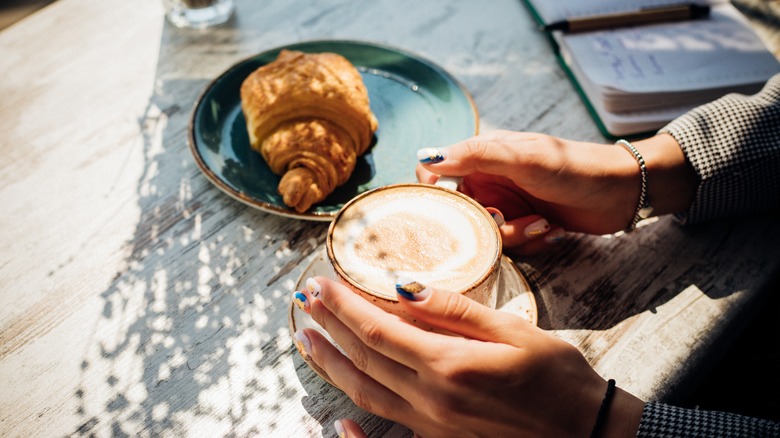 Alie04/Shutterstock
Paris is an expensive city, and according to blogger Nomadic Matt, €150 to €200 (around $159 to $211) is a reasonable daily budget. But this can quickly add up for those who are visiting a lot of museums or eating at fancy restaurants. Apart from staying in the cheaper districts away from the Eiffel Tower, there are ways to save money on accommodation in Paris. If you visit out of season, it's worth looking for discounts because prices drop to keep the hotels full. The winter months of December, January, and February are the cheapest time of year to stay in Paris.
Events as well as prices can drive up demand, so check the Paris Tourist Office's calendar to make sure there are no conflicts before you go. It may also make more sense to book an Airbnb instead of a hotel, and upmarket hostels that have private rooms may also be a fun alternative to expensive suites. Places that offer breakfast may cost more, so consider skipping breakfast altogether and getting your croissants from a local bakery instead. Visiting coffee shops like the locals may add to your Parisian experience. It's also a great way to support small businesses!