This Pacific Northwest Trek Has Even Experienced Hikers Biting Their Nails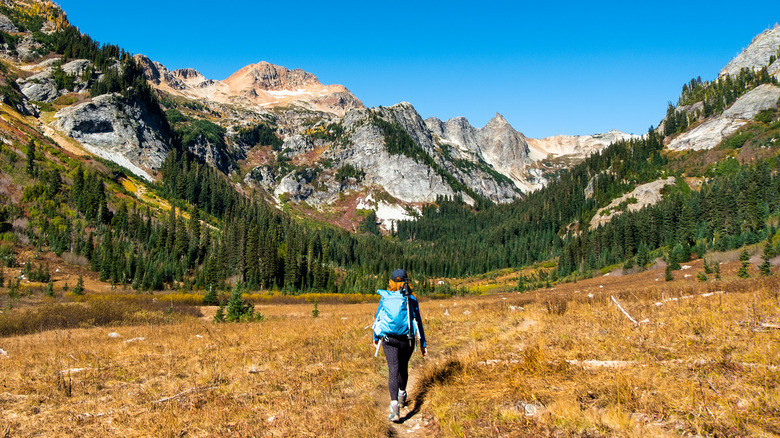 Tobin Akehurst/Shutterstock
From the wilds of Alaska to the expanses of Utah, the United States has many amazing natural wonders that show anyone who takes them lightly no mercy. As of 2022, between 120 and 150 hikers die each year in the country's national parks, with causes of death including falling, lightning strikes, and a simple lack of preparation. That may seem like a small number compared to their millions of visitors each year, but it remains a stark warning: If you don't show these places some respect, you can easily become a statistic.
This brings us neatly to one of the least visited and most perilous national parks in the United States and one of its most dangerous adventures: North Cascades National Park in Washington state and the lonely summit of Jack Mountain. Nicknamed the American Alps due to its rugged peaks and 300-plus glaciers, this region of wilderness is a stunning place to reconnect with the great outdoors. It is also not a place to underestimate potential dangers. Overall, North Cascades National Park ranks as one of the deadliest in the United States per capita, with 652 fatalities per 10 million visitors. That's nearly 22 times the average.
There are several hikes in North Cascades National Park that are suitable for families, such as the Thunder Knob Trail or the Trail of the Cedars. Then there is Jack Mountain, which presents a challenge for even serious climbers.
Getting to Jack Mountain is half the adventure
Looming above its surrounding terrain and patched with year-round snowfields, Jack Mountain rises to 9,066 feet (about 2,763 meters) and stands prominently in the landscape; there is no other summit within 900 feet of its height for at least 3 miles in every direction. It may only be the 17th-highest mountain in Washington, but its level of difficulty means that very few parties take on the challenge each year. To conquer Jack Mountain safely, proper mountaineering gear and experience climbing in alpine conditions are required. As seasoned climber Josh Lewis puts it on SummitPost.org:
"There [are] a lot of approach miles, tons of elevation gain, very steep and exposed sections, rock fall danger, loose rock, mosquitoes, glacier travel, a rappel, steep snow climbing, and the whole 9 yards. But for those who feel comfortable with all this and perhaps love this kind of alpine climbing, then this is for you."
The best time to attempt Jack Mountain is in August when there is less snow, making its most difficult sections less treacherous. The general consensus is that there are no easy routes to the top, but the South Face is the most approachable. Just reaching the base requires miles of cross-country hiking, camping, and ascending to around 3,900 feet before traversing the Jerry Glacier to Jerry Lakes. From this stunning spot, it isn't far to the South Face, where your climb begins in earnest.
Climbing Jack Mountain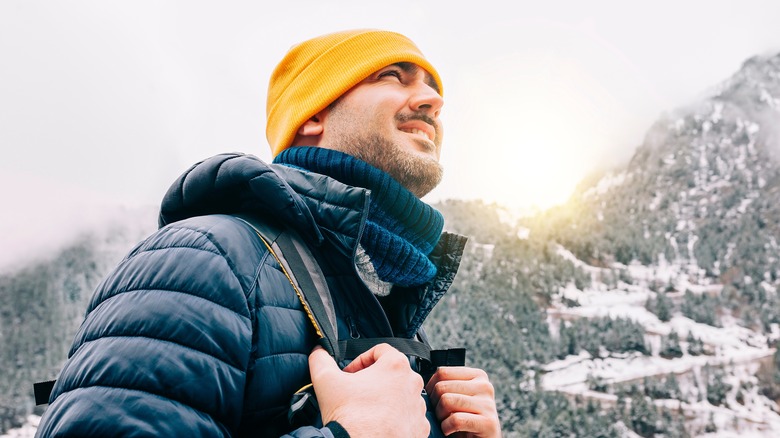 carlesmiro/Shutterstock
Trekking Jack Mountain is defined by traverses, snowfields, and scrambling (or using your hands to climb short, steep ground). One of the most common phrases for describing the ascent is that it's "not for the faint of heart," and that is definitely the case with some of the more difficult sections. As Josh Lewis describes it:
"Jack Mountain's face has some precarious spots that require your full concentration, careful steps, advanced scrambling skills, steep snow climbing, and confidence with vertical drops below you. Even the more friendly parts of the route are quite steep and cannot afford any margin of error."
With loose rock (making helmets essential) and high exposure, any mistakes can prove fatal. When you get the most difficult part out of the way, however, the remainder of the climb to the summit is fair straightforward. Again, this is relative, as you will still have a snowfield to negotiate with crampons and an ice ax. Reaching the top will reward you with a spectacular view. Because of how few people attempt Jack Mountain, you'll likely have it all to yourself. When you've had your fill, you face the challenge of getting back down again, which is harder than the ascent. Some experts recommend using ropes to rappel down the difficult class 4 stage instead of climbing it because the loose rock is hazardous. Then it's just a matter of retracing your steps to base camp for a well-earned rest before you head back to civilization.