Plan Your Next Hiking Trip To This Underrated East Coast State Park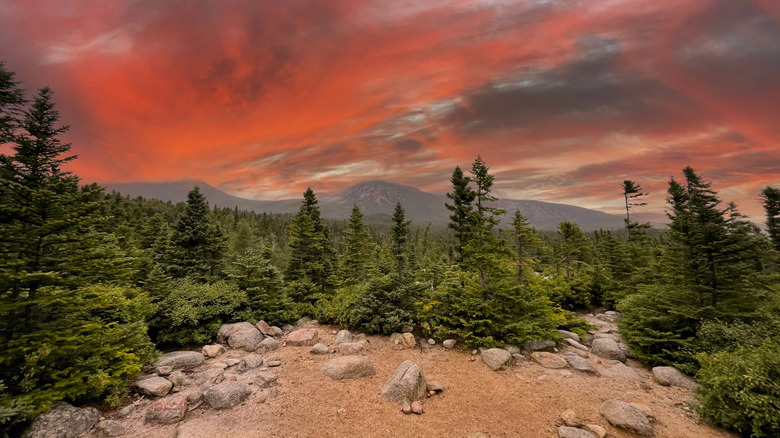 Douglas Rissing/Getty Images
What's the first thing that comes to mind when you think of Maine? Is it the rugged coastline? The iconic lighthouses? Or maybe it's the succulent lobster dinners? Whatever the case, the reality is that this East Coast gem — known for its rich maritime history, quaint coastal towns, and of course, the ever-popular Acadia National Park — is a haven for nature lovers.
But while many visitors choose to flock to these more well-known attractions, there's an underrated destination waiting to be explored: Baxter State Park. Nestled along northern Maine, this sprawling state park offers an authentic wilderness experience that's unlike any other of the state parks in America you might have visited before.
With over 200,000 acres of land laced with 215 miles of trail and boasting over 300 campsites, Baxter State Park is open daily from 6 a.m. to 10 p.m. and offers a little bit of everything – from hiking to cycling, fishing to hunting, and rock climbing to setting up for a picnic. A top destination for outdoor enthusiasts and adventure seekers who want to experience a different kind of escape, visiting Baxter State Park will take you off beaten paths and neatly trimmed lawns to true, untamed wilderness.
Exploring Baxter State Park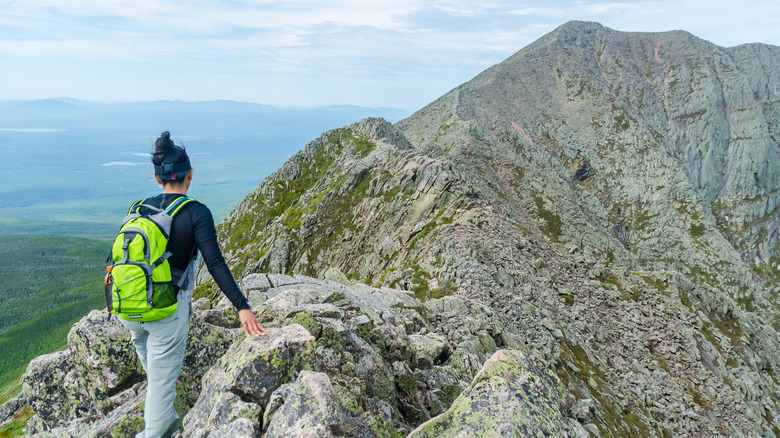 YuziS/Shutterstock
Dominating the landscape inside Baxter State Park is Mount Katahdin. Standing tall at 5,269 feet, it's not just Maine's tallest mountain, but also home to numerous trails waiting to be discovered. On one hand, Abol Trail — the shortest route to Baxter Peak — stretches 4.4 miles and challenges hikers with a 3,982-foot elevation gain. As a recommendation, opt for an early start — especially on warm, clear days — since nearly half of the trek is fully exposed and there are limited water sources available. On the other hand, the Hunt Trail — spanning 5.2 miles and an elevation gain of 4,188 feet — rewards its hikers with picture-perfect views of the Katahdin Stream Falls and the majestic Hunt Spur boulders.
However, the most notorious hike within Baxter State Park is no other than the Knife Edge Trail. Made up of a challenging 1.1-mile rocky path that's both narrow and flanked by steep, 2,000-foot drops to both your left and your right, it's safe to say that the trail isn't for the faint of heart. Access is available from both the Hunt and Abol trails, but keep in mind that the way back will be roughly an hour's walk and there are no shuttle services available.
Luckily, though, not all trails are as strenuous or steep. If you're looking for something gentler, Cranberry Pond and Daicey Pond are easily accessible via the Togue Pond Gate, while Horse Mountain and South Branch Pond are closer to the Matagamon Gate.
Finding a home in the wilderness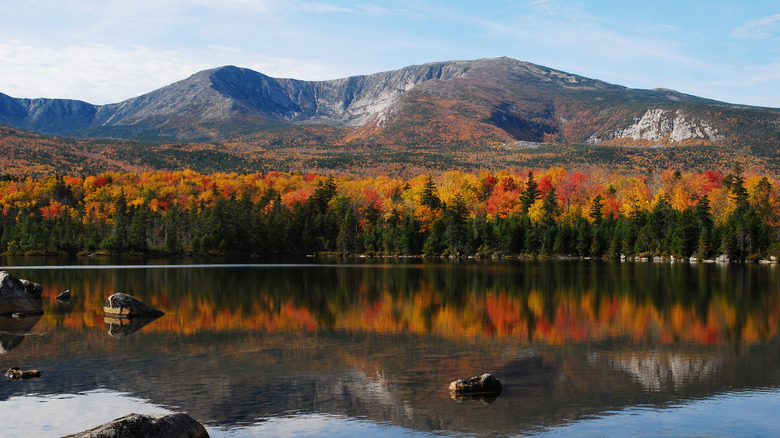 Bncc369/Getty Images
If Baxter's trails have ignited a desire to explore even more of the park — whether it's aboard a kayak, on a fishing excursion, or speeding along certain trails on a mountain bike — an overnight stay might just be what you need. Depending on where you're entering the park, different campgrounds and cabins are available for nightly stays. It's always best to check Baxter State Park's official website for specific accommodation details, as well as information on how and where to book.
Additionally, it's also worth noting that while basic facilities are provided, guests are encouraged to be self-sufficient. This means bringing your own water treatment supplies, cooking gear, bedding, and flashlights. Firewood, however, is available for sale where it's allowed to be used in order to prevent any disease or pests from making their way into the park. And remember — the park prioritizes preserving its natural beauty. This means that pets, RVs, noisy generators, and groups of over 12 people are strictly prohibited.
As for timing, the best time to visit the park is during the fall, with September being a top choice. The colder, crisp days will showcase the park in all its glory — with vibrant foliage as far as the eye can see. However, make sure you're not planning your trip too late into the season, as some trails close as the winter months approach in order to safeguard the delicate alpine environment.